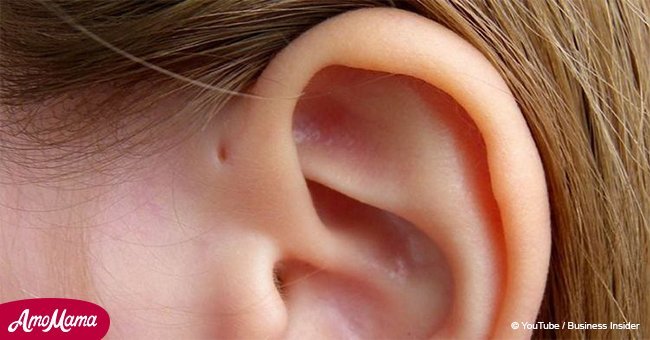 Here's what it means if someone has a tiny hole above their ear
Unique birthmarks, tattoos, piercings, and the like are just some things that differentiate us from others. But one other distinct indentation often goes largely unnoticed by many.
A tiny hole above the ear, known as preauricular sinus, is an occurrence found in a very low percentage of the United States population. Less than one percent of persons are born with what is actually a birth defect. In other places around the world, such as Asia and Africa, the incidence occurs on a larger scale, up to four and ten percent respectively.
The hole is seen at the meeting of the face and the ear's cartilage. It is often so minuscule as to go unobserved on an initial glance at someone who has it. Follow us on Twitter for more @amomama_usa.
The tiny holes are actually an indication of an unnecessary sinus below the skin. They were first studied by Van Heusinger in 1864 according to Business Insider. He documented his observation that the holes develop in earlier stages of a fetal's growth. They are frequently a hereditary trait.
Later on, evolutionary biologist Neil Shubin claimed that the phenomenon exists as a remnant of fish gills. This theory is used to support some scientists' belief that human beings and fish have a common ancestor dating back to over a million years ago.
Source: YouTube
Fortunately, the existence of the trait is mostly harmless. But it could, however, possibly lead to infections or benign cysts. If this happens, treatment is required. The sinus would have to be drained or completely removed.
Source: YouTube
Preauricular sinus may be on both ears or just one ear of an individual. Research studies show that the right ear is usually found to have the peculiar defect.
Just two months ago, another interesting study informed the public of a more relatable event. Dr. Christopher Winter spoke about the ideal temperature that people should sleep in. He explained in detail the interesting benefits and reason behind it.
Please fill in your e-mail so we can share with you our top stories!