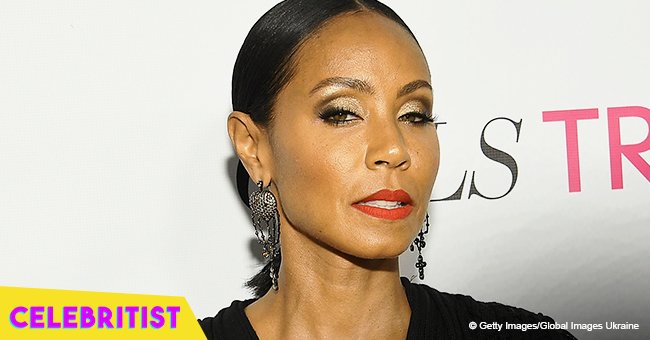 Jada Pinkett Smith stuns in leather pants & tiny top while riding motorbike in video
Jada Pinkett Smith has become an example to many women over 40 who want to stay in shape and feel good about themselves. The mother of two is looking sexier than ever, and she's not afraid to show it off on social media.
Will Smith hit the jackpot when he married Jada more than 20 years ago. The 46-year-old "Girls' Trip" star has maintained her figure and beauty over the years, and she's rocking it with confidence.
Pinkett Smith can go from elegant to rude but sexy in one second, and in a recent Instagram post, she showed off her riding skills aboard a three-wheeled motorbike. Wearing black leather pants and a black crop top, Jada looked at the camera before putting a helmet on and driving away on the bronze and black vehicle.
"Nothing sexier than a girl that rides," she captioned the pic.
Fans immediately took over her comment section to share their thoughts on the boomerang video. One user wrote: "Yess I Love all that you show what life blessings look like. Show the World that God also can do it for them. Continue to Inspire #Beautiful Queen," and another added, "Always wanted to learn how to ride. It's very sexy. Thanks, Jada.. we love you."
"MARRIAGES CHANGE"
Like her husband, Jada is starting to get a hold of Instagram by sharing her most profound thoughts about life. Just a few days ago, she shared a beautiful picture with Will, their daughter Willow and his son Trey looking happy in the middle of a path with palm trees.
The actress revealed on her caption that lately, she's been watching a lot of couples around her getting a divorce. "It's been really painful. Marriages change," she wrote. And continued
"Sometimes they need to be reimagined and transformed. Sometimes they are simply over ... but either way, I pray that folks going thru this painful transition find the patience and the love within to not throw the 'babies' out with the bath water."
Jada first started dating Will Smith when he was still in the middle of his divorce from Sheree Fletcher, and years later, she apologized to the woman in front of the cameras of her Facebook Watch show, "Red Table Talk."
"Because I did not understand marriage, I did not understand divorce ... I probably should have fell back," Pinkett Smith told Fletcher on the show. "You think?" Fletchers fired back.
JADA AND WILL SMITH'S VIEWS ON MARRIAGE
Will Smith shared on an interview with TIDAL's "Rap Radar" podcast that he sees his long-lasting relationship with the mother of two of his kids as something more meaningful than a marriage. "We don't even say we're married anymore. We refer to ourselves as life partners," he explained on the show.
He continued:
"Where you get into that space where you realize you are literally with somebody for the rest of your life. There's no deal breakers. There's nothing she could do — ever. Nothing that would break our relationship. She has my support till death, you know what I mean, and it feels so good to get to that space where you're not complaining, and worrying, and demanding that a person be a certain thing."
Jada confirmed Will's words in a radio interview with "Sway in the Morning," where she called Smith "family," and stated that, through their journey, she has learned to love Will and nothing will change that, ever.
She said:
"It doesn't matter, all that relationship and what people think, ideas of a husband and a partner and all that, man, whatever, at the end of the day, that's a man that can rely on me for the rest of his life, period."
Please fill in your e-mail so we can share with you our top stories!