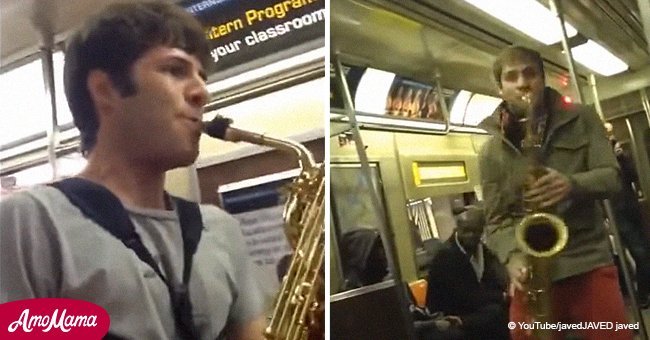 Two strangers whip out saxophones for epic music battle on subway
Two men, who were complete strangers, went on a saxophone battle during a random subway ride. The video of their sax-off quickly went viral.
It was a dull day in 2013 when one man decided to spice things up and whipped out his saxophone in the subway.
Naturally, people were stunned when he started playing, but they were all amazed when they realized how good he was.
Some people started dancing around him, while others clapped to the beat.
A couple of passengers took out their phones and started documenting the special moment.
Follow us on Twitter at AmoMama USA for more viral stories and updates.
In the middle of his performance, another man decided to join in the fun and also whipped out his saxophone.
He walked towards the center as he played one of Michael Jackson's classic songs, "Billie Jean."
As soon as people noticed the other guy, they were thrilled since they already saw a musical duel coming their way.
The two men finally met in the middle of the car, and it became a saxophone battle as people started cheering them on.
Zach Mayer played a baritone while Sapphire Adizes played a tenor.
What originally was a normal subway ride in New York City became a mini concert and an epic sax-off.
Not only were Mayer and Adizes able to show off their skills as musicians, but they were also able to brighten every passengers' day during that moment.
Perhaps it just proves how the Big Apple is filled with many talented people as random performances happen everywhere around the city.
Since the five-minute video was uploaded on YouTube, it has received more than six million views.
Social media users all around the word praised Mayer and Adizes for their talent and expressed how fun it would have been to witness the battle live in action.
In other news, Melissa McCarthy amazed the crowd during her "Lip-sync Battle" performance on "The Tonight Show Starring Jimmy Fallon."
Please fill in your e-mail so we can share with you our top stories!