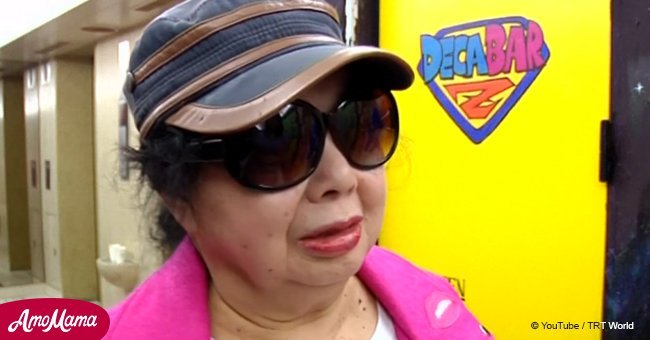 82-year-old granny becomes a nightclub sensation in Tokyo because of her hobby

Sumiko Iwamuro became a popular DJ in Tokyo's Red Light District. She performs at nightclubs and events all while working full time at her family restaurant.
Better known as DJ Sumirock, the 82-year-old Japanese woman is living out her dreams despite her noteworthy age. Iwamuro went to a DJ music school in her 70s and things took off from there.
She explained that a friend of hers was so impressed by her playlist at her son's birthday party that they "asked [her] if [she] wanted to DJ." Without hesitation, Iwamuro opted in. She began work after a year of training.
Follow us on Twitter for more @amomama_usa.
Iwamuro's love for music was ingrained in her by her father, a jazz drummer that had played for the US military. This started her interested in jazz, pop, classical music, and more.
However, Iwamuro has been working at her family's gyoza restaurant for over six decades. At the start, things were too busy for her to go anywhere so she "missed out on that entire (disco) era."
But now, Iwamuro is living out her calling. She is also learning new things like playing the cello, learning French, horseback riding, traveling more since her deceased husband did not like to, and even just learning to drive.
When asked about her age and the many events Iwamuro has to go to (she gets up to three inquiries per day), Iwamuro said:
"When I'm DJing, I don't think about how old I am. I feel free."
Iwamuro is indeed free to do her thing on her CDJ. She says she usually starts off with a hometown song called "Astro Boy," before moving to Kraftwerk and then picking up the beat with tracks from Zedd and Adam Beyers.
She stays between 128-135 BPM and has a couple favorite artists; Chet Baker and a French band named "Punish Yourself Too" among them.
Iwamuro works monthly at Shinjuku's DecabarZ and makes regular appearances throughout Tokyo's Decadence parties.
One of her big dreams "is to DJ at a small club in New York."
We certainly hope she gets to do that before her time comes. But when it does, Iwamuro herself said:
"When I die, it's going to be in the kitchen of my restaurant, the DJ booth, or the dancefloor."
According to Iwamuro, that wouldn't "be so bad."
Please fill in your e-mail so we can share with you our top stories!