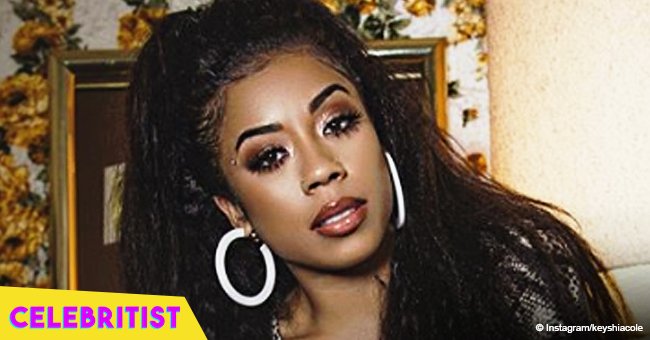 Keyshia Cole leaves little to the imagination in black, latex mini dress in recent photo
Keyshia Cole looks stunning and sexy in recent pics shared to her Instagram, after debunking the pregnancy rumors that had been plaguing her for months. The singer had deleted her account but now is back in full force.
Keyshia Cole knows how to go from glam to fierce to sexy with just an outfit change. The singer and reality star has been keeping her new Instagram account with a PG-13 rate, but her most recent pics raised the temperature of some of her fans.
In the pics, Cole is posing in front of an orange backdrop, rocking a lowcut black latex mini dress with openings on the side that put her thighs on display. Keyshia's arms and shoulders tattoos were on full display, and she completed the edgy look with a black hat atop her braided hair.
"Through EVERYTHING, with or without ANYONE, or ANYTHING, your MOST VALUABLE ASSET will always be YOURSELF," she captioned one of the pictures.
Fans immediately took over her comment section to praise her look and curvaceous body. One fan wrote "This is giving me the old Keyshia look," another added, "Yes Ma'am!!! You back & you ain't never left... Love you," and a third one said "you're so beautiful, u just made my day.. ur a breath of fresh air.[sic]"
Just two months ago, Keyshia surprised fans by saying she was pregnant only to clarify that she was joking the next day. The 36-year-old admitted that she was trolling and her reason to do so was the fact that people keep body shamming her and asking if she's pregnant every other day.
Cole has been dating 22-year-old rapper Niko Khale for a few months now, and even though fans have criticized the singer for dating such a younger guy, Cole is not ashamed of showing off their relationship on social media.
Her most recent photo proves that Keyshia is more than happy with the young man, as she's seen licking his cheek sensually in one pic and getting a kiss from him on the other. Cole captioned the sweet set of pics:
"Someone who matches my fly, Good hearted, and somehow has managed to keep his promises #LibraVibes... RP @nikokhale I only think of you on two occasions. That's DAY & NIGHT. #MCM Vibes."
When Keyshia first admitted she was dating Niko back in March in a now-deleted post, she made sure to let fans know that no matter what, she would keep her relationship afloat because she was happy.
"Now the reason I'm posting The pepper to my salt @nikokhale is because he's been such a sweetheart to me, and I kno people have been very judgmental about our relationship but I gotta nurture what nurtures me."
Please fill in your e-mail so we can share with you our top stories!