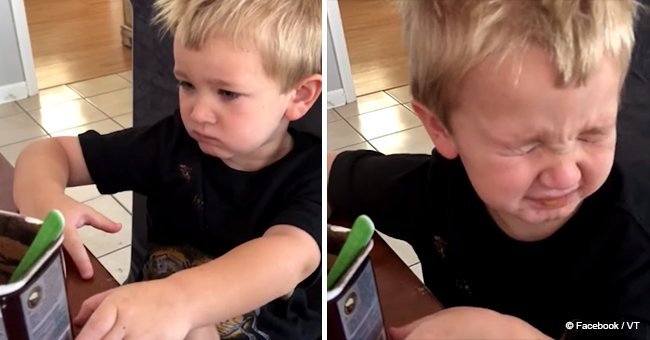 Little boy eats a spoon of cocoa powder and instantly regrets it
The young boy insisted on tasting a spoonful of cocoa powder even though his mother warned him it wasn't going to taste good. After having a taste, his reaction was hilarious.
The viral video featured Gabriel having a taste of unsweetened Hershey's cocoa for the first time.
It took some time to convince his mother, Stephanie, but she eventually let him have a taste of the bitter powder.
The mother and son were inside the kitchen when Gabriel had his eyes focused on the baking ingredient.
Follow us on Twitter at AmoMama USA for more viral stories and videos.
While filming, Stephanie explained, "The child will not stop insisting on tasting this. I keep telling him it's going to be gross, but he does not want to listen, so I'm going to let him find out for himself."
Gabriel grabbed the green spoon that was dipped it into the container of 100% natural cocoa.
As soon as he ate a spoonful, his expression instantly changed.
Slowly, the boy turned to the camera and kept silent. His face made it evident that he regretted ever tasting the product.
It seemed that Gabriel thought he was going to have a taste of the sweetest powder in the world, but he was obviously wrong.
He then looked at the container and turned it around to check if he was eating the right product. The look of disbelief was still evident on his face.
Stephanie soon noticed that her son was about to throw up and was turning pink. She asked him, "Do you want to spit it out?"
Gabriel started coughing the powder out of his mouth and dashed towards the sink. Gabriel then used water to rinse off the bitter taste in his mouth.
Speaking with Unilad, Stephanie explained that she likes to bake and Gabriel had just watched her use the cocoa to make brownies before the viral video was taken.
She said, "In his mind, it was going to be nothing less than delicious. I kept telling him to stop climbing on the counter, and that the cocoa does not taste good."
Meanwhile, another viral video showed a boy trying soda for the first time. The look on his face as he had his first sugar rush captured the hearts of many social media users and has swept the internet.
Please fill in your e-mail so we can share with you our top stories!