Sea lion plays a trick and scares her carer, then laughs at him like a person (video)
Animals don't belong in captivity. But, sadly, many animals have grown up in facilities built by humans, for different reasons, and some of the people who look after them go out of their ways to give them the best experience.
Most caregivers have the health and well-being of the animals they are responsible for as the top priority. Many of these creatures serve entertainment purposes, so their trainers make sure they are actually healthy and happy before meeting the public.
Playing games and making friends to have fun and affection with are fundamental aspects for a creature in captivity to be in good spirits, which not only results in good shows but in a healthy animal
Recently, a video of a playful sea lion that scared his human friend while he slept and seemed to laugh at him went viral after a Brazilian Facebook page shared it. Read more on our Twitter account @amomama_usa
The aquatic mammal appears to be very excited about what he and his human partner in crime are going to do, and it even acts like it understands the indications he is giving it, nodding as the man whispers in its ear.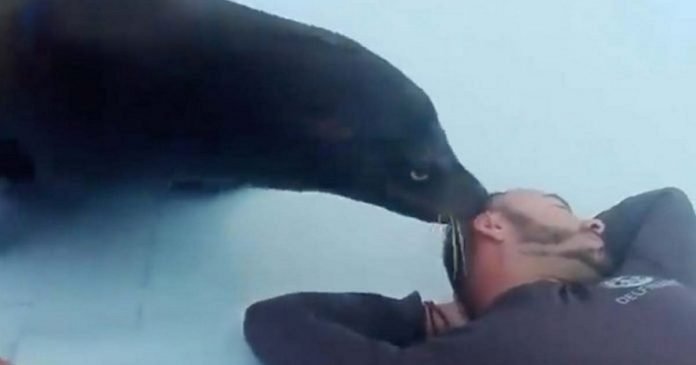 We know that sea lions are intelligent animals capable of learning routines, understanding indications and having a lot of fun with what they do, just like dolphins.
In the clip, you will see how the sea lion conspires with two of its caregivers to 'wake up' a third worker who's lying on the floor to rest.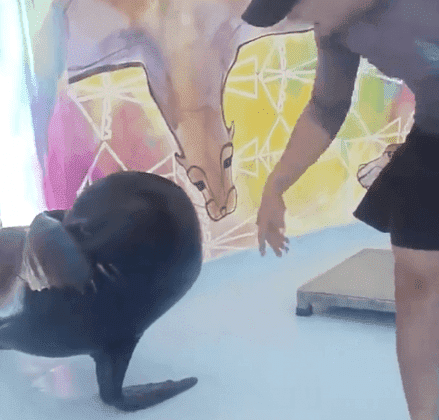 Before executing the joke, the sea animal nods to one of the caregivers as if to say that he understood the plan to the smallest detail. Following this, the mischievous creature approaches the man on the floor and makes a loud sound with his mouth.
At that moment, the subject "gets scared", and the sea lion starts to "laugh" at his prank as if it were a person, before running away. It is not surprising that the video has gotten so popular online. The entire thing is just hilarious.
This animal proved to have a great intelligence and a sense of humor, and received hundreds of compliments for its incredible and adorable performance.
"What a beautiful creature. These animals are so smart," wrote Delfina Acosta. "Gorgeous. It made my day," added Cecilia Chiriboga. "How cute and naughty," commented Vinka Riveras.
Seeing an animal trained for performing in front of an audience acting this way is certainly amusing and remarkable, but finding this kind of behavior in the wild is way more surprising and rare. A diver from Argentina had that luck.
Julian Bala had an incredible encounter and interaction with a group of overfriendly sea lions, and he captured some videos of one of the animals that got particularly close to him, even giving him a peck on the lips.