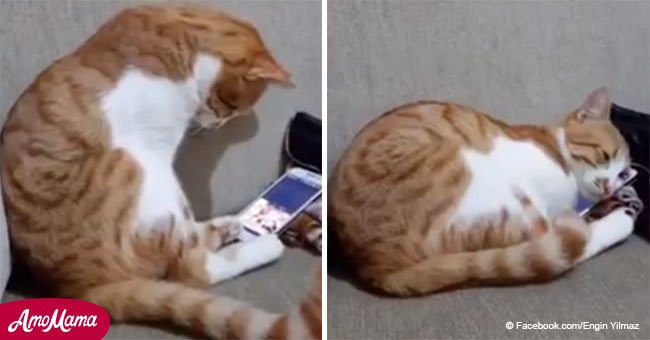 True story behind the sad cat that allegedly saw its owner's picture on a phone after she died

The video of a cat that allegedly saw the picture of his late owner in a phone and laid on the screen so it could pet it was explained and the truth is completely different.
Even though that clip was posted in 2016, it has resurfaced in the last couple of months with the story previously mentioned, which made the video even more adorable than it is.
However, Teyit.org reportedly interviewed Sevilay Deryal, who uploaded the video to his YouTube channel, and found out the truth. The man told the website that he was the owner of the cat and that, of course, he was alive.
He allegedly used the clip for a competition. Deryal said that the pet, which name is Mia, was not seeing her owner's photo but a video of a cat and a turtle together.
Teyit.org added that it was not the only time that Mia was used to entertain people as she was part of a TV show titled "Beyaz Show" in a humorous way. The segment intended to show animals' reaction to Selami Sahin's songs, a well-known Turkish singer.
Deryal allegedly said that whoever created the fake story about Mia's trying to get love from her "late owner" on the screen "abused people's emotions." He added that, while it was a good plot, it was fake.
Read more crazy cat stories on our Twitter account @amomama_usa.
"What's more, when someone learned that I was not dead, that person texted me saying her son had been crying all day and asked me to send her a picture of the cat so that her son could stop crying because her son had been telling his mother to adopt the cat for its owner had passed away," confessed Deryal.
The man pointed out that creating such fake stories make seniors and children feel sorry, especially for the cat, because they think that Mia could have been left abandoned or worse. Teyit finally revealed that Mia suffered from epilepsy and that Deryal's daughter found her in a schoolyard.
A different video showing a cat, Sparta, looking at his owner, Cory, faking a heart attack also went viral.
The cat walked over to the prone Cory and sniffed at him. He then meowed a few times proving that he was concerned. Cory "revived" and hugged Sparta in a very adorable moment.
Please fill in your e-mail so we can share with you our top stories!