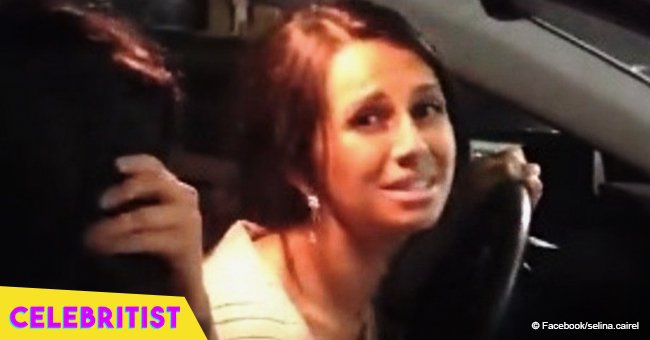 Video of woman's racist rant sparks such backlash that she decides to move

A woman who questioned a colored woman's legal status is now suffering from the backlash of her rant caught on video. She was reportedly forced to move out of her home and her former employer has condemned her actions.
A woman from Oregon who was caught on video ranting to a colored woman about her illegal status has been forced to move out of her home due to the backlash brought about by her offensive actions.
Selina Cairel, the object of the woman's rant posted a video of her encounter with the woman on Facebook. In the clip, the woman who's now been branded a racist was sitting in the driver's seat of her car with another woman when she told Cairel who was in another car across her,
"Before you say anything you might want to make sure you're actually legals, and then call the cops and let them know."
According to Cairel in her caption accompanying the video, their encounter started when they happened to park next to each other near Portland's Voodoo Doughnut shop.
"It started when she had said in the most demeaning poor excuse of a supposed 'Asian' accent that 'She's Asian, she can't see that's why she can't drive."
Unclear about what she meant, Cairel said she and her friend asked the woman what she was talking about and the woman replied,
"That you're illegals crossing the border and your parents probably had to work for (expletive) dirt just to get here."
The woman was smiling as she spoke while the other woman beside her tried to hide from the camera.
Cairel who purposely recorded it could be heard in the background saying "This is going to be good" knowing full well she was going to share the clip to the world. Her friend asks her, "Is this real life?" and she responds, "yes this is so much fun ([because] this is the kind of [expletive] I have to deal with in Portland."
Cairel didn't want the incident to pass without exposing the racist woman and said so in her caption.
"I never let this pass and wanna make sure this kind of behavior is seen and how people of color encounter this all the time. I wanna make sure she gets seen and her racist, ignorant behavior is exposed."
She ultimately succeeded as the video went viral and had been viewed almost a million times in two days. It also didn't take long before the woman in question was identified. She was of Native American descent from a tribe in Alaska.
Her mother has since spoken to KOIN and said she her daughter was "sorry" and knew she "made a mistake." Due to the backlash that included threatening phone calls received from her home, the woman was forced to moved out of the area. Her former employer at Stars Cabaret Bridgeport was also forced to issue a statement saying she no longer worked there after receiving tons of angry phone calls. The statement also read:
"Anybody who's associated with conduct that's embarrassing to the club and contrary to our beliefs, they would no longer be associated with the club. In America, people have a right to be ignorant. We have the right to not associate with that. And she can be a racist somewhere else."
Meanwhile, Cairel assured everyone she was legal when she shared a follow-up post – a photo of her American passport with the message,
"I promise I'm legal guys."
The latest racist episode in Portland is one of many that went viral in recent months. In August, a man from Portland of Middle Eastern descent, Bassel Hamieh also had an encounter with a racist female driver. According to him, the woman began doubting his citizenship and mocking his name after she sideswiped his car and continued driving only for Hamieh to catch up with her. During their three-and-a-half-minute encounter caught on video, she could be heard telling Hassiel "some of you are terrorists," and suspected he was going to use her ID to steal her identity.
Hassiel felt offended and knew he had to share the video if only to show the world how easy it is for people to judge others based on their appearance.
"It's all about what she said and the fact that people seem to feel more and more comfortable saying these things every day," he said.
Even popular celebrities aren't immune to the backlash of offensive racist comments. Roseanne Barr was fired from the reboot of her show "Roseanne" after she tweeted and compared former Obama senior advisor Valerie Jarrett to an ape. YouTube star Laura Lee was in tears in August when she apologized for her offensive tweets dating back to 2012 and 2013. Her channel lost more than 400,000 followers due to her tweets.
Please fill in your e-mail so we can share with you our top stories!