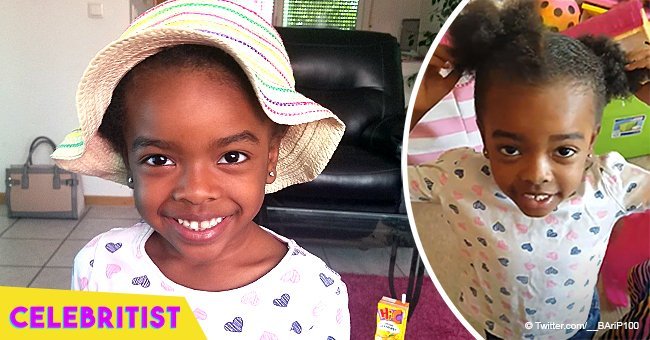 Adorable little girl goes viral after politely telling her dad he messed up her hair

An amused father shares a video of his little girl who in so many words tries to nicely tell him that he didn't get her hair right.
A cute video of a little girl trying to tell her father in a polite way that he did her hair wrong has gone viral.
In the clip earning "awwws" from its viewers, the little girl uses so many words in an effort to soften the blow of telling her father he didn't do her pigtails right. She also compares her dad's unsatisfactory work to her mother's skillful hair styling but still assured him several times that she liked what he did and didn't have to repeat it.
In the clip, she's staring up at her father who's recording her and explains why what he did was wrong.
"You did it like this and they're supposed to be up like this which they're not so I don't think you have to redo it. I still like it, it's just… I like it…it's just that it's wrong."
She also tries to explain how her mother does it as her amused father laughs in the background.
"Cause one time mommy got it right she did it up like I wanted it and you just did it all wretched and like, you did it like this and one up here by itself so I don't know what to say but I still like the hairstyle."
The little girl was obviously trying to spare her father from being hurt by speaking to him politely even though she wasn't satisfied with the lopsided pigtails he did. But she wore a hat according to her father who revealed this on Twitter later after posting the adorable clip.
The video has since earned more than 450,000 likes and over 150,000 retweets. Many young children could certainly learn a thing or two about being polite from this little girl.
This adorable father-daughter moment reminds us of another incident where a father alleviates his 6-year-old daughter's embarrassment by doing the exact same thing she felt embarrassed about. Ben Sowards of Utah poured water over his pants pretending he peed on them in order to make his daughter feel better after she felt humiliated peeing in her pants in school. He then picked up his daughter with his pants wet and even pretended to hide it as his daughter smiled feeling better she wasn't alone.
Soward's photo with his wet pants was shared by his wife on Facebook along with his story that inspired many with his unique way of cheering up his daughter.
Please fill in your e-mail so we can share with you our top stories!