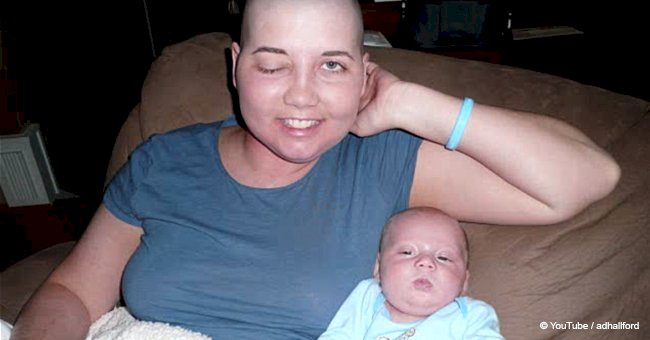 Doctors give mom only days to live, but she decided to fight for her children

Ashley Hallford, a 36-year-old mother of three, miraculously survived a stage 4 cancer that had spread to her lungs and liver. Prayers played a role in her recovery, said her oncologist.
According to Today, Hallford initially felt a bump on her neck in early 2007. When she visited the doctors, they prescribed antibiotics as they thought it was an infection. Even though it eventually reduced its size, it kept coming back.
Months later, Hallford got pregnant. The bump came back, but it was hard and painful, so the doctors performed a biopsy and discovered it was cancer.
The woman's pregnancy was induced at 33 weeks, and her first baby boy, Harley, was born healthy. However, her cancer battle had just begun, and she had a long way to go.
Doctors removed the tumor and a portion of Hallford's jaw muscle and tried to determine what type of cancer it was. Unfortunately, she started experiencing severe headaches and double vision, consequences of a brain tumor.
Later, full-body MRIs revealed that her cancer had spread to her lungs, liver, and brain. The oncologist diagnosed it as stage 4, and gave her a few weeks to live. Doctors stopped their attempts to identify her cancer and started treating it.
Hallford underwent several rounds of chemotherapy and radiotherapy and, since she was too weak to take care of the house and her husband spent the entire day working to pay the medical bills, people from their church helped them with meals and prayers.
Read more on our Twitter account, @amomama_usa.
Finally, in July 2008, her oncologist got the results of the latest scans, and they said: "The radiologist reports that there's no evidence of disease present." Almost as if it was a miracle, her cancer was in remission.
One year later, Hallford finished her treatment and some of the side effects her cancer caused faded away. In 2011, she got pregnant again, but her doctors feared that her illness might come back with the hormonal change.
Thankfully, there was nothing wrong with the pregnancy, and she delivered her second child in October 2012. Her third and final baby was born in January 2017, and her cancer is still in remission.
At the moment, she still experiences chronic headaches, pain in her eye, and peripheral double vision.
Something similar happened to two-year-old Easton Carraway, who has beaten a rare form of cancer two times after doctors discovered stage 4 tumors in his lungs and pelvis soon after he was born.
Please fill in your e-mail so we can share with you our top stories!