Heartwarming video of 'angel' nurse singing to mortally ill patient
September 24, 2018 | by

Fedya Kotiai
Nurses are some of the most special workers because they dedicate their life to take care of others. This job is not easy at all, sometimes they have to work for long hours, they suffer stress, they have to deal with people who are in their worst moment, and they still act like the kindest persons in the world.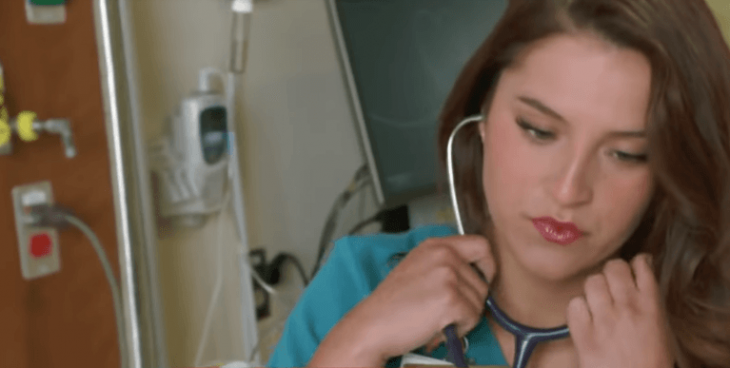 A nurse won herself a place in heaven after singing a beautiful song to a dying patient who lost the battle against cancer. This emotional video of a nurse from the Vanderbilt University Medical Center singing very tenderly to a patient with cancer has become a phenomenon in social networks, gathering more than 3.6 million views on Facebook in just a few days.
In October 2017, Margaret Smith, 63, entered this medical center due to a radiply deteriorating health condition as a result of liver cancer, which was diagnosed more than a year ago. She was waiting for a liver transplant, which doctors discouraged because of her delicate state of health. There was no turning back, cancer had won the battle, and Margaret would be moved to a Cookeville nursing home.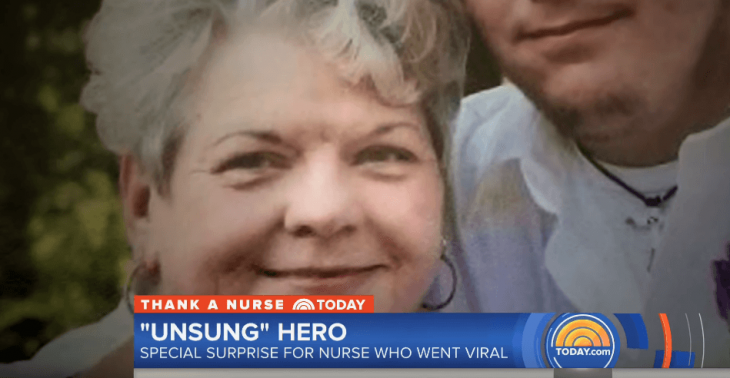 Before leaving the medical center, a nurse named Olivia Neufelder decided to dismiss Margaret in a very special way, singing "Dancing In The Sky" by Dani and Lizzy. A beautiful moment that a friend of Margaret captured with her cell phone camera.
Olivia is a loving nurse who works passionately every day for her patients. She is a gorgeous woman and always has a smile on her face. She tries to bring peace to all those who need it. Being admitted into a hospital is not easy, and Olivia's desire is to make the patients' stay more bearable.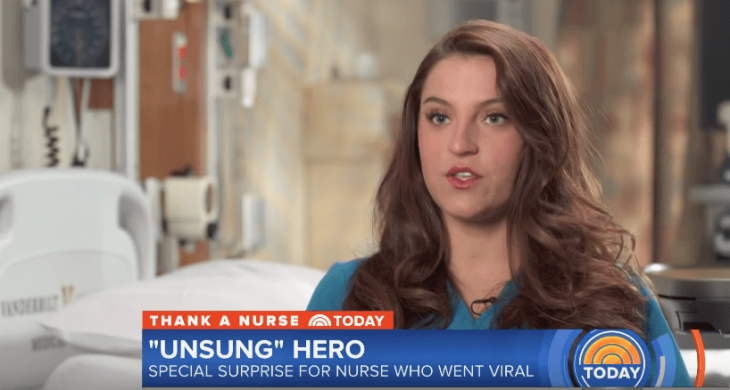 Crystal Hamilton Roberts, who posted the video, was a friend of Margaret's for 15 years and was by her side when Margaret was diagnosed with cancer a year ago. The publication of Hamilton is accompanied by a text that reveals Crystal's gratitude towards Olivia Neufleder, with words like "this is another video of the sweetest nurse in history."
"Olivia sang for Margaret when she asked," says Hamilton in her social network, "she never said 'give me a moment, I would do it, but now I do not have time." "The definition of a nurse for our family will be Olivia," concludes the text.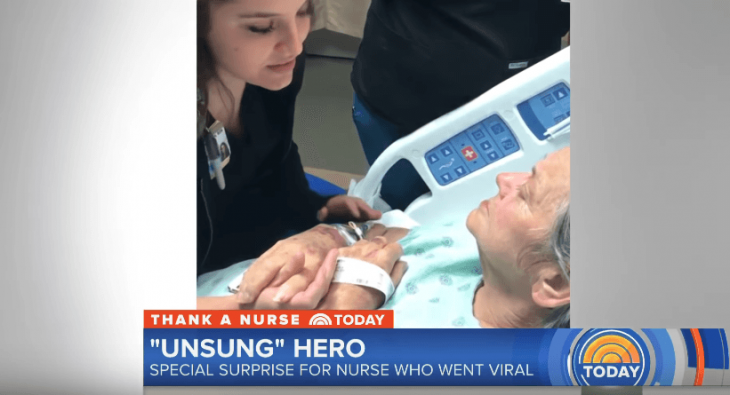 "She did not feel like a patient at the time, Olivia Neufelder wanted her to know that she was loved, even if her family could not be there," said this friend. On several occasions, you can see Neufelder who can't contain the tears. Despite her evident exhaustion, Smith sings and even smiles while the melody sounds.
As a form of thanks, Megan Smith, Margaret's daughter, also shared the video on Facebook, accompanied by a message in which she states that "words can't describe the appreciation and love we feel for Nurse Olivia, whom Mom called her angel. Dedication to your patients is something I had not seen before, you are truly a source of light. I can't thank you enough for the compassion, care, and love you had for my mother."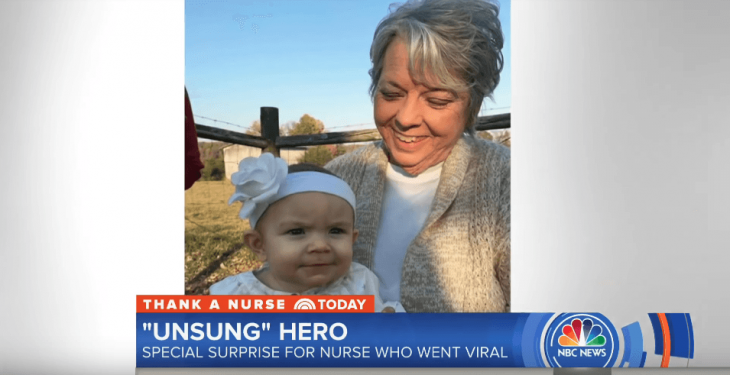 Margaret died two days after that happened. The video of Olivia singing to Margaret has become the best tribute for this woman, whose funeral will have the appearance of the singing nurse. The Today Show wanted to compensate the nurse for her incredible action, so they went to visit her at the hospital where she worked and surprised her.
They also invited Crystal Hamilton and her daughter. They had a moving reunion, they even started to cry when they saw each other. After they hugged each other, the host of the Today Show explained that they had a surprise for them. They walked into a room where Dani and Lizzy, the authors of the song that Olivia sang to Margaret, were expecting them.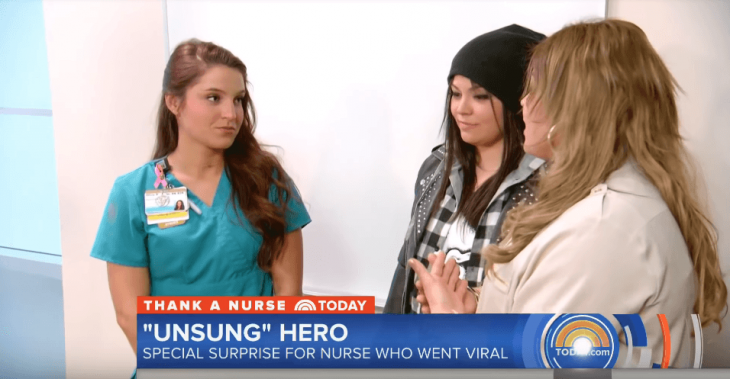 There they sang "Dancing In The Sky", and the persons who were in the room couldn't hold back their tears. Dani and Lizzy gave some supporting words to Olivia and Crystal and encouraged Olivia to keep working so passionately.
"I tried to leave those sad feelings and heartbreak aside, so I can walk into that next room and be the light that someone needs", that was one of the most memorable things that Olivia said on the report, and it shows how brave she is.
The video became viral and caused a lot of positive comments from the viewers. Many of them said that Olivia is an example for all the nurses and that we need to appreciate them for all they do. The video has more than 4.5 million views and has been shared almost 80 thousand times, so far.
Also, this encouraged nurses to tell their similar stories: "Ah, I did that with a patient a long time ago, my patient was dying and frightened and couldn't sleep. After my shift stopped, I held his hand and sang to him until he fell asleep, then I went home. He passed away in his sleep that night."
People with enough strength to support others on their dying bed deserve a special place in heaven. Those moments are the hardest for the patients, their family, and friends. Singing is one of the best ways to soothe an aching heart, and also one of the best ways to calm the fear that produces the imminent death.