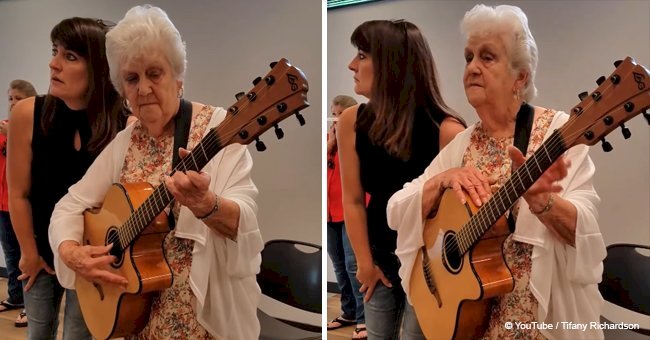 90-year-old grandma made a hilarious twist version of Patsy Cline's song 'I Fall To Pieces'

This grandmother, like most of us, is not thrilled about getting old. But like anything else in life, she knows that some laughter will help deal with the situation.
Grandma Vera created her own version of Patsy Cline's "I Fall to Pieces" by rewriting the song's lyrics to suit herself and her audience at a nursing home.
The 90-year-old clearly has a knack for songwriting. She renamed the popular hit of 1961 to "We Fall to Pieces," and the words will have anyone cracking up. The video is found below.
Follow us on Twitter for more @amomama_usa.
Vera's granddaughter, Tifany Richardson, posted the video to her Facebook in October 2017. The setting for the hilarious event was a birthday party.
The song was originally written by Hank Cochran and Harlan Howard. But Vera redid the classic country breakup song with a reminiscent twist that jokes about the reality of the hardships of old age.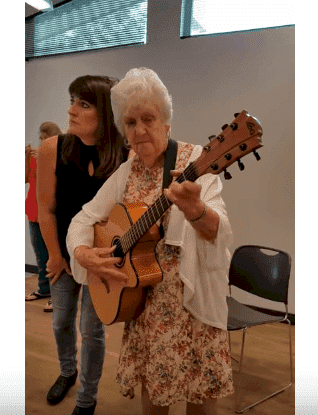 Source: YouTube/ Tifany Richardson
As she began to strum an acoustic guitar, Vera said in her intro:
"Does anyone remember Patsy Cline and 'I Fall to Pieces?' Well, I rewrote it and I dedicated it to seniors, and it's 'We Fall to Pieces. And if any of you young people think it's not true, I have news for you!"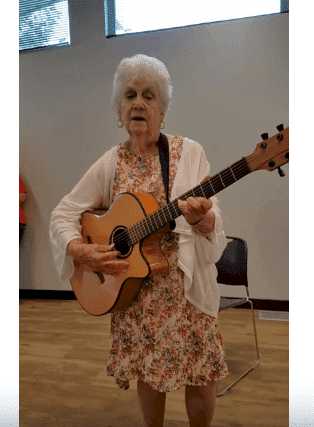 Source: YouTube/ Tifany Richardson
Vera's new words include:
"And we scrimp and we save for the golden years, now they're here and we fall to pieces."
The listening crowd is made to laugh at several instances. Particularly when she sang the line: "But each time we bend down we can't get up."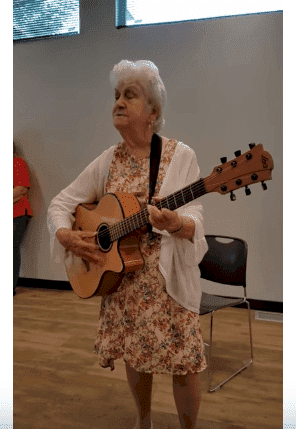 Source: YouTube/ Tifany Richardson
She also brought fits of laughter when she sang:
Oh yea, guess what else we added, fourteen inches in the waist."
Vera may not have showcased her talents earlier in life, but she sure hasn't lost her lyrical skills. The video has garnered over 11 million views since its initial upload to Facebook.
Besides Vera, there are others who want to pay tribute to the country superstar. Playhouse Stage Company is expanding its programming to include the country musical "Always... Patsy Cline.
Source: YouTube/ Tifany Richardson
Fans can see the production at the Cohoes Music Hall from October 4 through October 14 at 8 p.m. from Tuesday to Saturday, and 2 p.m. on Saturdays and Sundays.
And like Vera who has captured the hearts of so many on the internet, there are others who like to show their love for seniors.
In March 2018, one Kansas little boy named Oliver is only five years old. But he felt compelled to purchase flowers and cards to give to seniors.
"I just want to make somebody smile," the kind-hearted boy explained in a clip which has since gone viral with over nine million views.
And that he does when he hands over the special presents to the older people at various nursing homes. Not surprisingly, Oliver also wanted a police officer uniform since he wants to help people.
Please fill in your e-mail so we can share with you our top stories!