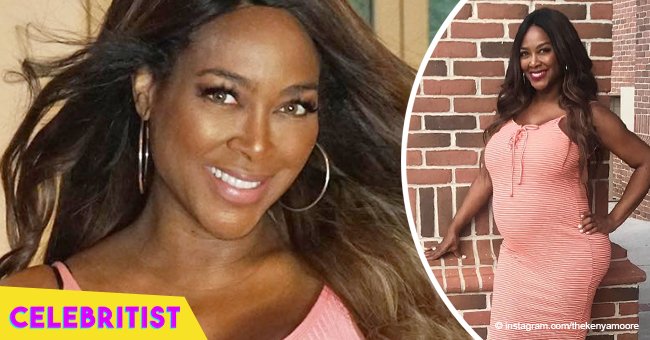 Kenya Moore accused of faking pregnancy after 'breakdancing' in video shared by Kandi Burruss
Kenya Moore faces a new wave of fake pregnancy rumors after she showed off on the dance floor during a recent outing with her friend Kandi Burruss. Find out the new theory that's emerged about her allegedly fake condition.
Who says pregnant women can't dance? Certainly not Kenya Moore who showed off her dance moves while hanging out with her pal Kandi Burruss. But fans are skeptical and think the reality star has been faking her pregnancy all along seeing how she breezed through her breakdance routine.
Moore announced her pregnancy in April to disprove previous rumors that she was faking it. Following her announcement, she's been flaunting her growing belly, silencing the malicious talk once and for all.
But now that she's well into her pregnancy, fans are beginning to doubt it again, most especially after they viewed a recent video Burruss posted where the expectant mom showed off on the dance floor.
At the beginning of the clip, Moore is sitting and laughing, even accusing Burruss of saying her face was fat. But in the succeeding footages, she breaks into dance, skipping from one foot to the other while people around her cheered. Fans who saw the clip commented on the oddness of her activity of choice knowing she was with child. This prompted them to suspect Moore was just pretending to be pregnant and was merely wearing a fake belly under her white tank top.
Here are some of the comments alluding to her fake pregnancy.
"Well damn she tryna stay pregnant until the new season of RHOA start... I swear she been pregnant for a whole year already and still only 5 months"
"This lady been pregnant for ten years now."
"Looks like she has on a pregnant body suit.... my opinion"
"Is Kenya preggers?
Moore has been denouncing fake pregnancy rumors since she claimed she was expecting with her husband Marc Daily. Many doubted she could still get pregnant with her age even when she admitted she did so through IVF. She also flaunted her bare baby bump in the past so there shouldn't be any denying that she is in the delicate state.
But all the negative talk isn't letting Moore down. She continues to celebrate every moment of her pregnancy, like the time she shared her husband's reaction to their unborn baby kicking. In the image she posted, Daly was visibly surprised as he held on to his wife's belly, feeling his baby move. Moore was laughing, a candid moment to cherish. There's no doubt she's pregnant by the looks of this.
Please fill in your e-mail so we can share with you our top stories!