Brave rescuers save a calf stuck in the mud surrounded by hungry alligators
Daring rescuers risk their lives to save a trapped calf from becoming a crocodile's dinner.
A dry lake in Bananal Island, Tocantins, Brazil, was the scenario for a daring rescue. Animal rescuers were told that a starving calf was trapped in the drying mud of the lake bed, and needed help.
When they arrived, they found the situation to be a lot more complex, and dangerous. The calf was surrounded by hissing crocodiles wallowing in the muck.
In order to save the animal, a rescuer would have to go in among the giant saurians, risking life and limb, and the video of the rescue was posted on YouTube by The Dodo, garnering over 1,4 million views.
BRAVE MAN RISKS ALL TO SAVE TRAPPED BABY
The drought had dried the once deep lake - home to hundreds of crocodiles - and all that remained was the sticky mud, and this was what had trapped the unwary calf.
Equally imprisoned by the drying lake bed were dozens of hissing and hungry crocodiles, and in order to rescue the calf, rescuers would have to run the gauntlet of their ravenous jaws.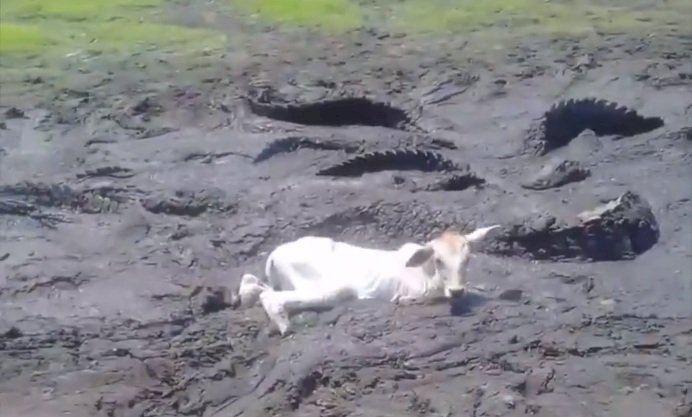 THE STARVING CALF WAS TRAPPED IN THE MUD
The rescue worker slowly inched his way across the field of mud and buzzing flies, constantly keeping an eye on the crocodiles until he was within reach of the trapped calf.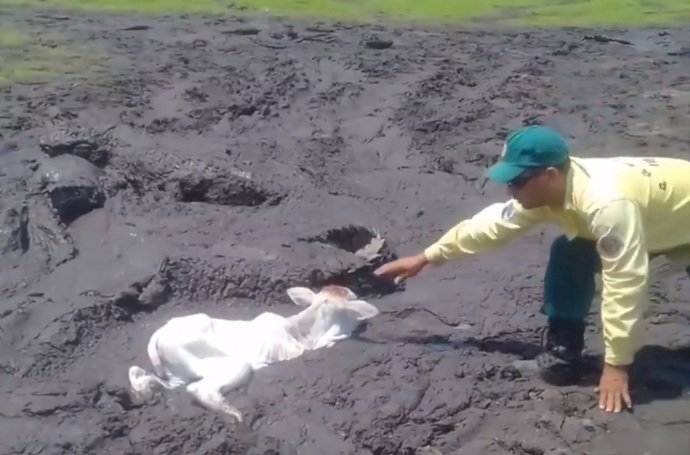 RESCUE WORKER PULLED CALF OUT BY THE EARS
The brave man finally reached the calf, and grabbing hold of its large ears slowly started pulling it out of the sticky mud as the frightened animal bleated in distress.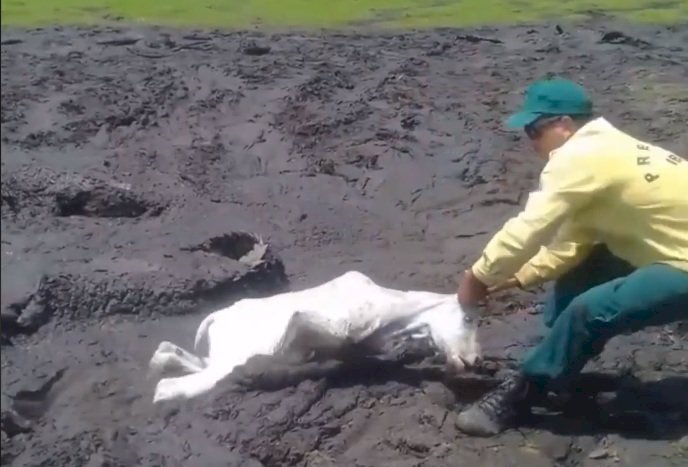 ANOTHER ANIMAL WAS RESCUED FROM CERTAIN DEATH
After rescuing the calf, the rescuers found and saved another animal in the same straits - this time a full-grown cow.
In
Alberta Canada
, another baby was saved from a similar fate. Boater Kane Savidan had just pulled his boat onto a sandbar in the Wapiti River, near Bear Creek. He was setting up his camping site, unloading the cooler and the chairs.
Then, Savidan's cousin reported hearing a strange sound. The two men decided to investigate and realized the sound was being made by a baby moose.
The animal was almost fully submerged in the muddy riverbank.,and seemed to be trapped. If it didn't get free, the men saw, it would surely drown.
The men freed the animal and washed it clean. The moose appeared to be no more than two weeks old and was unafraid of them. Later the baby moose walked away into the woods, probably in search of its mother.
In a related story, an animal rescue worker saved a desperate dog from drowning in an 80-foot-deep uncovered well in Rajasthan, Northern India.