10 Times Meghan Markle Came To The Edge Dressing Like Kate Middleton
Being a fashion icon, it is evident that everyone wants to copy the Duchess of Cambridge, Kate Middleton. One of those is her new sister-in-law Meghan Markle who, in fact, appears to be receiving great sartorial advice. Maybe that is why she has worn some pretty similar outfits to Kate's on several occasions. Do you want to know about them? Then this is your lucky day because we bring you all the details in the article below.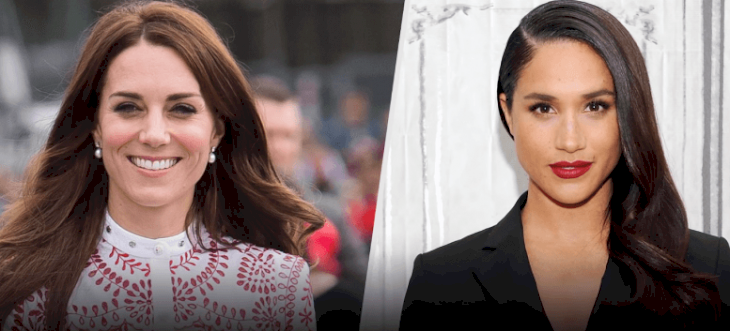 1. The plaid look
Do you remember how was Meghan's style while she was a Suits actress and before getting engaged with Prince Harry? Yes, we know; it was utterly different. However, since her official proposal, her fashion style has been stepping up and looking more like Kate's ladylike and polished elegance.
One of the first copies was a gray plaid off-the-shoulder jacket by Theory brand. This pattern is well-known as the Prince of Wales Check. The former actress wore it during her visit to Wales at the beginning of this year. But surprisingly, the mother-of-three had already worn a coat with similar checks.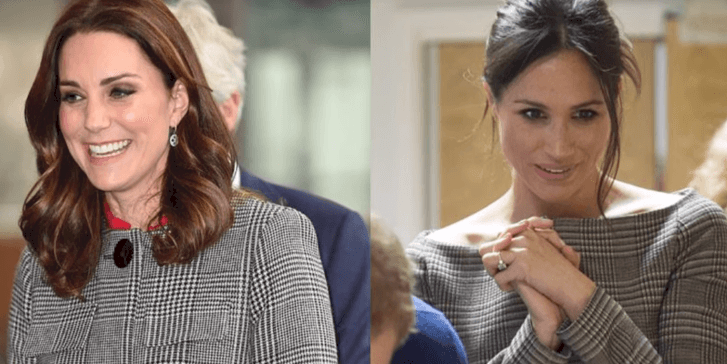 Designed by L.K Bennet, Kate exhibited the piece just a month before. The Duchess of Cambridge was paying a visit to Manchester when she made that fashion choice. Nevertheless, if we want to call someone a copycat, then both duchesses can be found guilty. 
This very same pattern has been in the royal fashion history for decades, so the connection goes further back. Princess Diana was the first one to adore this pattern, which is called 'glen plaid.' Sorry girls, someone got ahead way before you.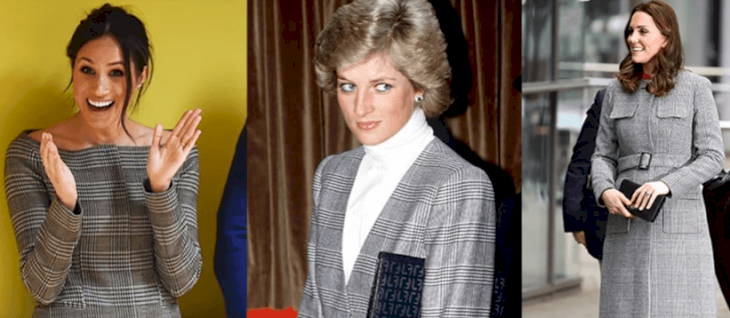 2. The royal blue cocktail dress
If we want to talk about iconic clothing pieces, then for sure we need to mention the royal blue wrap dress that Middleton wore when she and Prince William heralded their engagement back in 2010. The knee-height dress was matched with a pair of black high heels.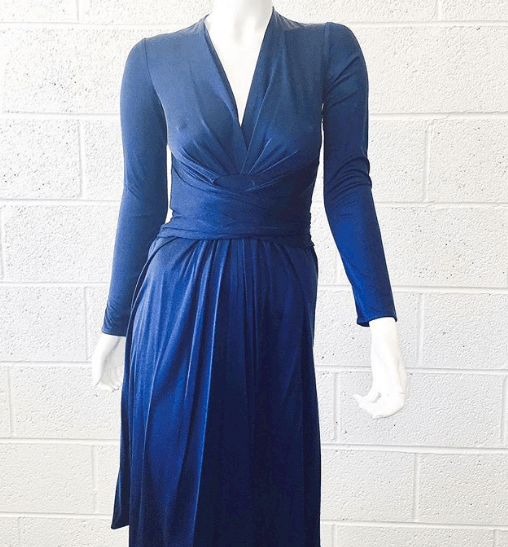 Six years later, the American lady was spotted with a similar piece when she attended an Instagram dinner in Toronto. Despite the similarities in color, the style of both garbs makes a clear distinction between these two royal girls. 
Kate's one is coyer with long sleeves and a V neck, while Meghan's dress is shorter, flirtier and funnier, with a low halter neck and showing off some more skin in the arms. It also has a sexy shape with a tying detail in the front.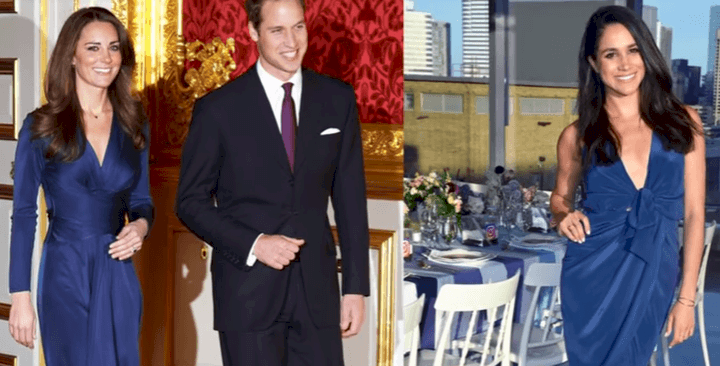 3.  The gray dress
It is true that after Kate got engaged, her sultry and tight dresses were changed to more refined looks instead. But when she was recently wedded, she donned a daring gray bodycon made by French fashion designer Catherine Walker.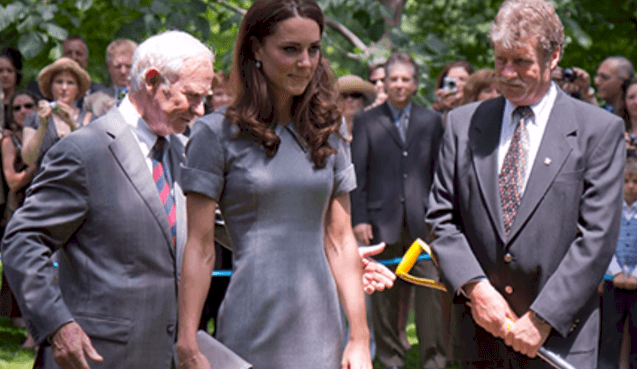 Kate was visiting Canada and the USA in 2011 when she went for this number. Around 12 months later, the dark-skinned girl went to Toronto's International Film Festival and opted for a similar tight dress with almost exactly the same tone. 
But apart from the clothing, they also had a couple of things in common. First of all, we have the confidence in which they walk with any number they decide to put on. Secondly, they have similar figures; both are tall and slim, so their similarities are more noticeable because of this traits. 
3. Patterned outfits
If there is something that distinguishes Kate is the patterned outfits she wears. A great example is a patterned black-and-white skirt that she put on for a society wedding three years ago. Her sense of fashion makes her combine this type of skirts with more plain pieces.
A great example of this was on that occasion when she chose a white blazer with classy black pumps. In 2014, Meghan decided to copy the patterned skirt during the NBC/Universal TCA winter press tour. Her black and gray skirt was teamed with a white blouse and black sandals.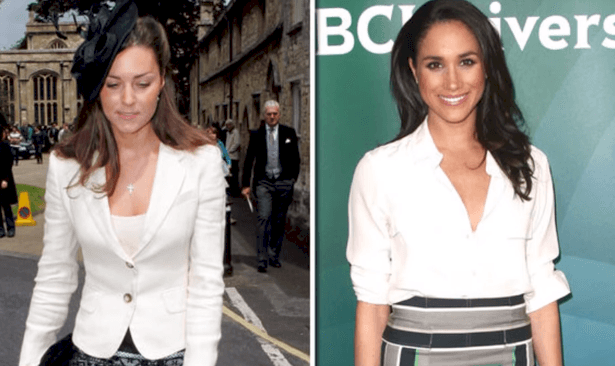 4. Jeans
Can these two duchesses be more alike? Apparently, the answer is a big yes. Even with more casual styles, this pair looks very similar. When Prince George's mother was visiting Alberta in 2011 for Calgary Stampede Parade, she displayed bootcut jeans with a white blouse and a cowgirl hat.
In 2015, Prince Harry's wife was seen at the Dove Self-Esteem Project Event in Toronto with an almost identical pair of dark blue denim jeans with a similar belt and combined with an alike white blouse. If Meghan had worn a cowgirl hat, anyone could have been easily mistaken as twins.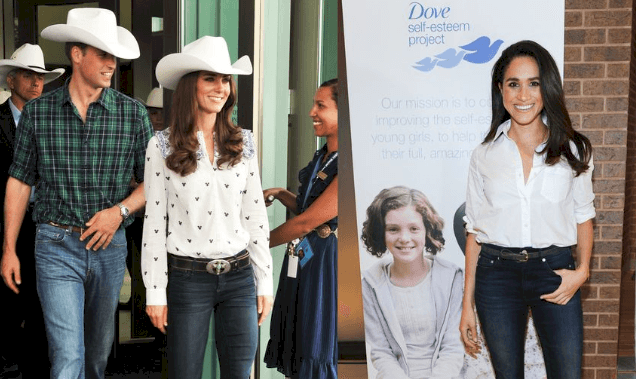 5. The Scottish style
As the old saying goes, 'when in Rome do as the Romans,' Meghan has applied this valuable lesson in her new royal life. So when she had to pay the first official visit to Scotland, what else could she have worn than the tartan pattern?
The Duchess of Sussex attired in a navy blue and green tartan pattern long coat designed by the British brand Blueberry. To match it, she wore a Wolford black turtleneck with pants by Veronica Beard in the same color. To complete her outfit, she exhibited a Strathberry bag.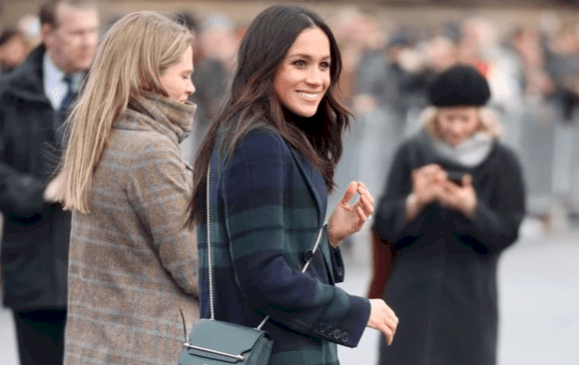 The reminiscence of this number dates back to 2012 when Middleton donned a dress with the exact same pattern during an event at St. Andrew School. Although the pieces of clothes are different in design, the colors and the pattern similarities are undeniable.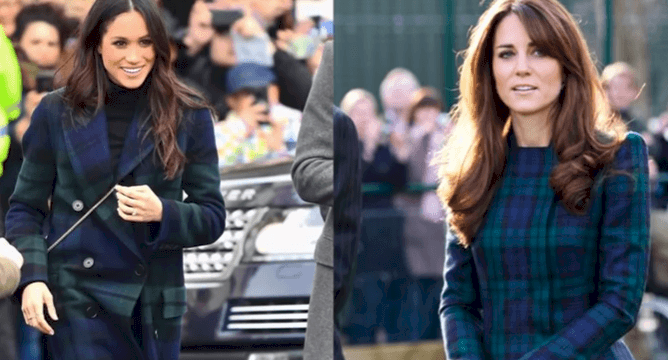 6. Elegant numbers
Even for gala events, these two sisters-in-law look identical. Kate wore a teal gown by Jenny Packham for the 600th Anniversary Gala Benefit for St. Andrews that was held in New York in 2014. She complemented her outfit with up-do and gorgeous jewelry.
Similarly, Meghan went with a similar attire to the red carpet at Elton John AIDS Foundation's benefit just a few months away. To make it even more shocking, both events took place in the Big Apple, and both ladies went for some stylish updos.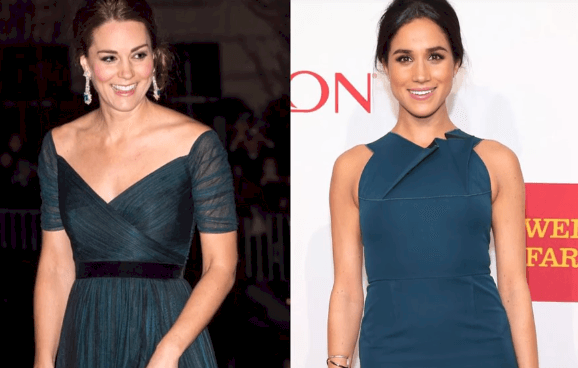 7. The red dress
If a woman wants to call the attention, there is no other color she could wear than red. In 2016, these almost 'twins' picked the tone for their midi-A dresses, but to twist things a little, for this opportunity, Meghan wore it first. 
She was attending a Today show a couple of months before Charlotte's mom decided to put it on during her visit to Victoria, Canada. The only difference in their outfits was that Middleton went for red pumps while Markle resorted to nude high heels.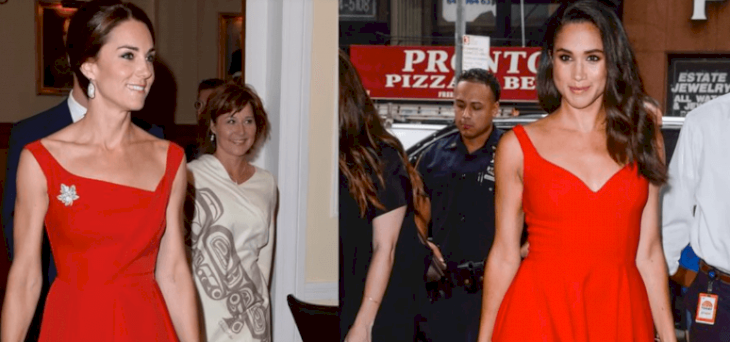 8. Going floral
Flowers cannot be left aside in the fashion choices of these two royals. Williams' spouse stepped outside her fashion comfort zone with a floral pattern knee-height dress by Erdem when she was spotted at Heads Together Event last year.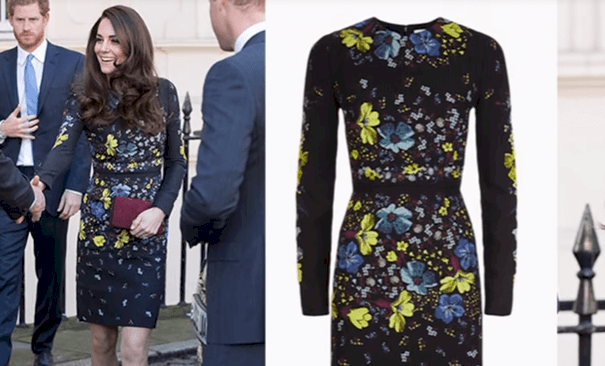 But years before that, Harry's spouse was seen with a similar design during Tracy Reese's show on NY fashion week of 2013. Although the colors can be a little bit different, the shape, and the sleeves with the black background definitely make them look alike.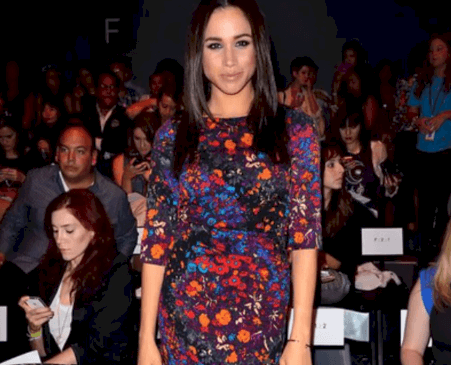 9. The all-lace look
If there is a material that Kate loves is lace, for sure, and that is why she has several dresses with that material. She has worn a black Diane Von Furstenberg's Zarita dress on different occasions, but the most recent one was in November of 2017. 
But five years before, Markle exhibited her shorter version of the same brand but in navy blue for USA Network event. We can see that these two girls were destined to be in the same family and become sisters-in-law.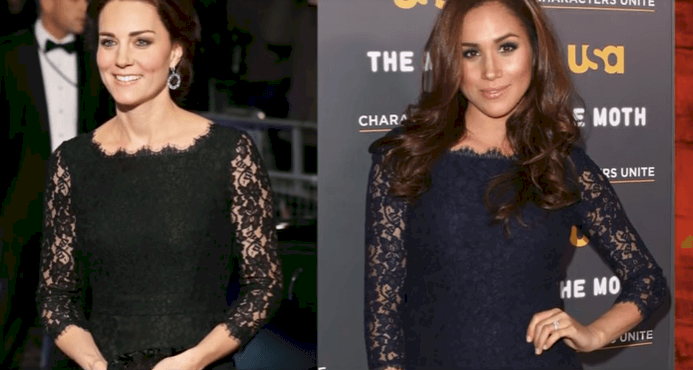 10. The all-white outfits
It is understandable that Meghan decided to don an all-white attire for one of the most significant moments of her life: her royal engagement. With a white wrap coat by Canadian brand Line The Label, Meghan showed off her big rock. Duchess Kate had a similar one upon her arrival in Poland for 2017 royal tour.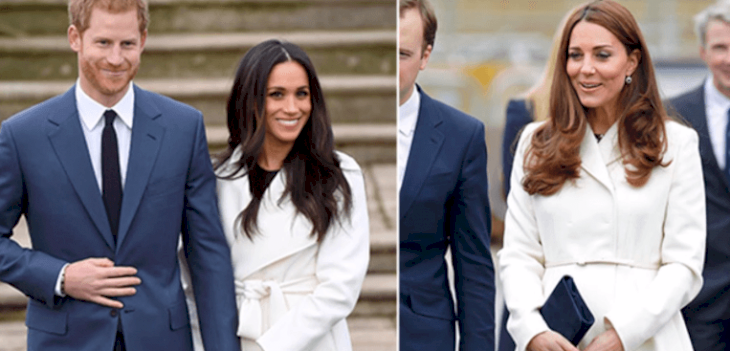 Even before being related, Kate Middleton and Meghan Markle had the same vision when it comes to fashion. Although the former actress has copied many of her sister-in-law's outfit, Kate has done the same for some events. Who do you think that displayed them better?