Prom Dress Purchased Online Happened To Look A Bit "Differently" From What Expected
Online retailers like Amazon are a godsend for people with busy lives or those who just don't want to go to a store. However, for all its benefits there are also many downsides. The following list shows girls who were very disappointed with their online purchases. Let's take a look at these prom dresses.
1. Poor Morgan was clearly duped by false online advertisement. This dress is not even close to the one in the model. We understand that companies want to make money, but there should be a law to prevent this situation.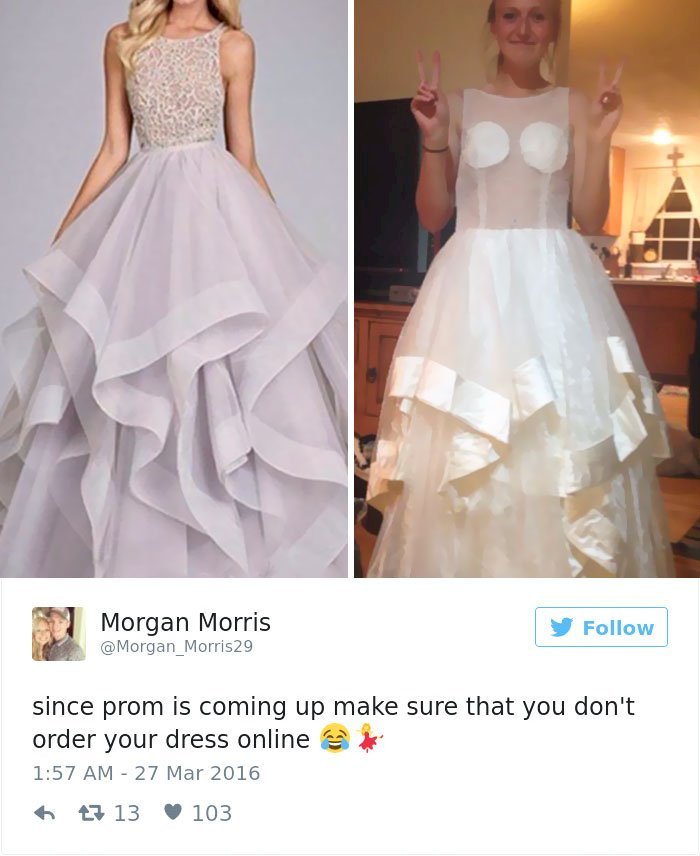 2. Fitting into a mermaid-cut dress is not easy, but that's not what happened here. This poor girl didn't get the dress she bought at all. We hope she got a refund. 
3. This dress looks similar to the picture, but it clearly doesn't give the desired results. The photo was probably doctored.
4. This is one of the worst ones on the list. This was a very fitted dress, and yet, Tori received a whole blanket. What is wrong with people?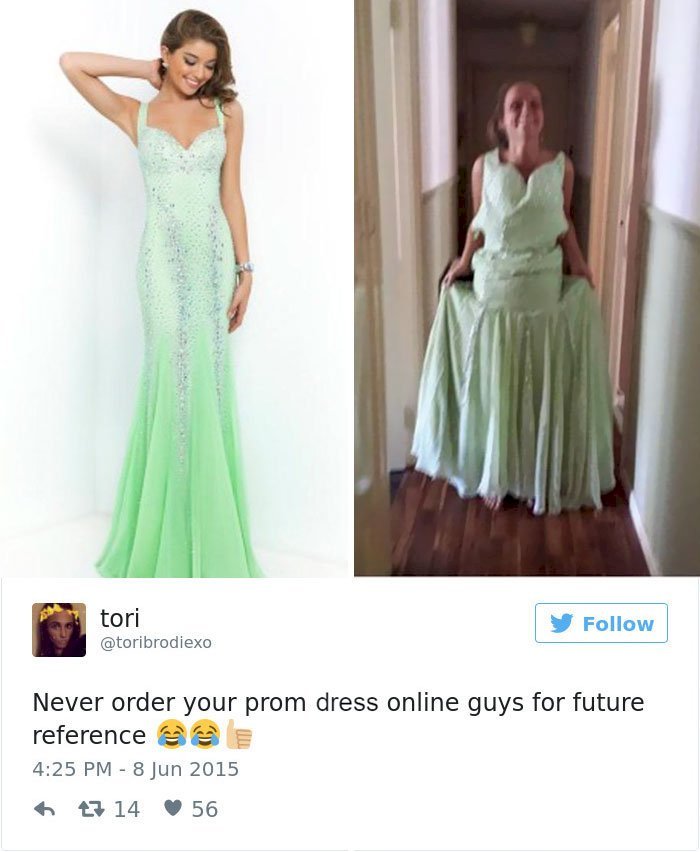 5. Clearly, the fabric of that dress was extremely misleading, and the picture was apparently altered to look better.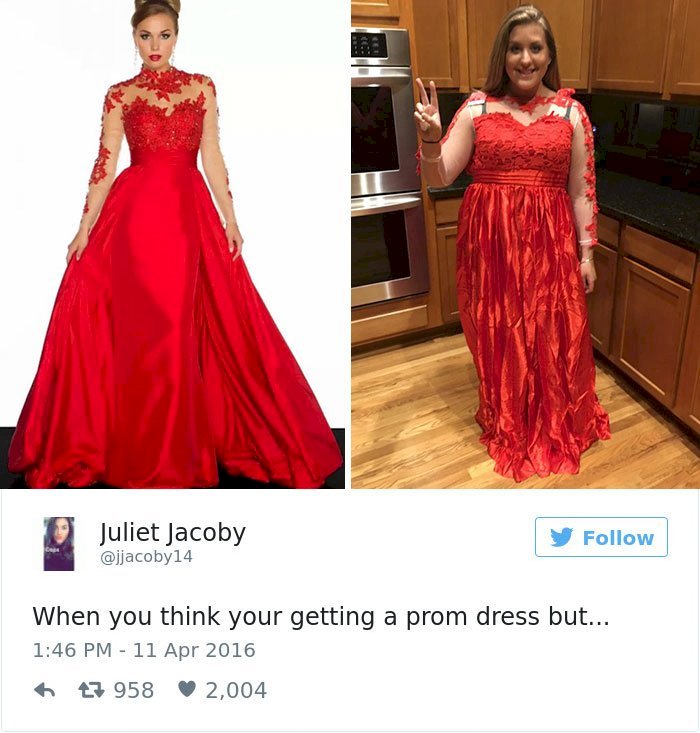 6. This dress is tight/fitted in a very skinny model, and yet, Cooper received a lot of fabric that wouldn't contort to her body. It's clearly her size but not well made.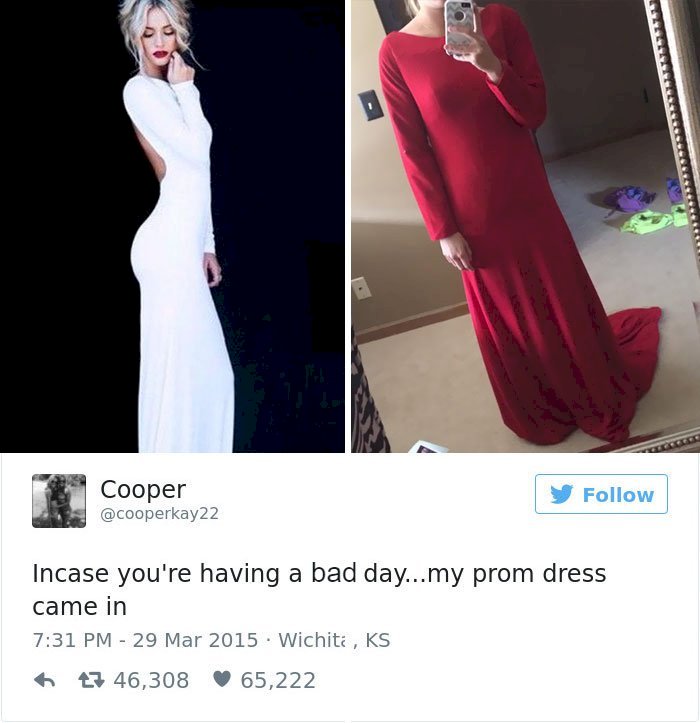 7. The lace bust in the most misleading part of this dress. It's kind of similar but clearly made of a much cheaper material. We feel sad for Saffron.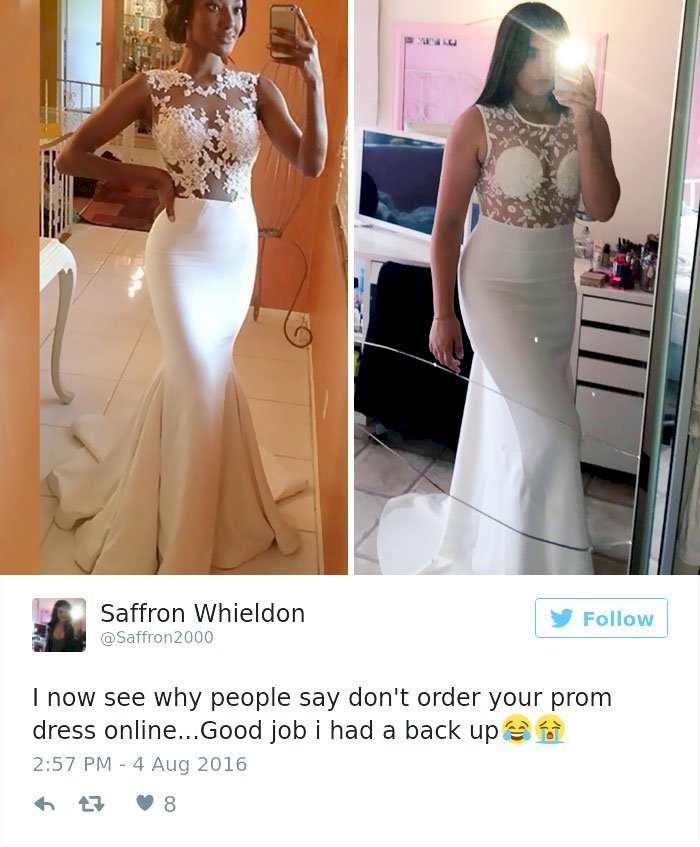 8. Another mermaid-cut dress that merely doesn't fit or look according to the picture. We wouldn't recommend buying a prom dress online even if it's cheaper.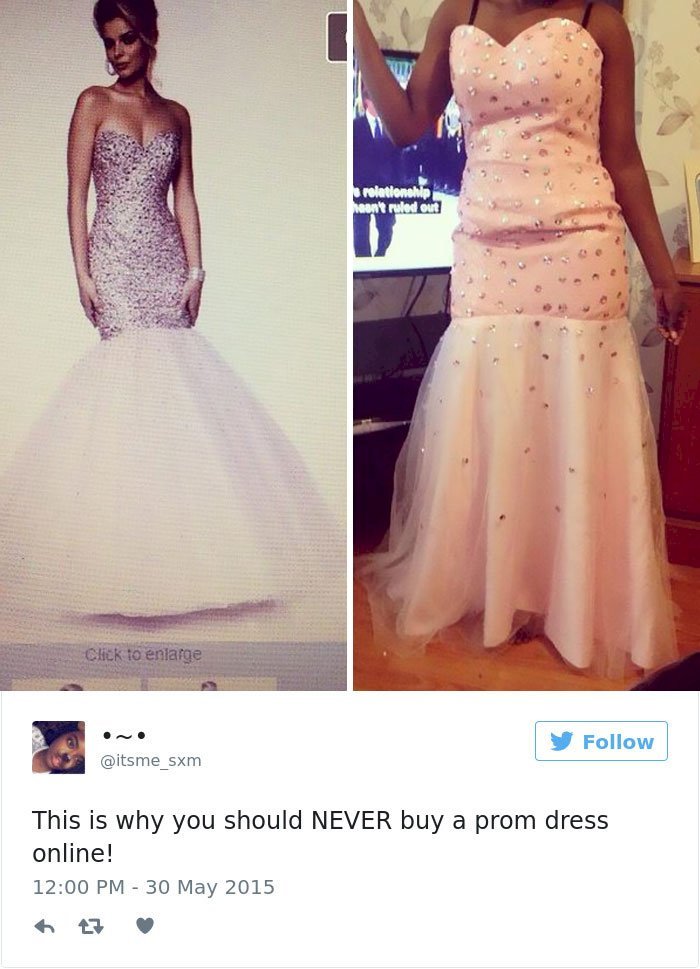 9. This green gown doesn't look anything like the original picture. It has some lace in it, but everything is completely different.
10. Sometimes, models look better in clothes, but most of these pictures are photoshopped to sell a product that doesn't look anything like the original.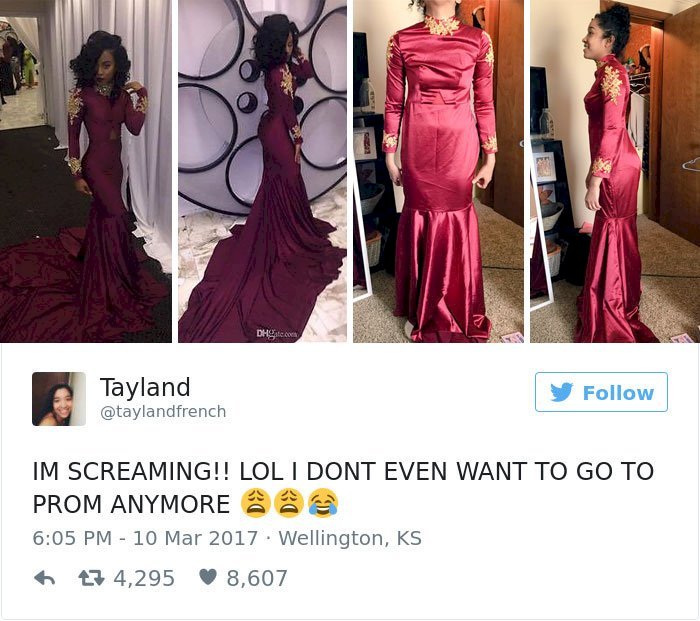 11. Buying dress based on what a celebrity wore on the red carpet is clearly not the best idea. It's better to get something that you like.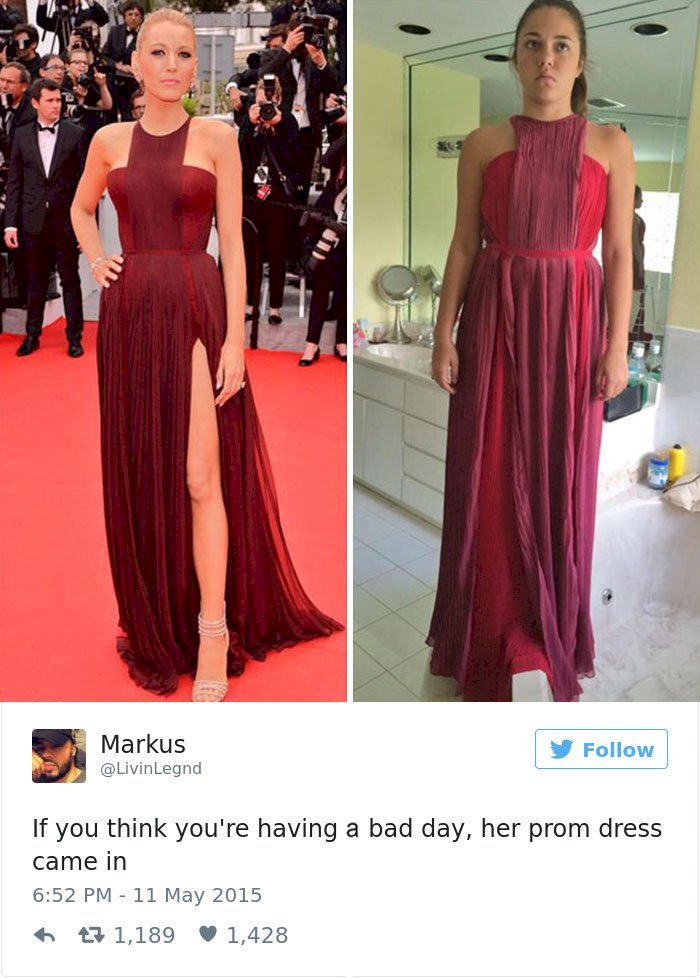 12. This dress is not exactly ugly, but it's obviously not the one this girl purchases according to pictures. That's why we have to check product reviews.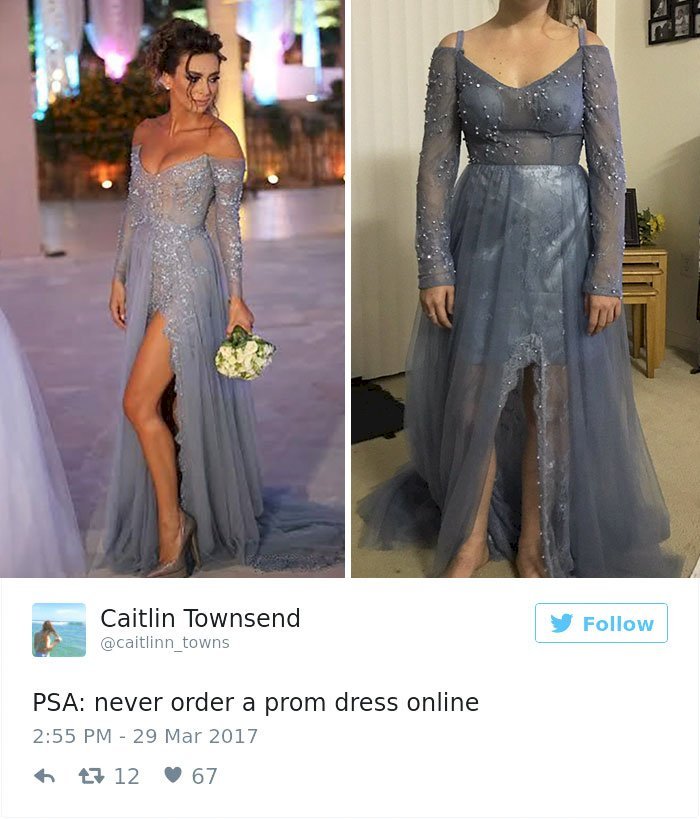 13. There's no reason why this dress has such a lousy fit and looks utterly awful with those cups. We hope this girl got her refund.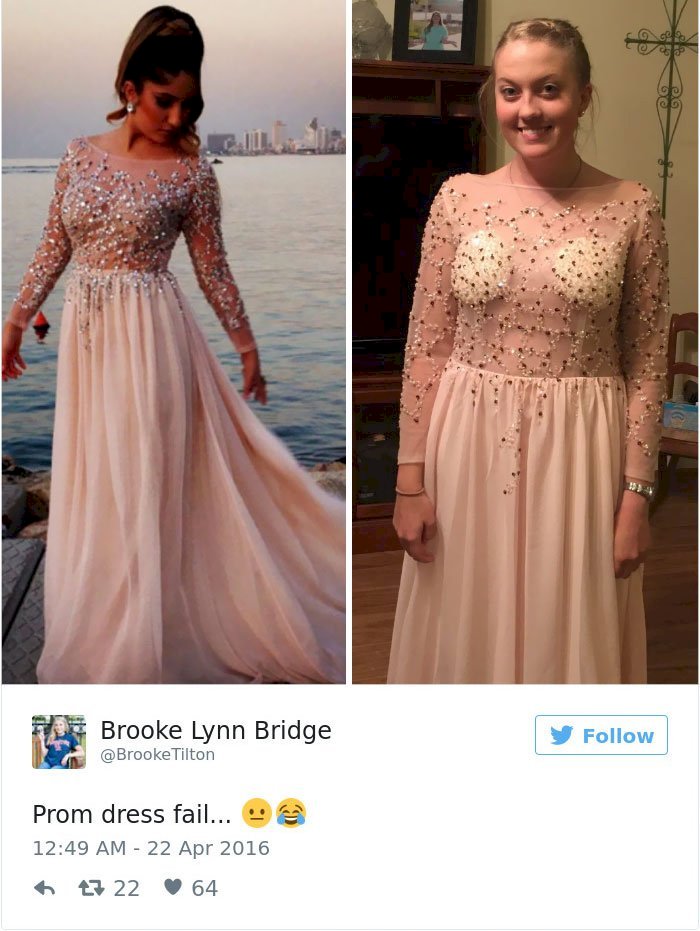 14. The people that sold this dress should go to jail because neither the color or the fit is correct. It's an entirely different product. Poor Caeley.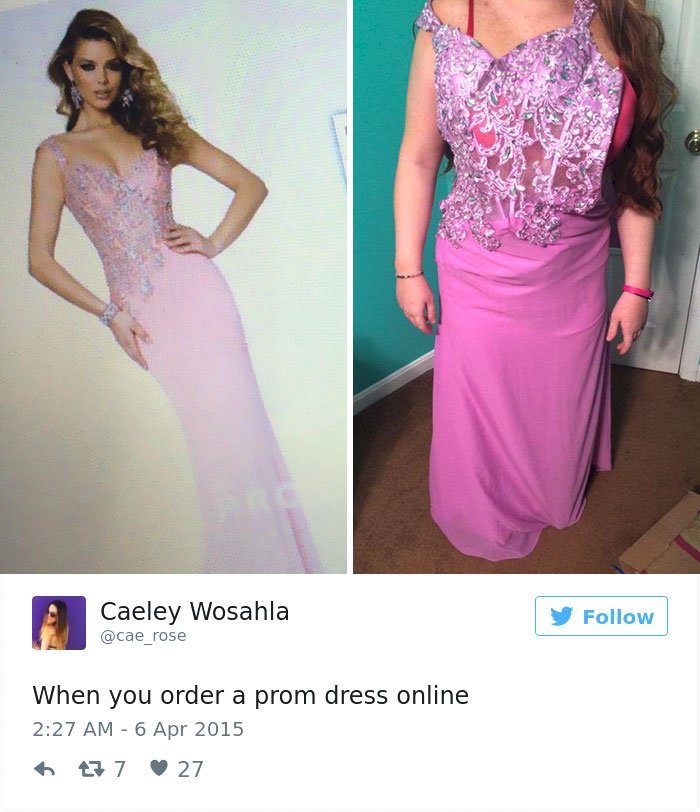 15. This beautiful blue gown should've looked fantastic on this slim girl, but it's nothing like the picture of the product. We might laugh, but it's sad.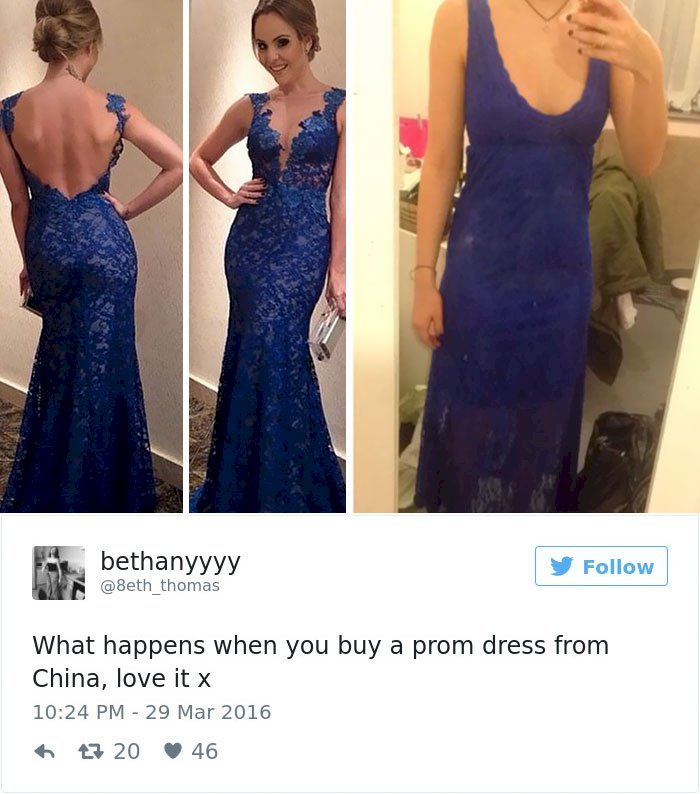 16. Sometimes, retailers try to copy dresses that walked the runway, but this is just another crime against fashion. At least, Emma is laughing about the situation.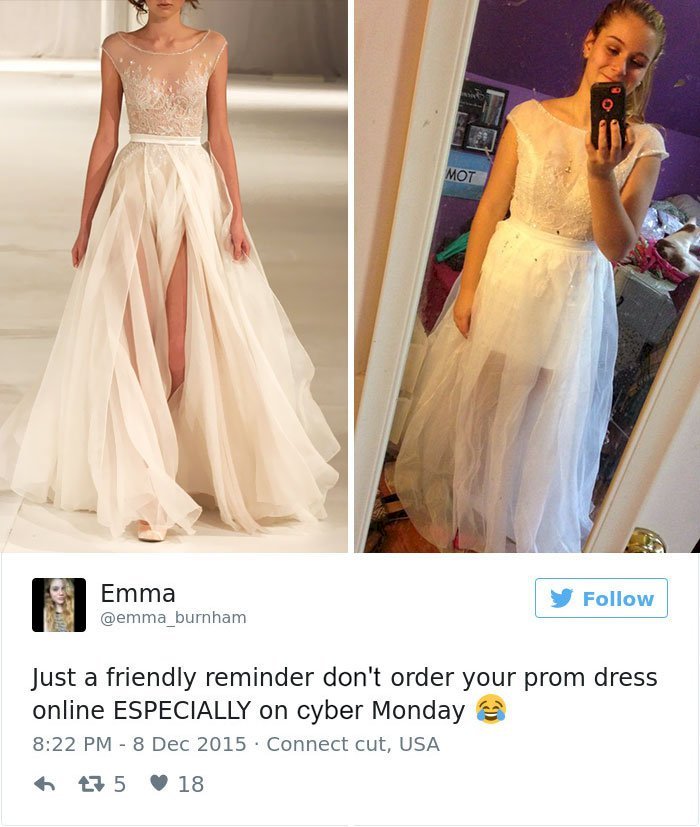 17. This poor girl received a shower curtain instead of the pretty green dress she purchased online. The material looks so cheap; it's just disheartening to see.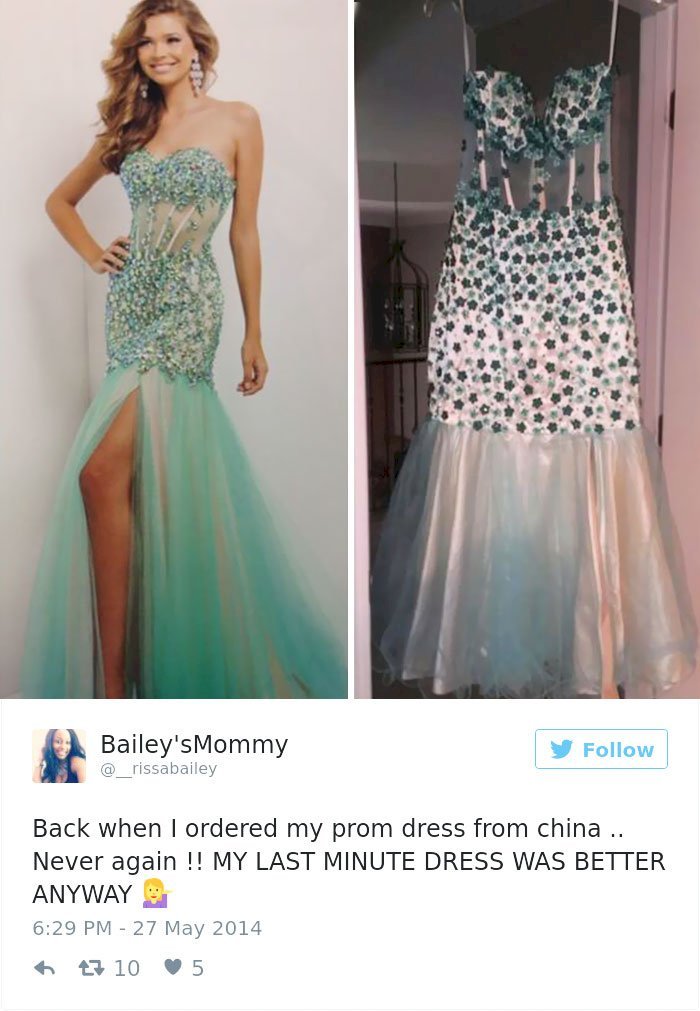 18. This looks like a cheap version of the unconventional materials challenge from 'Project Runway.' How much photoshop did the original picture use?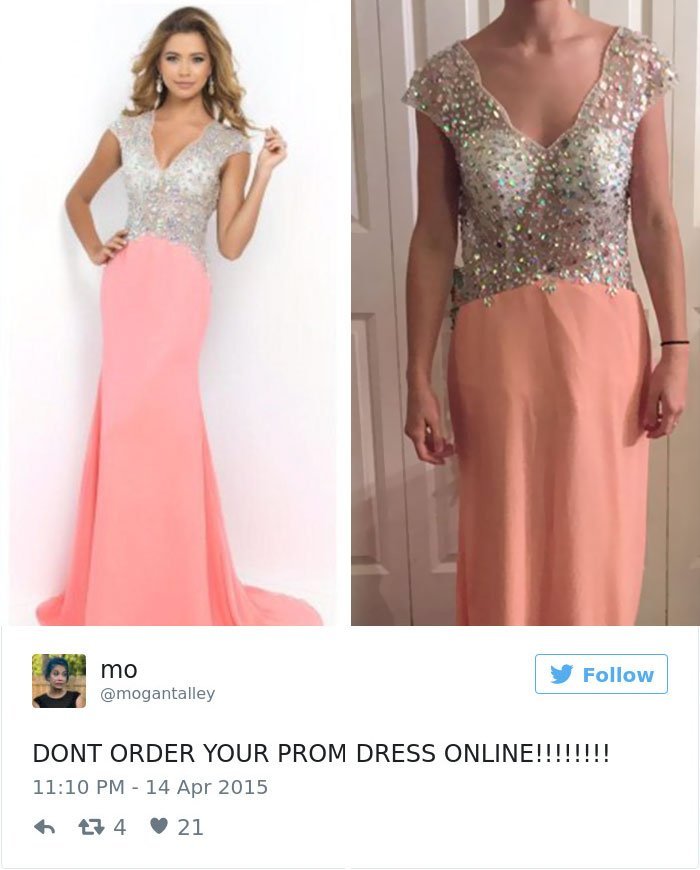 19. The fitted busted in the original picture looks absolutely gorgeous, yet Victoria received a disheveled version. We hope she sent for a refund.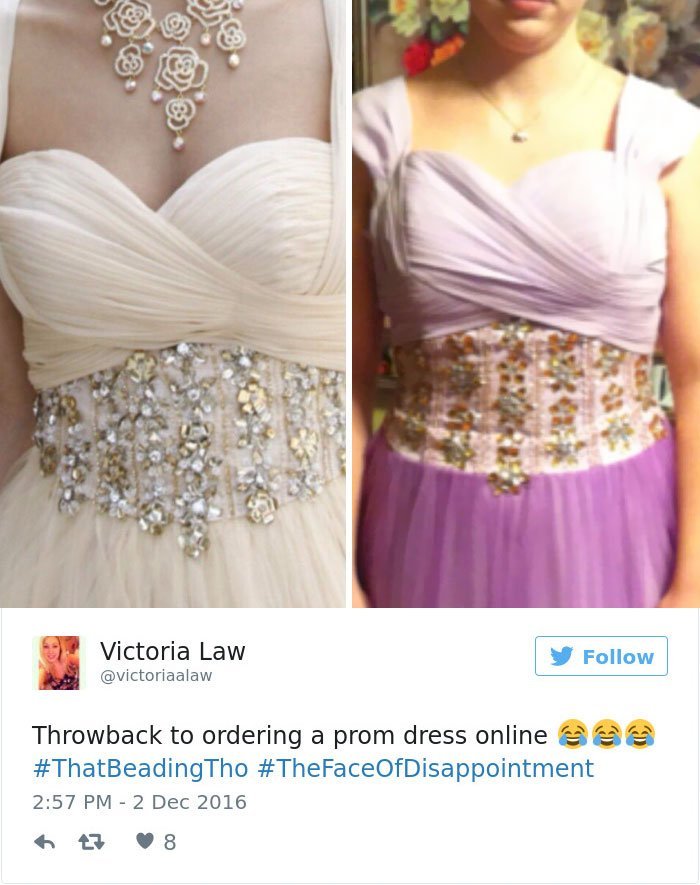 20. This girl was not happy with the dress she got online and decided to make the best out of a bad situation.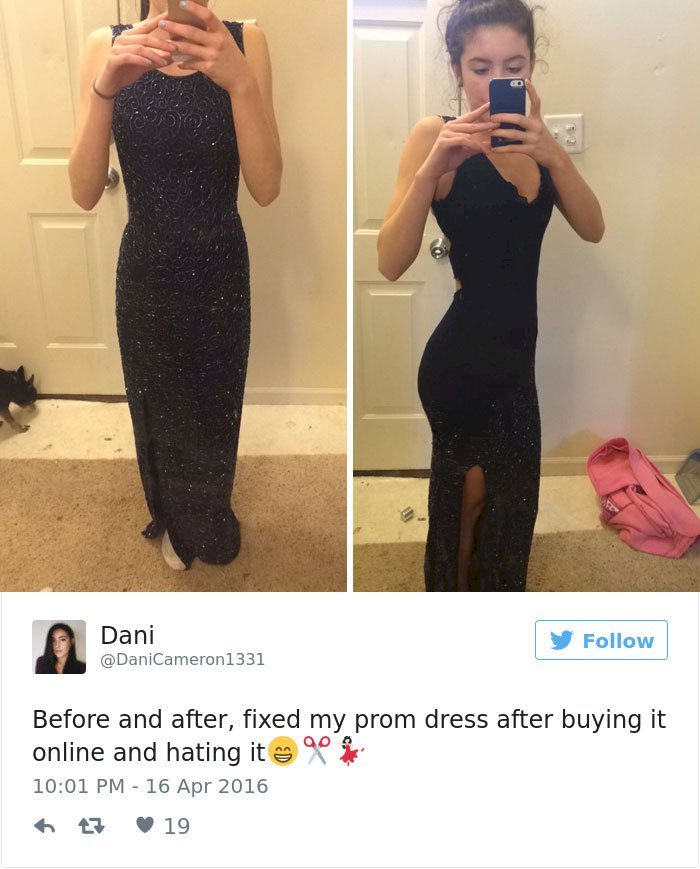 Sometimes, we get exactly what we purchased, but when it comes to clothes, it's really tricky. You have to pick the correct size and even then, you might get someone else. Which dress was the worst fail? If you liked this article, share it with your friends. See you next time!