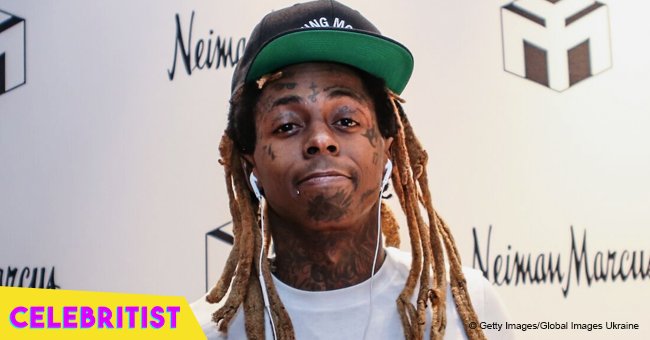 Lil Wayne shares video of his sons showing off MJ's signature dance moves
Lil Wayne's youngest sons, Cameron and Neal Carter, showed in a recent clip shared by the hip-hop star that they inherited their father's attitude and style. Wayne has just released his twelfth studio album, "Tha Carter V" and he just started a new viral challenge to promote it.
Lil Wayne is the proud father of four kids, daughter Reginae, and sons Dwayne Michael, Cameron Lenox, and Neal Carter. While he tried to keep his sons away from the spotlight in the first few years of their lives, it seems like Wayne is now more open to sharing cute videos and pics of the boys on social media.
On Sunday, the rapper took to Instagram to share a video thanking fans for all the support they've been giving to his latest album release, and in the middle of his conversation he was cut off by the sound of the song "Uproar" one of the tracks that have been gathering more attention in the album.
His son Cameron then came out of a closet wearing one of his father's fur coats and heart-shaped glasses dancing to the upbeat song. Wayne acted surprised but proceeded to open the door of another cabinet to let Neal out.
The 8-year-old was rocking one of Wayne's signature hats and sunglasses, and he stood directly in front of a mirror to dance. Wayne then joined the boys, leading them into the dance moves, as Cameron smiled excited and Neal did that Michael Jackson's hip trust move that drove fans crazy.
"#CarterV Thank you #uproarchallenge" Wayne captioned the video.
It seems like the clips are Wayne's attempt at creating his viral challenge, following the sensations Drake's "In My Feelings," and Ciara's "Level Up" challenges. Luckily for him, fans are completely loving the initiative, and the challenge is already spreading all over social media.
Wayne's comment section was filled with praises, both for the kids and his album. One user wrote "When you got the kids rocking you winning," another added, "Thank u for blessing us all around the world with Tha Carter V the album is absolutely amazing! I LOVE IT!" and a third one said "Lucky kids!! Love this and the album!"
After six years on the making, "Tha Carter V" met the high expectations of fans and more. And while there's a lot of people proud of what Lil Wayne has achieved, his daughter Reginae was especially ecstatic about her father's achievements.
Talking to TMZ on Friday, the 19-year-old said:
"I'm so proud of my dad. He never gave up. I really look up to him."
And added:
"I've been listening to it all morning. I've been listening to it since it came out and I'm very, I'm not being biased, it's really great. All this work has built up 'til now, and he's telling you about his life. He's telling you what he went through. I love my grandmother on there. Its just so real and I love it."
Hear what else she said below:
Please fill in your e-mail so we can share with you our top stories!