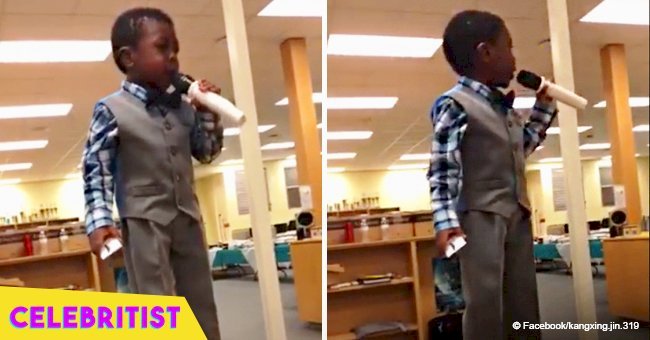 4-year-old boy's motivational speech about reading goes viral
Master Caleb Stewart's impassioned speech about the benefits and wonders of reading has captured hearts and minds all social media. He's only 4-year-old, but his love for the written word is inspiring teachers, parents and other kids all over the country.
The little genius lives in Tallahassee, Florida, where he recently took over a reunion of middle school teachers to impart a very eloquent talk about reading and its importance for kids. Caleb calls reading his "superpower," and since the activity has opened a new world of possibilities and knowledge for him, the kid wants other kids to follow his example.
Standing on a desk and wearing a three-piece grey suit, the adorable boy owned the room with a speech that, according to his father, took him two weeks to memorize.
He opens up his speech saying: "I am here to speak to you about the importance and benefits of reading," and continues: "I personally read every day. Reading every day has made me smarter. It has also strengthened my vocabulary and language skills, allowing me to pronounce new and big words without even thinking about it."
Caleb goes on to share that reading has helped him gain confidence, sharpened his long-term memory and enhanced his problem-solving skills. He also touches, with an incredible authority in his voice, another critical aspect of reading saying:
"Although books are excellent tools for reading, kids should be encouraged to cultivate their imagination and find other materials to read such as newspapers, magazines, restaurant menus, or maybe even billboards riding down the highway."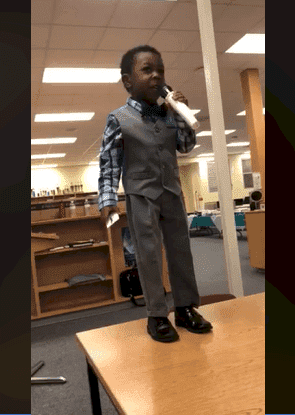 Source: Facebook/kangxing.jin.319
All reading materials, he said, serve the same purpose: to spark a kid's curiosity and imagination and to broaden their understanding of the world around them.
Master Caleb went on to encourage teachers and parents to make reading a fun activity for their kids, and also urged his listeners to Dream Big and never listen to the people that say "you can't do it."
He ended saying:
"Free yourself of negativity and surround yourself with only positive friends with strong aspirations and high expectations. If you believe you can, then you can. Focus on success and don't worry about the rest. The best is yet to come."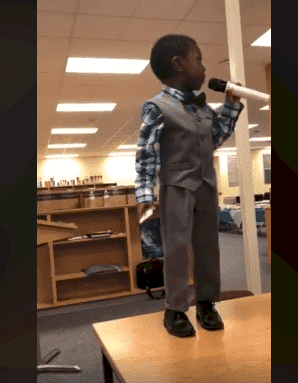 Source: Facebook/kangxing.jin.319
The original Facebook video of the speech, posted by one of the teachers, has earned over 5 million views and 113k shares. Master Caleb and his sister, known as Queen Olivia, have their own Facebook page titled Brilliant Little Leaders, where they're continually sharing encouraging messages and new learning technique to help kids with reading, numbers, and more.
"We will inspire other kids to find the love for reading, To DREAM BIG And Believe In Themselves, Spreading The Spirit Of Kindness," says the description of their page.
Master Caleb has been giving motivational talks around the country, visiting high schools, libraries and more to spread the positive word about reading and dreaming big.
A DIFFERENT TALENTED CALEB
Another Caleb who's earning the attention of social media is a 6-year-old singer and worshipper from Greensboro, North Carolina, who's been melting hearts with his singing talent and the rawness of his performance.
His performance of "This Light of Mine" became viral and was noticed by many. He also appeared on "Little Big Shots" with Steve Harvey and landed a performance with Harry on the "Harry Connick Jr. Show."
Please fill in your e-mail so we can share with you our top stories!