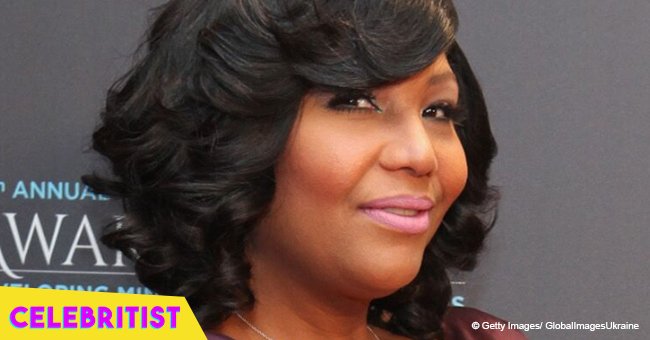 Traci Braxton stuns in thigh-high black boots and mini dress after losing 40 pounds
Traci Braxton puts her best foot sideward as she poses against a skyline in a stunning black mini dress. The singer looks fabulous after admitting to losing 40 pounds in the past months.
Traci Braxton is flaunting impressive results after she took charge of her body and lost 40 pounds. In her most recent photo, she channels her inner vixen wearing a lacy black mini dress and thigh-high boots.
Traci has been spreading the word about her weight loss journey which began last year after she started to pay attention to her body's needs due to diabetes. Last month, she opened up about the changes she made to her diet including the elimination of starch and a lot of water intake. She said she didn't want to be relying on pills to manage her diabetes so she resorted to a healthy diet instead.
Fans have been lauding the singer for her dramatic weight loss after she revealed dropping 40 pounds due to her change in eating habits. Even her sister Trina was inspired by her success and is on a veggie diet now.
If recent photos of Traci are an indication, Trina should also expect tremendous results. Traci is looking good lately, just check out these photos she's been sharing in the past months.
In a post two weeks ago, her curves were on full display as she wore black bell bottoms and a matching blouse with a black jacket bearing golden details.
A month earlier, she also stunned wearing a black backless dress as she posed alongside her friend Phaedra Parks.
On Monday, Traci kept with her black theme wearing a mini dress with lace arms and a lace-trimmed hemline. The sultry number had a low neckline showcasing her cleavage as she wore a pair of black velvet sock boots with open toes. Traci appeared to be posing on the window of a building overlooking a skyline as she spread her legs apart and struck a confident pose. She easily overshadowed the beautiful view behind her with her strong presence.
"It's Monday guys," she wrote in her caption before motivating her followers with a few words of wisdom.
"Push through, take charge of your own destiny and live your best life! #motivationmonday"
If her photo isn't motivation enough, we don't know what is.
Please fill in your e-mail so we can share with you our top stories!