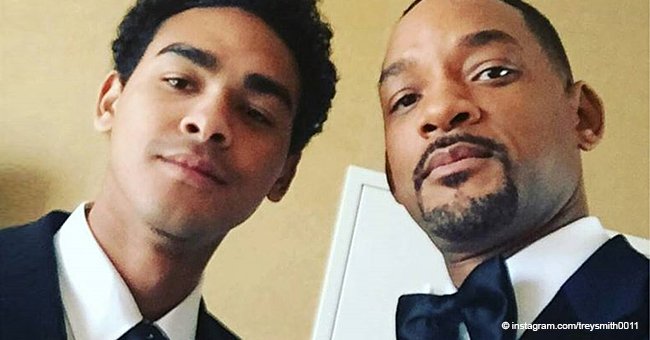 Will Smith's son Trey shares old photo with his mom & grandma, showing their uncanny resemblance
Trey Smith remembers his late grandmother with a gorgeous throwback picture, days after he joined his family to watch Will Smith jump from a helicopter to celebrate his 50th birthday.
The eldest son of Will Smith is not as often in the spotlight as his half-siblings, Willow and Jaden. Unlike them, he uses his social media accounts to share details of his daily life and open up about his love for DJing, playing video games, traveling with his father, and most recently, the adoration he has for his deceased grandmother.
In a throwback pic of his childhood shared to his Instagram, little Trey was photographed in between his mom, Sheree Fletcher and his grandmother Pat. The resemblance between the two women is undeniable; they could have quickly passed as sisters.
Trey took his time to pin down a heartfelt message to his grandma since he was celebrating her birthday:
"My Grandmother is straight up The One in Life. Thank you for everything you have ever done and everything you are doing for me. Your Spirit lives in my Heart and Soul, and it's beyond awesomeness. You and God are straight chillin!! I love you more than anything and thank you for always scaring the S#@* out me by showing up in my very real-seeming dreams. HAPPY BIRTHDAY GRANDMA PAT!!!!!!

Cherish your Loved Ones Family!! #CherishYourLovedOnes

#FamilyIsLife

#TheTimeWeGetIsABlessing."
TREY'S FATHER AND HIS BIG 5-0
A few days before Pat's birthday, it was Trey's father's turn to celebrate his born day.
Smith, who has become an Instagram sensation and YouTube star in the past year, decided to celebrate by facing one of his fears while bungee jumping from a helicopter in the middle of the Grand Canyon.
Trey was there to cheer for the actor, alongside his mother, his half-siblings, and his stepmother, Jada Pinkett Smith. After the scary event, Trey posted a candid pic of him and Jaden looking worried while they waited for their dad to take the jump.
"Judging by our faces I'm pretty sure @c.syresmith, and I can speak for everyone and say we were all freaking the F@#$ out!! #blessings thank God our dad is still alive #AcENation #willsmith50 #willsmiththejump," he wrote.
A VERY UNITED FAMILY
Is not a secret that Trey has a very close relationship with his step-mother, or "bonus mom" as he calls her, and Jada Pinkett has made sure to treat Trey like he carries her blood.
However, it wasn't always good between the boy's two moms, as Jada and Sheree revealed in the first episode of the Facebook Watch series "Red Table Talk."
The two women had a heart to heart conversation in front of the cameras for the first time, where Jada admitted she regrets no holding back in her relationship with Smith until he was done with his divorce, and Sheree confessed that it was hard for her to see her son warming up to Jada.
The two ladies ended up crying, as Sheree thanked Jada for "loving her baby," and the actress praised Sheree with her motherhood skills. It was all love between them, and Trey was more than happy to see the content, but tearful, encounter.
Please fill in your e-mail so we can share with you our top stories!