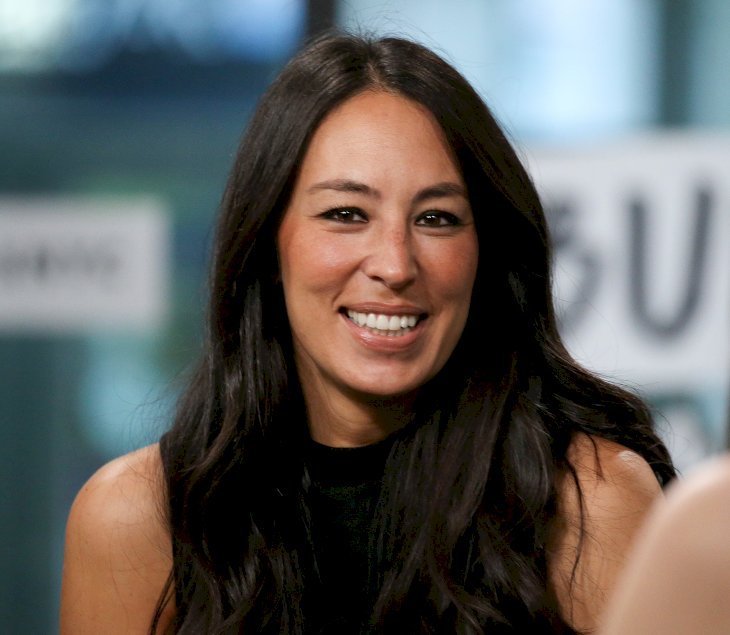 Content
| | |
| --- | --- |
| Full Name: | Joanna Lea Stevens Gaines |
| Date of Birth: | April 19, 1978 |
| Place Of Birth: | Kansas, US |
| Zodiac Sign:  | Aries |
| Age:  | 40 years old |
| Height:  | 1.7m |
| Profession:  | Designer, TV Presenter, co-founder and co-owner of Magnolia Homes |
| Famous As:  | Host on HGTV's Fixer Upper |
| Net Worth:  | $9 million |
| Spouse:  | Chip Gaines |
| Social Media:  | |
Who is Joanna Gaines?
Joanna, known more commonly as "Jo", co-hosted HGTV's home design show called the Fixer Upper with her husband, Chip. Joanna serves as the lead designer and also co-owns Magnolia Homes, Magnolia Market and Magnolia Realty with her husband. On her Instagram, she describes herself simply as "Wife. Mama. Designer. Shop owner. Homebody."
Early life

:
Joanna Gaines was born in Kansas and names Joanna Lea Stevens. She spent her childhood in Texas and comes from a multicultural family - with her mum being of Korean background while her dad's background is half German and half Lebanese.  
Before her TV appearances, Joanna Gaines studied at Baylor University and graduated with a degree in Communications. Gaines found inspiration in the world of design while interning in New York City which inadvertently shaped her future career.
Career

:
Joanna Gaines started her career with an internship in New York. After marrying her husband, Joanna Gaines's passion for design complemented her husband, Chip's construction experience and spurred their next career moves. Joanna Gaines also opened a boutique in 2003 with her husband.
The new home decor inspired boutique, called Magnolia Market, allowed her to bring her NYC-inspired ideas and eye for design back to her hometown Waco, Texas. While also giving her the opportunity to develop her business skills and sharpen her design style.
After they had their first two children, they closed Magnolia Market and put all their focus on their construction business, Magnolia Homes. With Joanna at the helm of the design and Chip using his construction experience to bring her visions to the life they built up their reputation by remodeling and then selling the homes.
Their success led them to gain the starring roles in the show The Fixer Upper (2013). The show opened many doors for them and was a great success but Joanna Gaines still felt a deep attached to her first business and reopened Magnolia Market in May 2014.
Moving forward, Joanna eventually left the show but now runs a successful online store, Magnolia Market grew too big and has now moved to their new Magnolia Silos location in downtown Waco.
Joanna Gaines and Chip have partnered up to write their autobiography: The Magnolia Story which reveals an in-depth look into their life, meeting and first projects together as well as other personal details.
Personal life:
Chip spotted a picture of Joanna in her dad's shop and began frequently visiting in the hopes of meeting her. In 2001, he finally met her in person at the shop. After the first date they did not see each other again for about seven months and once they did reconnect Joanna was a little skeptical of the relationship.
They dated for just over a year before they married on the 31st of May 2003 at the Earle-Harrison House in Waco. After their wedding, they began their joint career venture and became the dynamic team they are known as now. They have been married for 15 years and have five children together - Drake, Ella, Duke, Emmie, and Crew.
While Joanna Gaines has a thriving career, she likes to remain private. She enjoys spending her time on the family farm, blogging and cooking for her family as well as gardening.
"Making Wako beautiful one home at a time," —  Joanna Gaines
Trivia

: 
Joanna Gaines has five children, she has a degree from Baylor University, Gaines has Korean, German and Lebanese blood. In 2017, she announced she was leaving the show "The Fixer Upper".