Kate, Diana And Camilla: Ways Royals Treat Their Tiaras Explained
We have all been fascinated with the royal family's diadems throughout the year. Princess Diana immediately swooned us with her beautiful, glorious gown and Spencer family tiara on her wedding day. The Royals have the most dazzling jewelry collection handed through the generations. Meghan Markle is one of the lucky few to wear Queen Elizabeth's diamond collection. 
It is impossible to imagine Queen Elizabeth II without her magnificent Girls of Great Britain and Ireland tiara. We've been fascinated with the royal family's diadems throughout the years. It was hard not to fall in love with Princess Diana in her statement-making gown and Spencer family tiara on her wedding day. That is why it was such a treat to see Meghan Markle wearing such a magical tiara, and we certainly cannot wait to see Princess Eugenie at her royal wedding. 
These beautiful headpieces are not only wonderful to look at. Behind each magnificent piece of diamond clustered jewelry, rubies, emeralds, and other gems, lies a history, passed down from generation to generation, becoming a token of familial love. Not all British royal tiaras have been passed down. Some are combinations of repurposed jewels by Gerrard & Co., which was the court jeweler from 1843 to 2007.
Although we may never have the opportunity to get a real-life sneak peek at the royal's crown collection, we can marvel in the photos. So feast your eyes on their dazzling handwear, and hear all about the legacy behind each piece. 
Let's take a look at the Stories Behind the British Royal Tiaras. 
Queen Mary's Sapphire Bandeau Tiara
Meghan Markle wowed the crowd as she walked down the aisle on her wedding day wearing the stunning Queen Mary's Sapphire Bandeau Tiara.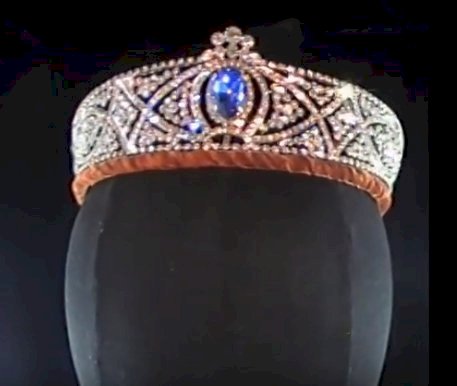 This tiara belonged to Queen Elizabeth's grandmother, Queen Mary, who purchased the diamond-studded tiara in Garrard, back in 1925. Princess Margaret also wore this dazzling tiara, Queen Elizabeth's sister. 
Belgium Sapphire Tiara
This piece was gifted to Queen Elizabeth on her wedding day from her father, King George VI. It is made up on Victorian-era gemstones and is stunning. It was initially a decadent necklace and earring set, but the queen decided to give her jewelry a royal makeover in the 60's.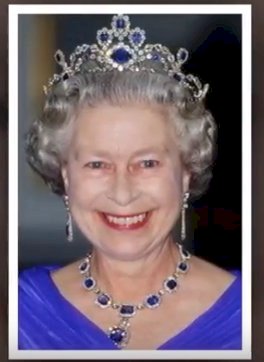 A sapphire necklace that belonged to Louise of Saxe-Coburg and Gotha, a Belgian princess, was purchased along with her gemstones, which was a true blue masterpiece. 
Girls of Great Britain and Ireland Tiara
Without question, the queen's signature tiara which was passed down with much love from her grandmother. Originally given as a wedding gift for Queen Mary, who married King George V way back in 1893. When Elizabeth's turn came to get married in 1947, Mary passed the royal wedding tiara and Elizabeth was delighted!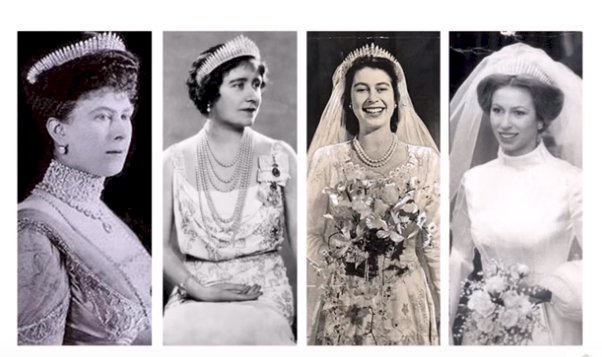 She is said to refer her tiara as "Granny's tiara," and it is dearly cherished. Now that Queen Elizabeth has long been a grandmother, and a great-grandmother no less, she feels it fitting that it has become her mainstay.
Burmese Ruby Tiara
Here is another tiara comprised of wedding gifts. The Burmese Ruby tiara's diamonds came from a different tiara that was given to the queen by the Nizam of Hyderabad. Take a wild guess where these rubies are from. Burma! That's right. Behind the significance of "the ruby," it represents good health. So wearing one is meant to keep you free from illness.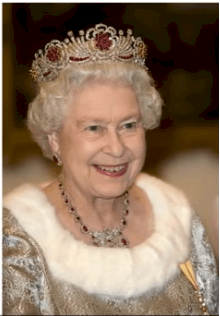 This tiara has 96  rubies to ward off the 96 afflictions of the human body. So there is some superstition in this dazzling tiara. Attracting good health to the wearer and protecting them against illness. In turn, his may be true, and the tiara may have well worked their magic for Elizabeth due to her long reign.
Brazilian Aquamarine Parure Tiara
The queen received a sparkling necklace and earring set in 1953, which was the eve of her coronation. Her gifter was the president and nation of Brazil. This piece was set in platinum and decked out with diamonds. The starring gems were beautiful slabs of aquamarine. Sounds heavenly, doesn't it?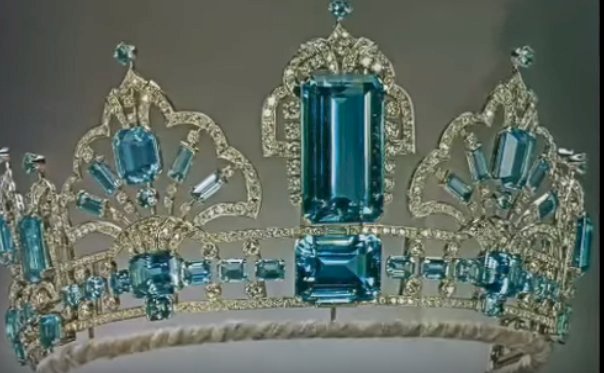 Over the years, Brazil gifted the queen with a bracelet and jewelry to go with it, making an exquisite set. In 1957, the court jeweler was commissioned to complete the set with a diamond-and-aquamarine tiara. The queen loves to match, and in regards to fashion pieces, we can understand her sense of elegance and style. 
Alexandra's Kokoshnik Tiara
Another favorite of the queen's and another coronation gift is this beautiful piece which has Russian roots. It was an anniversary gift for Elizabeth's great-grandmother, Queen Alexandra. To expand on her taste on jewelry pieces, she wanted something a little different and commissioned a crown in line with a traditional Russian headdress.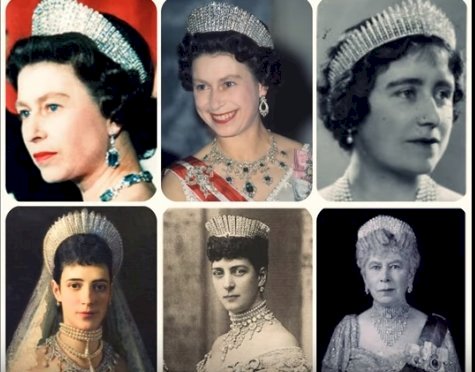 This outstanding piece and beautiful addition to the royal tiara collection. The queen's sister, Empress Feodorovna, known affectionately as "Minnie" by family and friends, was the inspiration for doing so.
Spencer Tiara
Diana is known best for two tiaras but let us take a moment to appreciate the dazzling Spencer tiara which was an heirloom in Diana's family. Initially, Diana had loaned the Cambridge Lover's Knot tiara from her mother-in-law-to-be.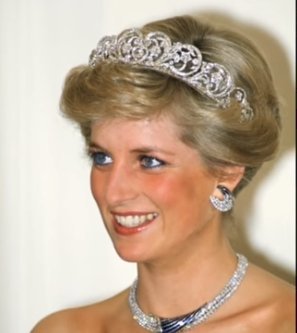 Instead, she decided to honor her family legacy with this stunning and understated beauty, a swirl of diamonds which was fit for a beautiful princess. It is a breathtaking piece, and we can see why she wanted to wear it in honor of her family. 
Cambridge Lover's Knot Tiara
The tiara above was most definitely Lady Diana's favorite when it came to the royal family. This tiara is a combination of diamonds and pearls from Mary's collection. The Lover's Knot was commissioned by Queen Mary and passed down from Elizabeth to Diana. Sadly, the tiara's combination was too heavy and hurt Diana's head, so she was seen more regularly with the lighter Spencer tiara.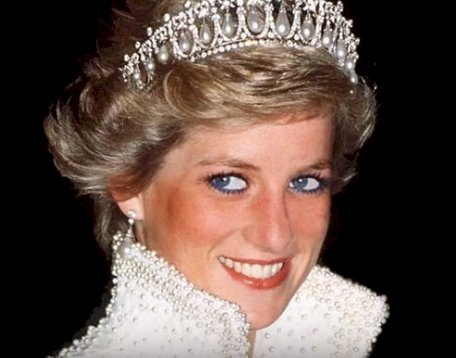 There is a price for beauty but having a headache and stiffened neck is not always worth the fashion statement. Following Diana's divorce, the loaned piece was returned to the Buckingham palace vault. Its legacy continues however as Kate Middleton has taken the tiara for a twirl on at least three occasions. Lucky Kate! 
The York Diamond Tiara
Although the York tiara does not get as much attention as Elizabeth and Diana's headdress, Sarah "Fergie" Ferguson, the Duchess of York has chosen this piece as her go-to-crown. The York diamond was a wedding gift from the Queen, who commissioned it from Garrard upon Fergie's marriage to Prince Andrew.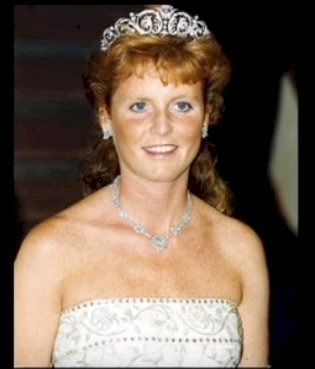 Even though the couple divorced in 1996, the tiara has not left Fergie's famed red hair since the split. Perhaps we shall see Princess Eugenie wearing it at her royal wedding. 
Countess Sophie's Wedding Tiara
Sophie does not have a formal title because she seemed to march to the beat of her own drum when creating her wedding diadem. This piece is made up of three prominent diamond leaflets.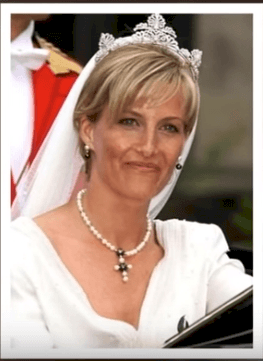 There is no extensive traceable history though. It is believed to have been constructed by pieces from Queen Victoria's circlet, and though some may feel an artistic flair is lacking, it remains a stunning piece, beloved by the Countess of Wessex. 
Cartier Halo Tiara
Just like her late mother-in-law, Kate Middleton displayed a delicate, elegant piece on her wedding day. She looked beautiful as she walked down the aisle.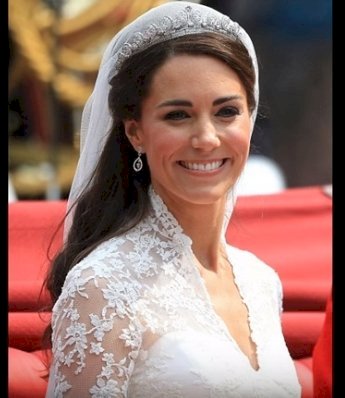 This simplistic, yet dazzling tiara was a gift from King George to Queen Elizabeth. Let us say that this was a "starter" tiara. Although the queen favored larger pieces, this piece suits Kate perfectly and is a stunning fit for a princess. 
Lotus Flower Tiara
The Lotus Flower tiara is a piece of its very own time. The Lotus Flower was originally commissioned for the Queen Mother, which as converted from a necklace she received as a gift during her 1923 wedding.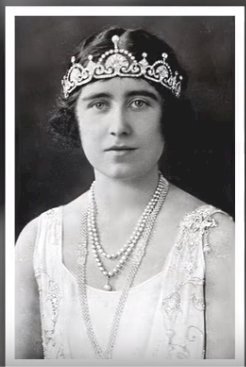 When Kate decided to wear it for a Buckingham Palace banquet, pairing it with her stunning red gown, she dazzled the crowd. This piece is beautiful. 
Don't you think that these are magnificent pieces of jewelry the Royals have in their collection? Just imagine parading in these dazzling pieces. You would feel like a Princess. If you love these stunning jewels, follow us for more updates on the Royal family and remember to share this with your friends.