J.K. Rowling Revealed 23 Insane Details About Harry Potter's World Despite Hiding Them In Books
Harry Potter's end left many fans disappointed and with lots of questions to be answered. Thankfully, the very same writer, J.K Rowling, came to the fore to reveal some shocking magical secrets. But we have to warn you; some of them may destroy your Potterhead's innocence. Ready or not, here we go!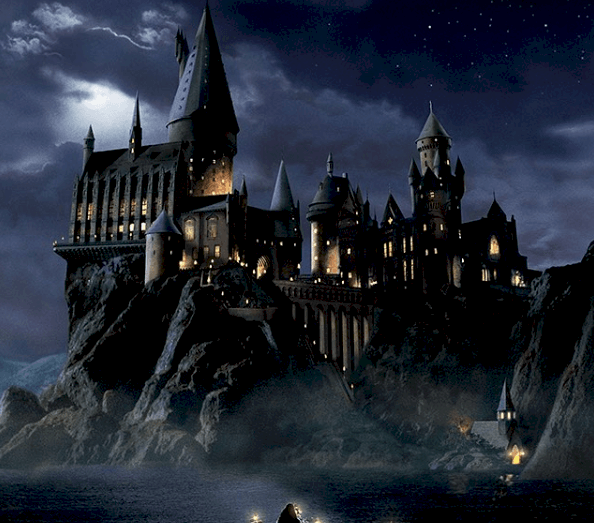 1. Unless you have a tacky taste in house elves, we bet you regretted when Dobby died. Well, the author apologized back in May for killing him.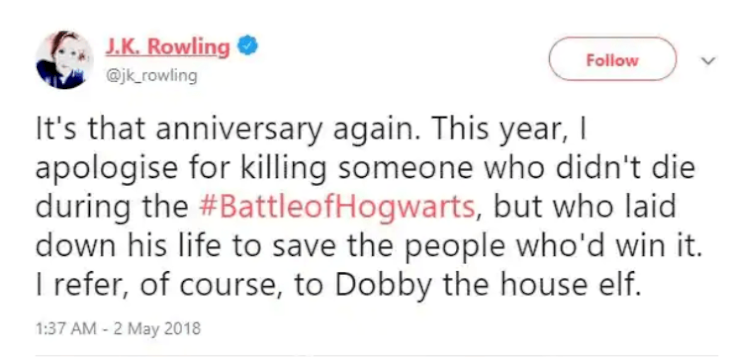 2. The British author also revealed that the decision of Harry's eldest son, James, being sorted into Gryffindor when he entered Hogwarts made Teddy, Harry's godson, very displeased.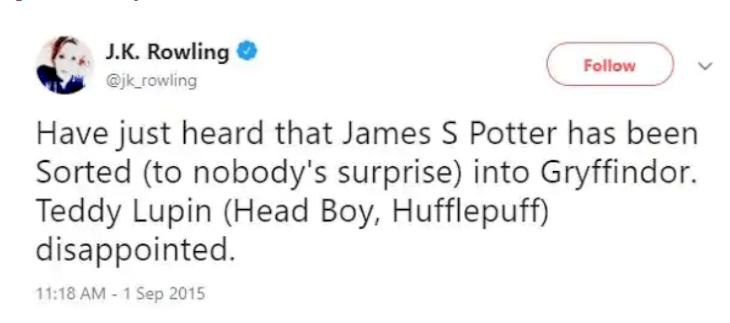 3. We can never ever forget Lupin's death, but it is a bit comforting to know that J.K did not decide to kill him from the very beginning. He still died, though.

4. The author deserves a prize for her answer to a fan's twit that argued that Dumbledore didn't look gay. She responded with diplomacy but right on.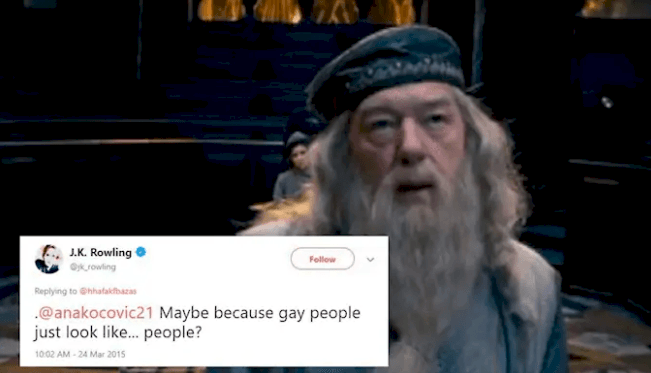 5. After some netizens were fighting over the tuition cost at Hogwarts, Rowling unfolded that there is no fee. Now you can all go and check your mailboxes for a letter of acceptance.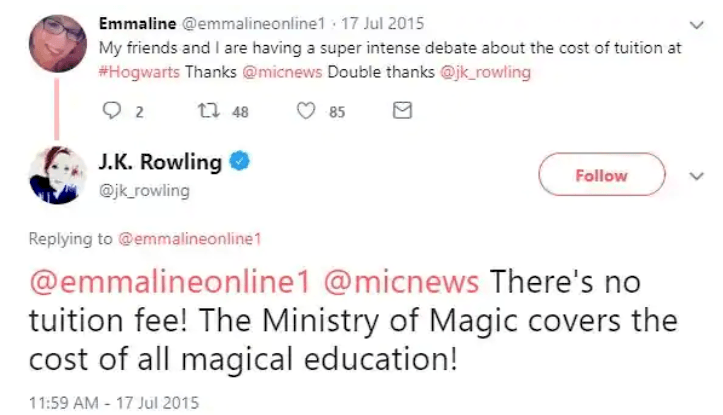 6. Potterheads always wondered why Harry decided to name his second child after the infamous Snape. Now we know it was mere remorse.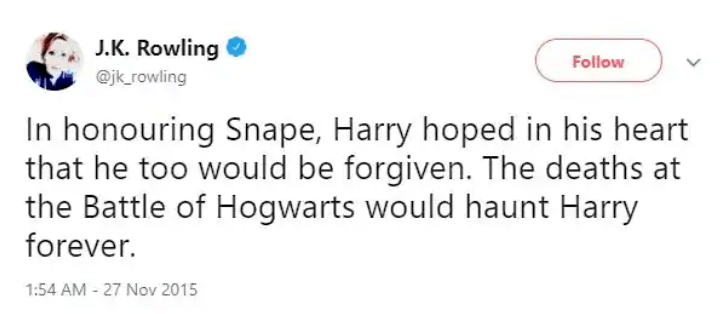 7. Another question that remained unanswered was the form of Hagrid's Patronus. We understand if after reading this post, you want to go and cry for this tearjerker.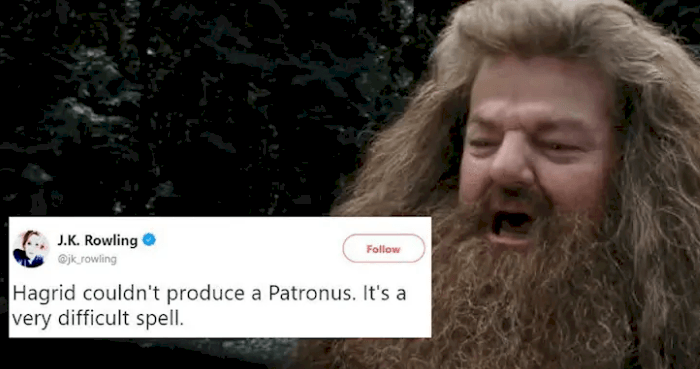 8. Ron's adorable Patronus can make up for Hagrid's the lack of ability. Who would have thought that Rowling got inspiration from her pet? 

9. The screenwriter was asked about her favorite fan theory, and we are not surprised why she chose Dumbledore as death. It totally makes sense if you remember him greeting Harry when he died.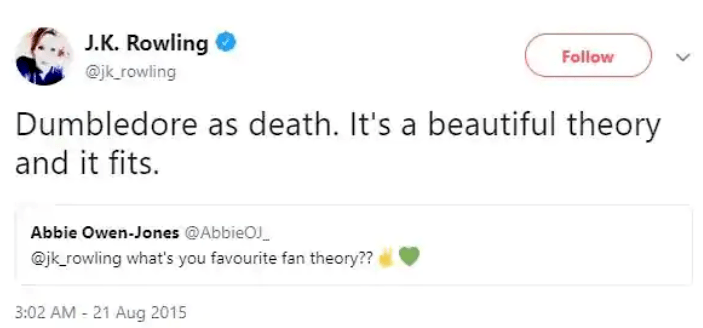 10. We spent a lot of nights up thinking of an explanation for the Elder Wand. It is basically Thor's hammer in Harry Potter, but it is still some clever magic.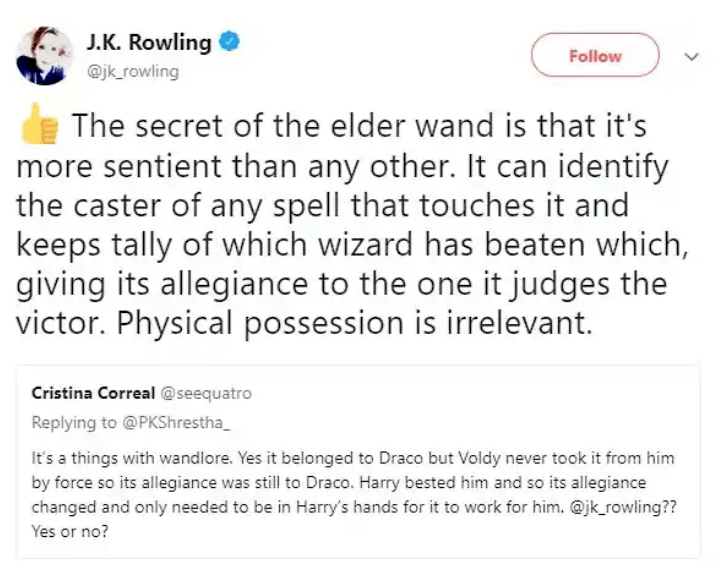 11. Do you think that Dumbledore could see Harry through the invisibility cloak? J.K stated that he could so due to the use of Homenum Revelio, a spell for revealing human presence.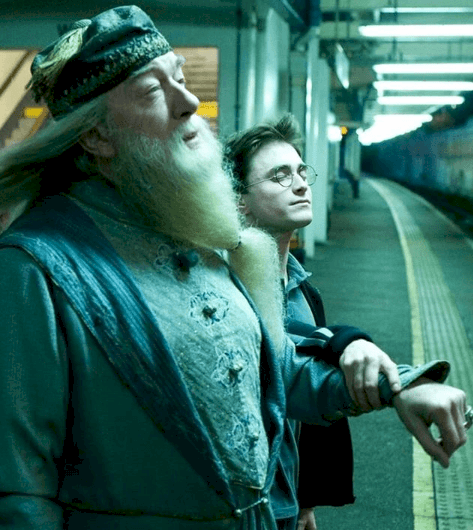 12. Harry is such a gentleman, and we know that, but finding out the reason why he did not name one of his kids after Remus made us have a mini heart attack. 

13. The British producer was once asked about her favorite character apart from Harry Potter. Her answer was concise but entirely appropriate.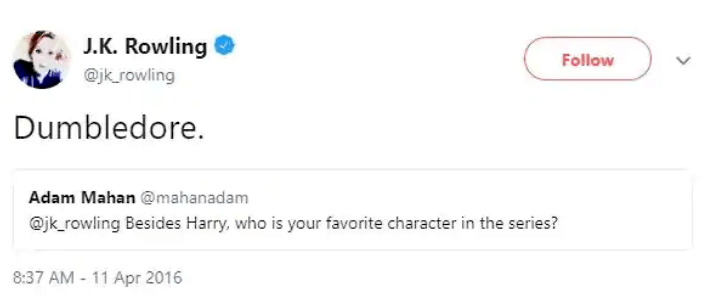 14. We are amazing at the inclusive way of thinking of this author. Many were fussy at the new Hermione's dark skin color. But she gave the public a friendly reminder that we loved.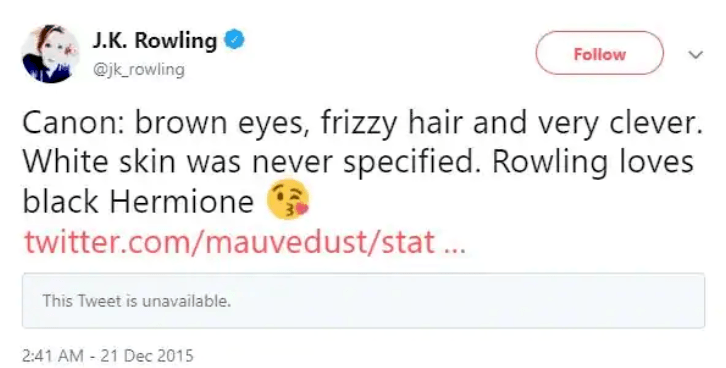 15. Some people got so into these books and movies that they actually believed Hogwarts was real. So it broke our hearts to see J.K complaining about our letters. Have mercy, woman!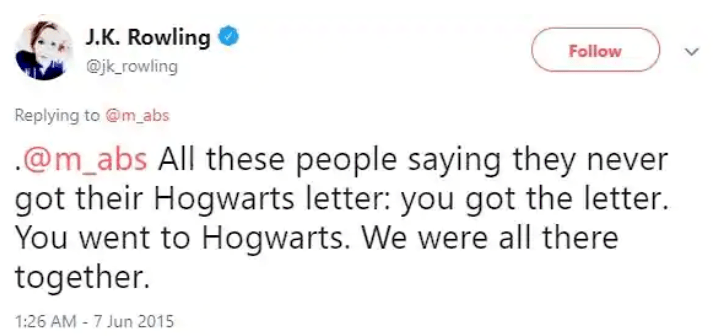 16. We cannot forget the time in which she confessed there was a snake amongst her family. But before you get upset, we also like that house.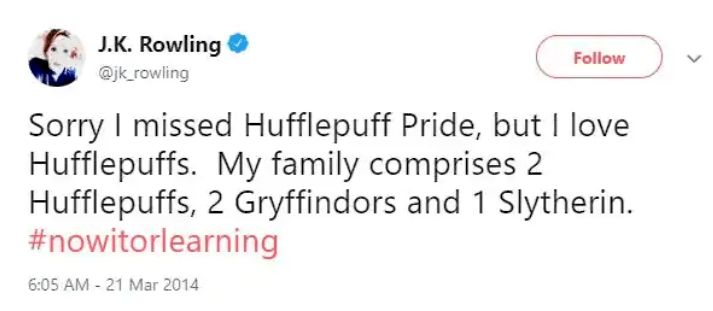 17. One of the most complicated characters to understand is, without doubt, Snape. However, it is good to have knowledge of her thoughts and feelings about him.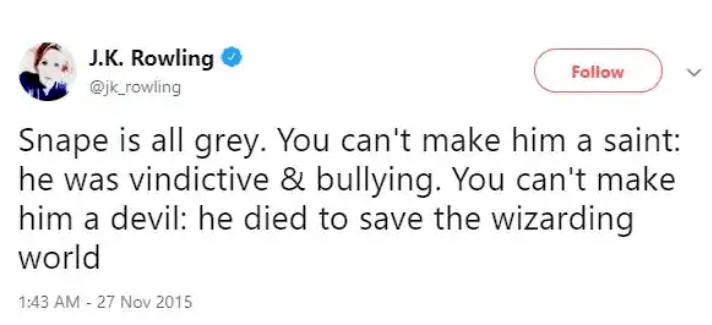 18. Nevertheless, J.K clarified that despite his dark side, he could have saved himself from death, but he didn't, and that is something worth admiring. 
19. Snape could have let the Dark Lord know all the information he had, but instead, he contributed to conquer him. We love this part: 'Snape's silence ensured Harry's victory.'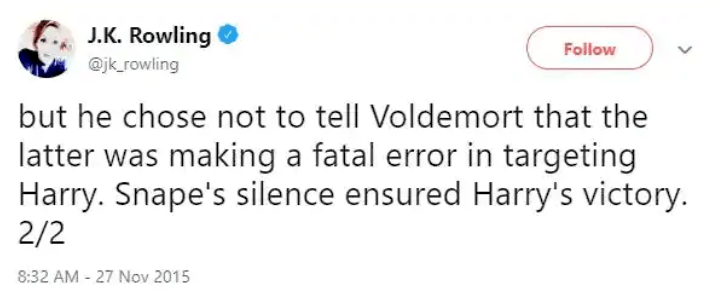 20. So after those thoughts on Snape, it is understandable that Rowling regretted killing him also. However, we are sure some will not be happy with this. 

21. Harry Potter's fans usually get too creative when it comes to thinking about theories, but we are thankful J.K dismissed the rumors about Draco and Snape.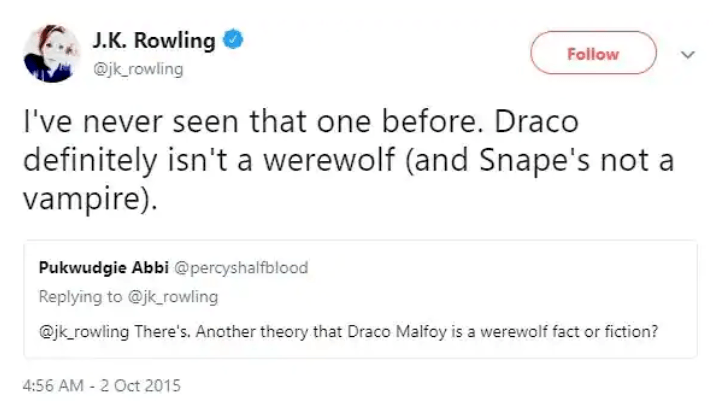 22. We did not see this one coming, but we like the idea of seeing Ginny as a professional Quidditch player. We bet she practices in her backyard with her children.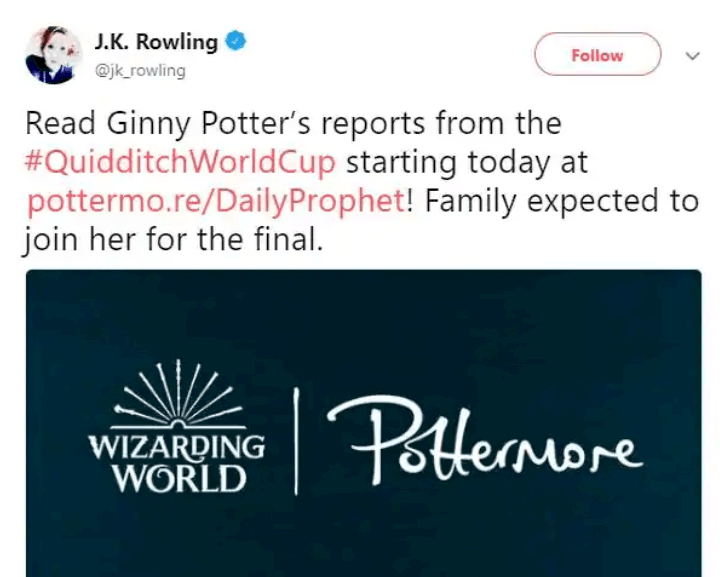 23. This doesn't hurt any less, but at least it is good to know that Rowling cried as much as us with Lupin's death. Apart from that, her reasoning makes a lot of sense.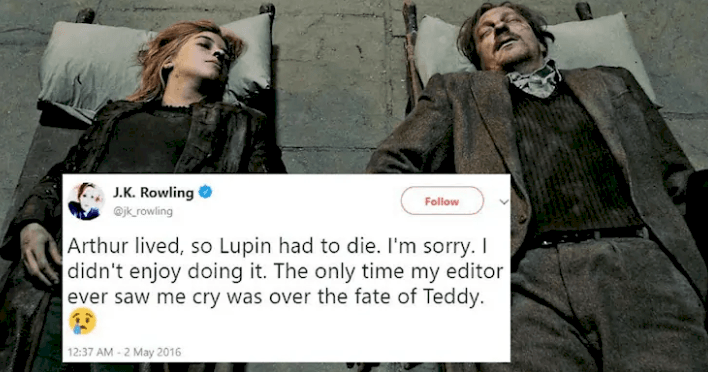 Yes, we know that this list might have made you rethink many things that you knew about these best-selling books and blockbuster films. If you had the opportunity to ask J.K Rowling something else, what would it be? Share your thoughts with us!