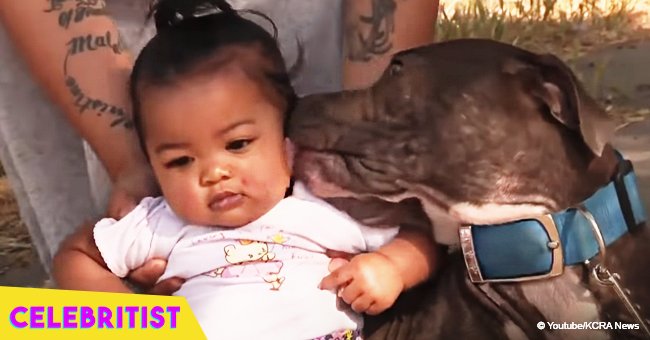 Family pit bull dragged baby by the diaper to save her from a house fire
When a house in a California complex went up in flames, a pit bull was credited with saving her family's lives. The dog not only warned her owner about the fire but also tried to take a baby girl to safety.
Latana Chai, a mother of three, was peacefully sleeping one night of June when her dog, Sasha, started to bark and bang on her back door, unusual behavior for the four-legged pet. "I open [the door], and she runs in and starts barking at me like crazy, and I was like, 'Okay, this is weird. This is not like her,'" Chai told Kare 11.
That's when Chai noticed that the unit next door, where her cousin lived, was on fire. Luckily, her cousin was not in the department. Chai went into action immediately, screaming "fire!" to wake up the neighbors.
When she went back into her room to take her baby, she was surprised to see Sasha was already there, trying to take 7-months-old Masailah's to safety. "I ran into the room, and I see Sasha," Chai said, "she has my baby like by the diaper, just dragging her off the bed trying to get her to safety."
Sasha and Masailah were born only one month apart, and they share an exceptional bond. The dog, Chai said, has a protective nature over the little girl and they do everything together, even taking baths.
After grabbing the baby and Sasha's collar, Chai ran out the door after calling 911. But then, Sasha escaped and barged back in the apartment. The woman believes Sasha was trying to find her two older kids, who were visiting their dad. But the dog had no way of knowing that.
Even after Chai kept calling for her, Sasha didn't come out of the apartment. By then, the firefighters had arrived and were trying to control the fire, which had grown a lot. "The smoke was so bad," Chai recalled. "I kept yelling, 'Where's Sasha?' and the firefighters said there's no dog in there. But I knew Sasha was in the house."
After the fire was finally put out without anyone injured, Chai rushed into her apartment looking for her dog. Sasha was hiding inside her kid's closet.
"My kids love to play high and seek, and that's their hiding spot. She was in their hiding spot. When I found her, I started crying, I hugged her, I kissed her; I was so emotional."
Even though Chai's apartment was left uninhabitable, she's glad everyone, including her daughter's best furry friend, are ok.
A MAN HAD A HEART ATTACK, AND HIS DOG REACTION SAVED HIM
Dogs are highly sensitive and smart animals, and they can tell when something is off with their human, or at least this dog knew right away.
Myrl Sizemore dropped to the floor on the exterior of his house after having a sudden heart attack. His wife and daughter were inside planning a wedding and didn't realize Myrl's absence. But luckily for him, his dog Sarge went to his aid.
"Sarge realized something was wrong, and he kind of burrowed under Myrl's shoulder," Leslie, Myrl's wife, told People. "He kept licking his face over and over until Myrl regained a little bit of consciousness."
Then, Sarge tucked his nose under Myrl, helping him to stand up. "Myrl was able to brace himself on Sarge, and Sarge brought him to the door and then into the house," Leslie says.
Even though Sarge had a lousy reputation on his neighborhood and was grounded continuously sleeping outside, Myrl made sure to thank the pooch with a grand gesture. Leslie revealed that:
"When Myrl was in the hospital after his open-heart surgery, one of the first things he said was 'I'm gonna get [Sarge] some color swatches and have him put his paw on the color he wants his bedroom."
Sarge stayed by Mylr's side through his entire recovery, putting to rest the myths about pit bull's being evil and violent creatures.
Please fill in your e-mail so we can share with you our top stories!