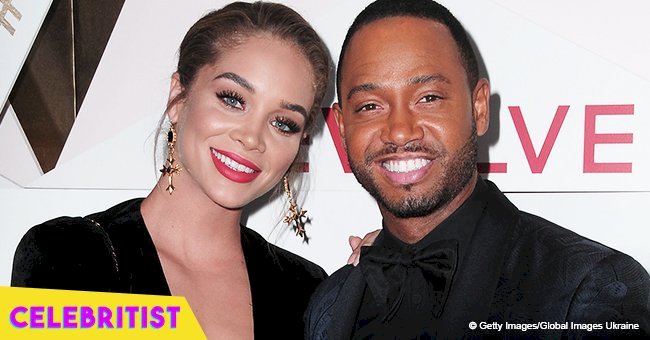 Terrence J and girlfriend Jasmine Sanders reportedly being investigated for hit-and-run incident
Actor and TV host, Terrence J and his girlfriend, Jasmine Sanders are reportedly being investigated for a hit-and-run that happened in the early hours of Tuesday. Sanders has however denied any involvement, and no one knows who the mystery lady is.
TMZ reported that a car registered to Terrence, 36, was written off in a crash where the driver abandoned the scene.
According to law enforcement sources, the $200,000 black McLaren sports car hit a parking meter after Sanders allegedly lost control at the driver's seat around 12:30 am in Studio City, California. The vehicle eventually came to a stop after striking a tree.
Images from the wreck scene show the crashed car with a shattered windshield and mangled bumper.
The vehicle is registered to the "Think Like A Man" actor, whose real name is Terrence Jenkins. Witnesses confirmed that Sanders, 27, was behind the wheel while Terrence was in the passenger seat, and the couple was said to have taken off after the accident.
If this is the case, then both Terrence and Sanders have committed a misdemeanor or felony. A driver involved in a crash that causes death, injury or property damage, is mandated by law to leave a note with identifying information. In the event of a person or persons being injured or killed, that would be a felony.
Police authorities are still looking for surveillance footage from neighboring stores to shed more light on the incident. Terrence is yet to make a statement concerning the crash, but a spokesperson for Sanders told People Magazine:
"On behalf of our client, Jasmine Sanders, we would like to clarify that Ms. Sanders was not in the vehicle at the time of this morning's accident and was in no way involved."
It is not yet clear if anyone was hurt in the accident.
Earlier this year, Terrence was spotted in a car similar to the crashed one. The former BET host shared an Instagram video of the McLaren cruising into a driveway with headlights flashing and engine purring.
Towards the end of the video, Terrence steps out from the automatic door in a sweatshirt and beanie.
Sanders has been dating Terrence since 2016, and the successful model has worked with top brands like Moschino and Forever 21
Please fill in your e-mail so we can share with you our top stories!