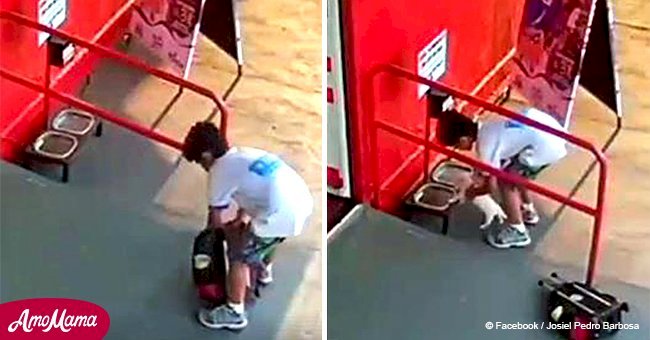 Kindhearted boy rescued stray puppy bringing him at place where he was adopted so fast
Earlier this month a security camera outside a pharmacy captured something heartwarming, but it only captured half of the touching story.
About a week ago 10-year-old João Gabriel from Caldas Novas, Goias, Brazil was walking home after school when he crossed paths with an abandoned white puppy, he couldn't leave the puppy wandering around as it surely won't survive on its own.
On his route home there is a pharmacy that put out food and water for stray animals, so he took the little puppy there. In the video it can be seen how João carefully puts the puppy down by the food bowl, knowing it must be starving, after a few bites he puts the puppy in front of the water bowl, but its hunger draws it back to the food.
Read more on our Twitter account @amomama_usa.
João smilingly looked down at the pup, satisfied that the little one is now in a better place and waved at the pup as if to wish it all the best then continued his walk home.
Pharmacy employees quickly noticed the little pup and contacted Josiel Pedro Barbosa, who maintains the bowls for the stray animals. Josiel also runs a non-profit called Socorro Animal Caldas Novas that helps animals in need and was the perfect person to take the pup home for safekeeping.
Little did João know that his act of kindness was the beginning of a happy ending for the little pup. Josiel told his followers on social media about what had happened, and that the pup needed a forever home, it didn't take long before he got adopted. Unaware that his actions were caught on a security camera and posted online it gained popularity quickly and the pharmacy wanted to reward João for his kind actions, so they gave him a new pair of sneakers for his efforts.
Afterward, João commented:
"I was upset, because he was alone and very cute, and seemed to be hungry. I took him to the pharmacy that I pass by every day. The other day, I passed by [the pharmacy] and I saw that he had been adopted, I was very happy."
What mattered the most to João was that the little pup was safe and sound and cared for, 7-year-old Roman McConn feels the same and took it a step further. At the age of 3 Roman saw a kill shelter for the first time when the family got a dog from one. When he turned 4 the only birthday present he wanted was money to save a rescue he had seen many times.
Jennifer McConn, Roman's mum said:
"I was sunk. I became heavily involved with volunteering at the local shelter, with Roman's help in making videos to help network the dogs."
The family moved to Washington state and saw that the lives of dogs, generally speaking, were much better for them there than in Texas and they joked about creating a railroad to transport rescue dogs from Texas to the Pacific Northwest.
The joke became a reality and is now called Project Freedom Ride, a program connecting unwanted dogs that would have been euthanized, with loving families. They completed their first transport of 31 dogs in December 2016 and have saved over a thousand dogs to date. For Roman, it's all about saving the lives of these innocent creatures and an inspiration to us all.
The difference it makes to these dogs in shelters to find forever can be both heartbreaking and heartwarming. The joyous moment of finally having a family was evident when Benny, a sad and shy dog that got dropped off at Carson Animal Care Center in California when he was about 8 months old, realized he was being adopted.He was sitting in his enclosure when his new family called him, at first he was confused and scared not knowing what was going on, but eventually came out of his enclosure, they snapped a leash onto his collar and that's when he realized he finally had a home. He started jumping and barking, excitedly wagging his tail in joy. He was not alone anymore.
Please fill in your e-mail so we can share with you our top stories!