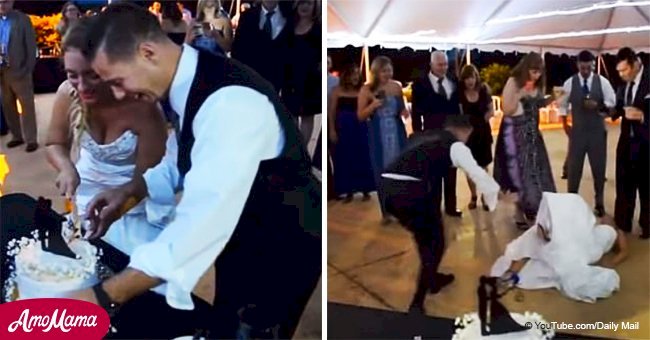 Groom smashes wedding cake into bride's face, sending her crashing to the floor
When a person tries to avoid one situation it can often lead to another, having hilarious consequences.
At a wedding reception in Elmira, New York a bride fell after the groom tried to smash wedding cake into her face causing a funny moment no attendee of the reception will forget. At the start of the video, the bride and groom are seen cutting into their wedding cake in preparation for smashing it into each other's faces.
Source: YouTube/Daily Mail
Friends and family can be heard rooting for the bride as she wastes no time smearing her groom's face with cake, he retaliates cake in hand but the bride tries to dodge the effort. She turns and takes a step back, but trips on her dress and falls backward onto the floor.
Source: YouTube/Daily Mail
Perhaps rolling on the floor laughing will now have added meaning as she lies on her back laughing. The groom rushes over to help her up, and some other guests also give a helping hand in getting the bride back on her feet. After the initial laughter subsides the pair share a sweet kiss and the rest of the reception resumes in good spirit.
Source: Daily Mail
Read more on our Twitter account @amomama_usa.
Source: YouTube/ Daily Mail
The face smearing of cake by newlyweds is more a spin-off from an age-old tradition where the pair cut a piece of cake together and then proceed to feed each other a small bite. It symbolizes a commitment to provide for one another and a show of affection and love they have for each other.
A misstep at a wedding can have unforgettable consequences as the best man at another wedding found out during the exchange of vows. It's a beautiful location with the bride and groom on a platform overlooking a sculpted swimming pool set in a gorgeous garden.
The marriage officiant asks for the exchange of rings, the best man's cue to step up onto the platform and present the pair with their rings. As he steps onto the platform his foot slips and he falls forward grabbing onto the bride's dress, she loses balance and in turn grabs hold of the marriage officiant, sending them both falling backward into the swimming pool. Not a moment he will live down for a very long time, if ever.
Please fill in your e-mail so we can share with you our top stories!