7+ Betty White quotes that shows she is a symbol of the United States
96-year-old Betty White has given us decades of comedic gold. But the iconic actress is just as well-known for her unscripted jewels.
The comedian, host, producer, and actress made her he start with "Life with Elizabeth" in the 1950s. White further established herself as a TV personality through several outside appearances.
She then had a long stint on "The Mary Tyler Moore Show" in the 1970s. Her character was a quirky newsroom worker.
Having gained lots of popularity, White moved on to the future classic "The Golden Girls." Her character, Rose Nylund, became an elderly American sweetheart.
Rose's spunky but sweet demeanor will always be cherished. But the following gems of advice will widen our perspectives in a hilarious way.
Betty White Quotes:
14. I would advise actors to do their homework and take the time to appreciate their profession. It is a privilege to do what we do (on what she would give to any fledgling young actors)
13. I danced on an experimental TV show, the first on the west coast, in downtown Los Angeles. I wore my high school graduation dress and our Beverly Hills High student body president, Harry Bennett, and I danced the Merry Widow Waltz. Later, Al Jarvis (a disc jockey) asked me to sit in as his girl Friday (5 1/2 hours a day, six days a week.). Four years later, I inherited the show. (on the first appearance on television in 1939)
12. It was a thrill to be with Mr. Obama, but the big thrill was being with Bo, their dog. He's the cutest guy you've ever seen in your life. I spent a half-hour with him on my lap." (on meeting with Mr. Obama)
11. Oh! I didn't know I was a gay icon. I get a lot of mail — but I don't get many bad letters — but I got a woman the other day that was so upset with me because they said, "How do you feel about the gay marriage thing?" and my answer to that is, "I really don't care with whom you sleep, I just care what kind of a decent human being you are." I figure all the rest of it is your business and not mine. And not hers, incidentally. (on what's it like being a gay icon)
10. "Gays love old ladies. I don't care who anybody sleeps with. If a couple has been together all that time—and there are gay relationships that are more solid than some heterosexual ones—I think it's fine if they want to get married. I don't know how people can get so anti-something. Mind your own business, take care of your affairs, and don't worry about other people so much." (on gay relationships)
9.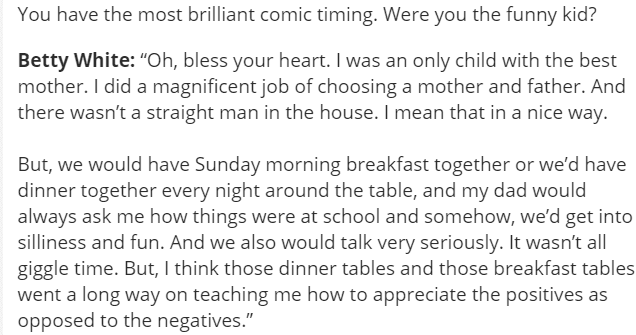 (on her childhood)
8.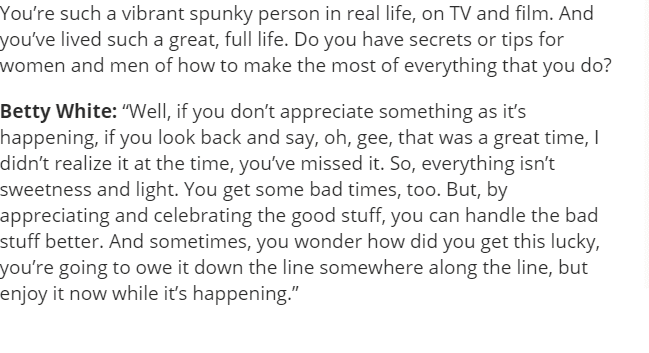 (on how to make the most of everything you do)
7.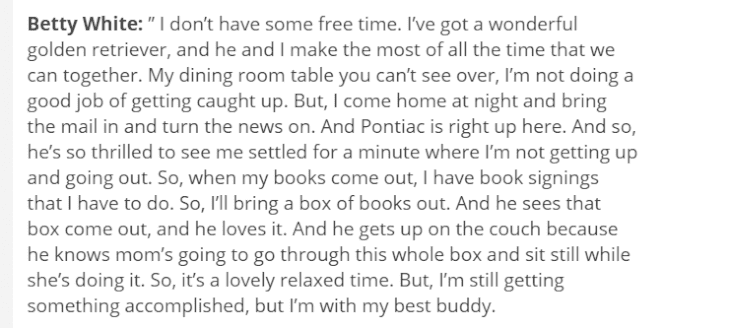 (on her free time)
6. I don't think California was even a state yet, I'm pretty sure it was still a territory. (on California)
5. They had delicious senses of humor. They would come back from a walk with a dog, saying, 'Betty, he followed us home. Can we keep him?' My parents had a cat named Toby who liked to sit on my crib. My mom always said that if Toby hadn't approved of the baby, she'd have gone straight back to the hospital. (on her parents)
4. I get a lot of fan letters with this question; it's one I always answer. You've been there, how did you manage?' they ask. There's no formula. Keep busy with your work and your life. You can't become a professional mourner. It doesn't help you or others. Keep the person in your heart all the time. Replay the good times. Be grateful for the years you had.  (on fan's question)
3. I'm a health nut. My favorite food is hot dogs with French fries. And my exercise: I have a two-story house and a very bad memory, so I'm up and down those stairs. (on her health)
2. I have no regrets at all. None. I consider myself to be the luckiest old broad on two feet. (on her regrets)
1. "I just laugh. Have I got them fooled." (on how it feels to be called "legendary")