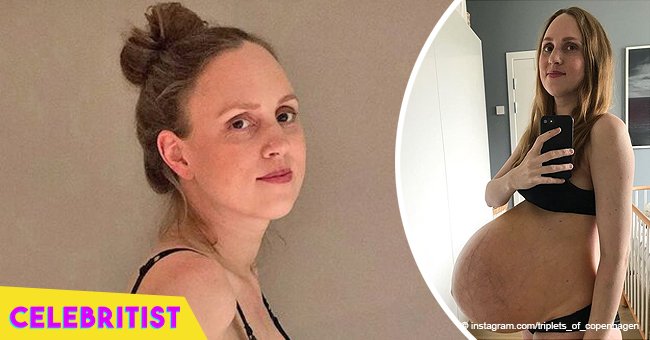 Mom whose huge belly went viral shows how it looks now after giving birth to triplets
Maria, a woman from Copenhagen, is struggling with her post-partum body after giving birth to triplets. She first became a viral sensation for her huge pregnant belly, but now people want to see how she will recover her body while taking care of her three beautiful babies.
Maria's pregnancy wasn't easy. When she and her partner found out last May she was having triplets they couldn't believe it. There are only about 150 sets triplets born in the U.K each year. So, knowing that they had a hard journey ahead, she started documenting her pregnancy on Instagram.
The 36-yeard-old became famous after pics of her incredibly big belly became viral.
She gave birth to daughters Iben and Agnes, and son Filip on September 12. The triplets are healthy, and they have a 2-year-old brother, Mikael.
Four days after her C-section, Maria took to Instagram to update her followers on the state of her body after dropping the extra weight of the babies. She admitted to being in pain and feeling uncomfortable with the wound of the surgery, and added:
"The first two days I could barely stand up because of extreme pain in the c-section wound, but the nurses made me walk a bit anyway. If I didn't, it would become even worse, they told me. And to top it off my milk started coming in already yesterday, and has caused huge and very painful breast engorgement. My nurse actually asked if I have implants! The joke of the day."
Despite her struggles, Maria assured everyone that the babies were healthy and that was the most important thing.
A HANGING BELLY
A week after the triplets came into the world, Maria did another update, sharing a pic of her belly wearing only a black bra and green pants. "I now have a really weird looking hanging belly, which is still quite heavy," she wrote. "My uterus has not shrunk back yet. Because my belly was so stretched, it takes longer than usual."
She continued stating that she would get some belly supporter bands and that she was impatient to gain her body back.
After the babies were finally released from the hospital, Maria was more than ready to go into her new routine and start feeling like herself again. But it seems like her body has other plans, as its going through a slow recovery.
A SLOW RECOVERY
Four weeks later Maria's belly is still in the same state. She posted another pic to compare the state of her stomach when she first gave birth and admitted she was surprised there are no changes at all. It seems like the appearance on her belly is starting to affect her resolve, as she revealed to be "disappointed" and "not happy" to share the pic.
And continued:
"On the positive side the c-section scar doesn't hurt anymore, and in the last two days, I've almost felt like myself again! Except for this heavy sagging belly that is. I've been waiting for some belly bands that were shipped from the US several weeks ago, and they will finally arrive tomorrow. Can't wait to try them on and see if they have any effect!"
GRATEFUL FOLLOWERS
While Maria might be going through a rough patch after having her babies, she has kept it real, and her honest posts have reached women from all around the world. Her comment section is filled with encouraging words from other moms and thousands of questions from women who are scared about pregnancy.
User @smylvl wrote:
"You are beautiful in any shape or form. You're such an amazing human being that has brought three angles to this world. You'll get to your old body in no time, time flies!
While @aurelia_officiale added:
"I'm so glad you posted this picture because it is horrible living in a fake world... Not every woman have a beautiful body after pregnancy... we live in times when the beautiful body and beautiful young people are on top!"
And @jenkinskl said:
"I had no idea the after effects on your body! I've had one child, and I struggled with my body. After one, you carried three at the same time!! You are incredible!!! X."
The triplets are growing stronger every day and they even went out for the first time a few days ago. Maria is still experiencing some troubles like dizziness, mastitis and breast and nipple trush. However, she keeps on sharing both positive and negative things on her account, because she wants to give people the real insight on being a mother of triplets.
Please fill in your e-mail so we can share with you our top stories!