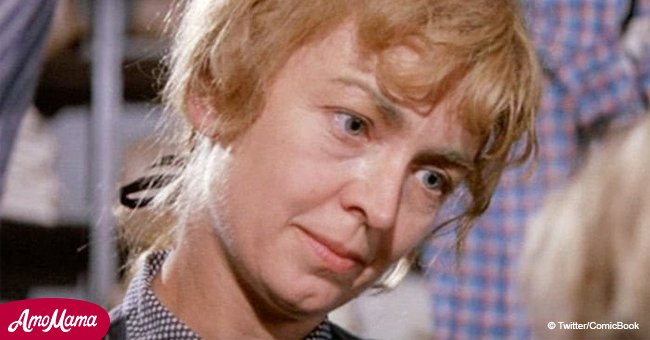 One of the last living adult actors from 'Willy Wonka' passes away at 88
Diana Sowle was best known for playing Mrs Helen Bucket in the 1971 film "Willy Wonka & the Chocolate Factory." She passed away in the early hours of October 19 at the age of 88.
She was one of the last living adult actors from the movie. Reports stated that on her deathbed she was surrounded by family.
Diana Sowle's representative confirmed that the actress passed away "with family by her side." Her family released a statement saying:
"She was a loving wife, mother, grandmother and friend, and will be dearly missed."
For more on this story go to our Twitter account @amomama_usa. "Willy Wonka and the Chocolate Factory" was an adaptation of the Roald Dahl children's book "Charlie and the Chocolate Factory."
In the film, Sowle memorably sang "Cheer up, Charlie." The actress was one of the last surviving adult cast members, after Gene Wilder who played Willy Wonka.
Wilder passed away in 2016 from complications of Alzheimer's disease. In an interview after his passing, Sowle recalled working with him.
She said:
"We'd be working on a scene and having a lunch break and he would be coming in to film another scene, and he would join us on a lunch break and we'd have lunch. He was so nice, he never acted like, 'Oh I'm a bigger star than the rest of you', he was always friendly and courteous and funny and told nice stories."
Forty years after the "Willy Wonka" movie came out Sowle joked in an interview about her on-screen son, Charlie Bucket, choosing to take his Grandpa Jo to the magical chocolate factory rather than her.
She stated:
"Charlie should've taken his mom. He should've said, 'Oh, that's wonderful. Now I can buy my mother a beautiful dress!' Never happened."
In 1994, she appeared in two other films, "Clear and Present Danger" and "Guarding Tess." The star also voiced the character named Agatha in the 2008 video game "Fallout 3."
Sowle frequently performed in the long-running murder mystery play "Shear Madness." There she played socialite Eleanor Schubert.
She lived in Washington DC with her husband until he passed away in 2013.
Please fill in your e-mail so we can share with you our top stories!