Barber Hints A Shy 'Boy-Like' Looking Insurance Salesman To Grow A Beard And His Life Drastically Changes
Subscribe to our Google News >>>
We tend to hear pieces of advice from our most beloved family and friends, but sometimes, the suggestions that turn our lives around come from the least expected person. That is precisely what happened to Gwilym Pugh, who used to be an ordinary guy until he went to the barbershop. Read his unbelievable story in the article below.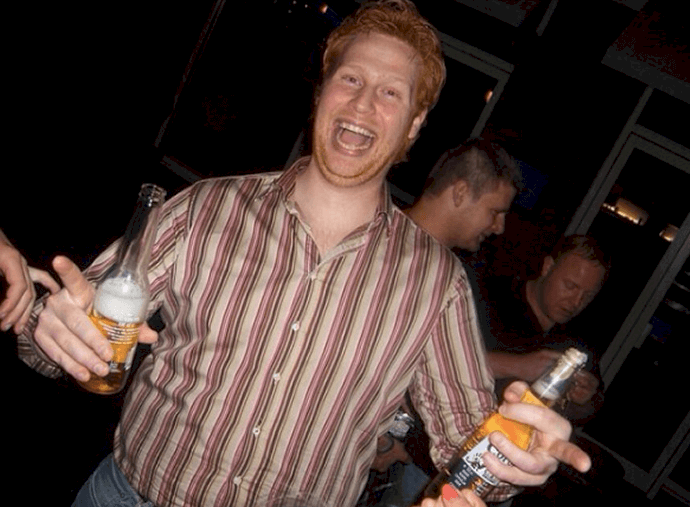 His early life and career
This 34-year-old was born in Rugby, England, in 1984, in a household full of musicians: his mom Elizabeth is a pianist, violinist, and music teacher, while his dad, David Pugh, is a trombonist in Funky Love Posse band. He lived his first years as a regular kid; he went to Cardiff High School and finished his early education.
At 21, the young man founded his own insurance company in Cardiff, the capital of Wales, although he had not gone to university. However, his true love was music. In 2008, he started to play the guitar to dabble in the music world, and three years later, he set up his folk band called The Magic Rooster Brother.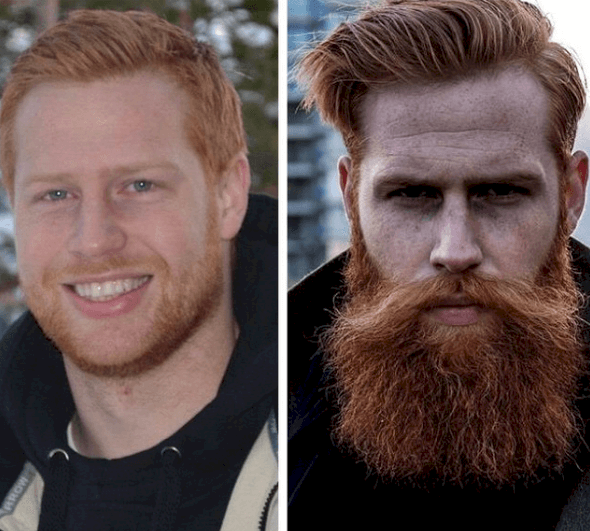 The visit that changed his life
Pugh paid a visit to his barber, nothing out of the ordinary, but little did he know the change that would come to his profession and personal lives after it. His barber learned he was playing for a folk band apart from having a well-paying but sedentary desk job from home. 
However, his appearance was far from being a folk superstar. That was when his barber advised him to grow a beard to adapt his looks to the music genre. A suggestion as simple as that one made a huge difference in this young boy's life.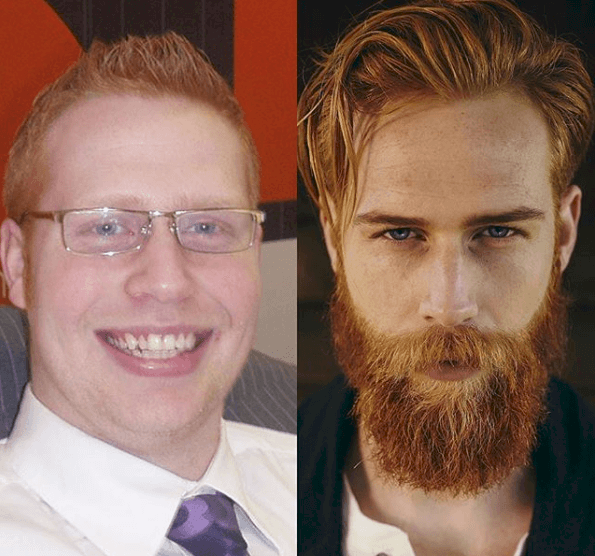 A major decision 
He followed the suggestion, and deep inside his heart, that was only a trigger for a series of changes that would occur soon. With his small insurance company, Gwilym worked around twelve hours from his spare bedroom, eating snacks during the day and ordering food at night. 
He had no friends because most of them moved away from the capital city to study or work. To make his situation worse, he was overweight. The guy had suffered some injuries while playing basketball a couple of years before, and that had prevented him from exercising.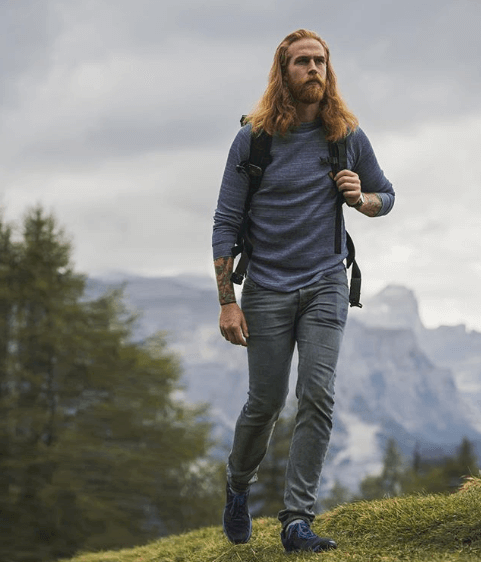 And if that is not enough, his health was not at its best. The red-headed had found his nadir: lonely, injured, overworked, and overweight, not a favorable combination at all. Things could not get any worse, but they did when he went to get life insurance.
He learned that his poor health gave him a higher risk of death than an average person. "It wasn't someone's opinion; it was assessed fairly." And that was when he decided to overhaul his life. That bespectacled and spiky-haired guy would be a thing of the past for good.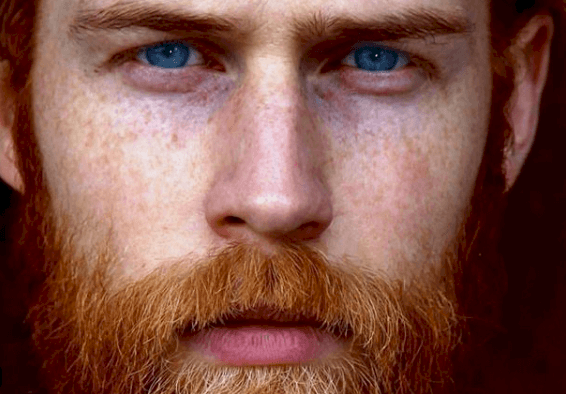 The overhaul
Even though his job was pretty well-paid, he could not continue sitting during half of the day without working out. Thus, Pugh started to get his life back on track by quitting his job and having a healthier lifestyle. He scrapped takeaways and planned his meals carefully.
"That was my worst, and that was when I thought I had to change, so I started learning about nutrition, learning about health. It was a lot of trial and error."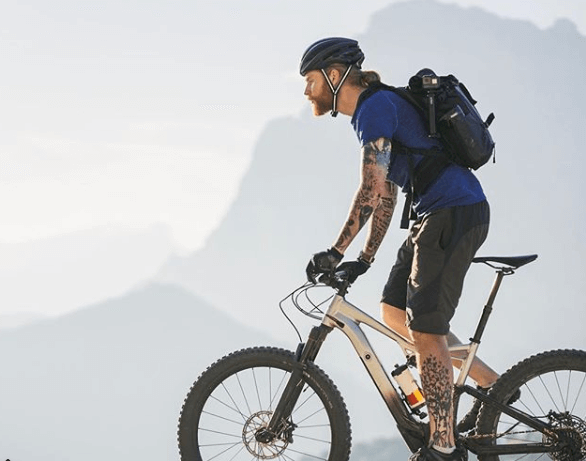 Exercising was now part of his routine, and his first goal was to walk 20,000 steps every day. That, plus his barber's suggestion, turned an ordinary guy with nerdy looks into a fit, bearded, and red-headed hottie. If you compared Gwilym from 2007 to Gwilym in 2018, you wouldn't even imagine they are the same person. 
A new man
The picture speaks louder than words because Pugh's transformation was unbelievable. His will to change his life along with his new facial hair quickly called the attention of everyone around him, including people from the modeling industry.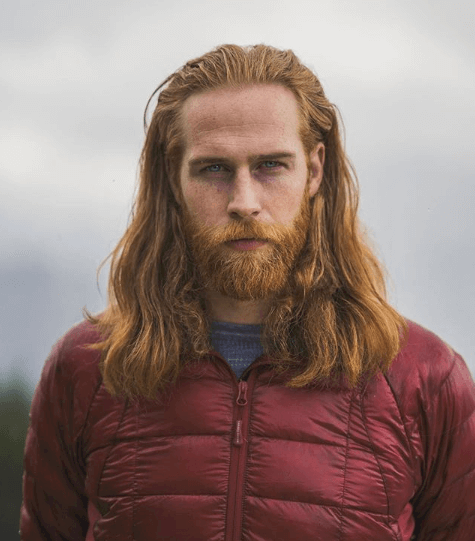 His new job
His Instagram account was spotted by Nathan Palmer, a Welsh tailor. After looking at that handsome and eye-catching man, the dressmaker could not help but to invite him to model for his brand. About that moment, he recalled:
"I thought: 'I'll send them a picture. Why not?' I didn't tell a soul because I thought people would tease me.' But I was taken on and invited to my first shoot. It was the most painful, awkward and weird situation ever, but it was the first of many."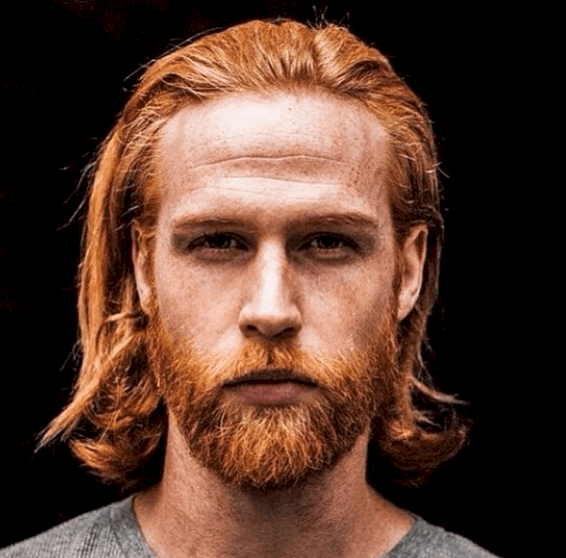 Since then, the rest is history. It was an excellent moment to be a ginger model because his looks were very appealing for photographers and agents. He became a model for fashion brands such as Canada Goose, Original Penguin, Esprit, and Diesel, just to name a few.
The guy can be seen in promotional campaigns for LG Mobile, BMW, Timberland and Vans, as well as featuring in fashion publications like Red Hot 100, the British Gentlemen's Quarterly, and Hunger Magazine. To top it all, he is signed with London's AMCK modeling agency, Major Milano in Milan and KULT in Hamburg.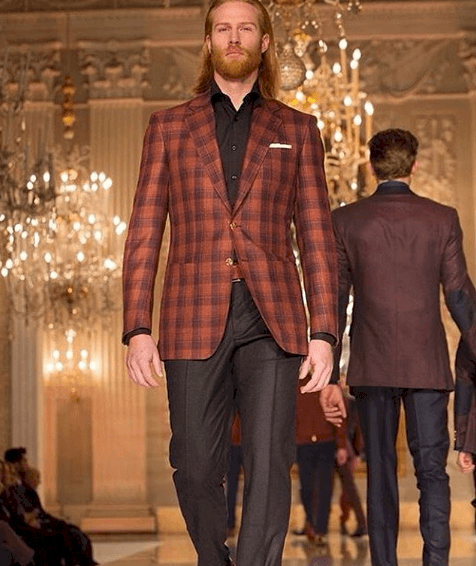 Gwilym is also the Brand Ambassador of a new male grooming brand by David Beckham, so everything is doing more than great for him in the professional aspect. He changed a dull desk job to travel around the world, meet new and creative people, and delve into the fashion world. 
Of course, his body is his best instrument, so he tries to maintain his healthy lifestyle. However, his new job has not changed the way he thinks. Being in the fashion industry, he separates an image from a person, and he has always tried to be humble.
"I think I'm lucky I got into this profession at the age that I did. I try not to get caught up in it all, and my girlfriend helps a great deal with that."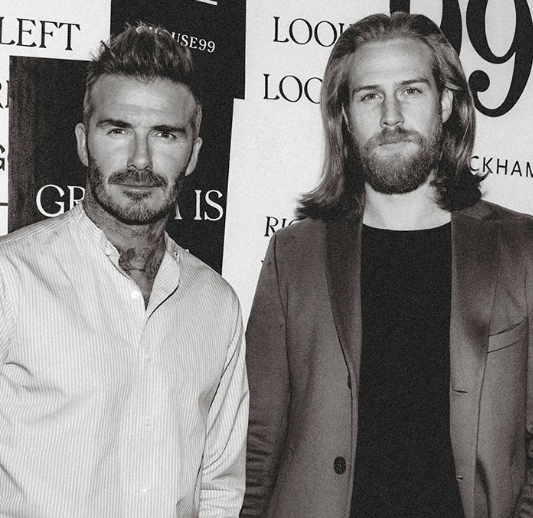 Social media reaction
Of course, such a fantastic transformation has risen curiosity and judgment. People want to know all the details about this good-looking guy: his professional modeling career, his weight loss, his growing beard and, in general, all the aspects of his uplifting story. 
So no wonder why this guy has amassed more than 300 thousand followers on Instagram only. He has some thousands more on Twitter. Baffled netizens keep on commenting his fabulous pictures and asking him how they can do to achieve the same results.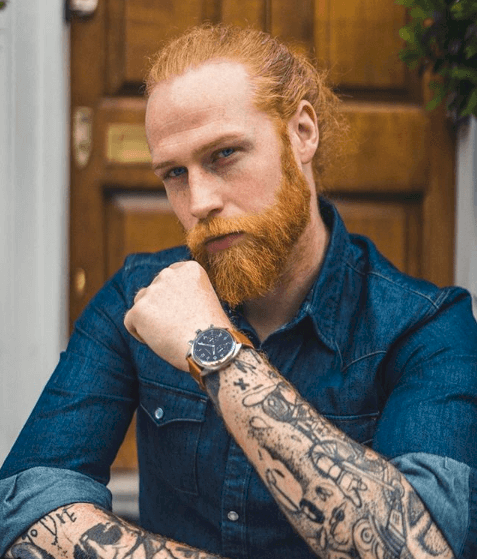 Gwilym Pugh went from Mr. Ordinary to Mr. Incredible, and he did it by resolving to change his lifestyle and, of course, listening to his barber. Little did he know he would become the sensation he is today. Share his astounding story with others that might be planning to don a beard. Until next time!