Striking Difference In Royal Weddings: Diana, Kate Middleton, and Meghan Markle
We love to see royal weddings, those momentous events full of glamour and luxury that mark the welcome of a new member to the royal family. Although we have witnessed many, there are three with prominent places in history: Diana with Prince Charles, Kate with Prince William, and Meghan with Prince Harry.
Each ceremony has been unique with particular details that show the style of the brides, and it is inevitable not to compare them after the last one we enjoyed in May. With that in mind, let's examine their weddings; you will be astounded to see some of the differences and similarities. Let's take a look!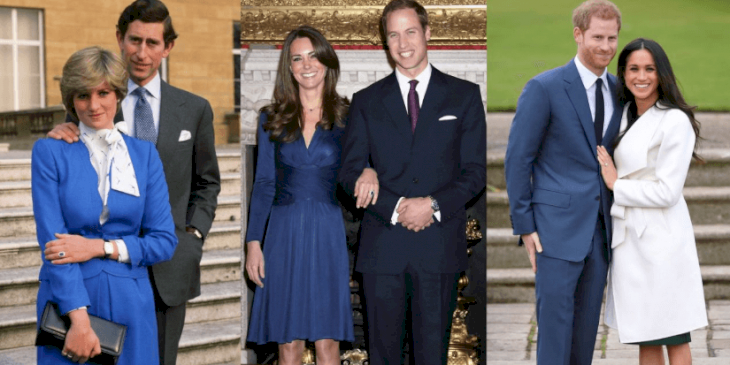 1. Age
Diana was the youngest of the three when she got married. The daughter of John Spencer (Viscount Althorp) and Frances Roche was only 20 years old when she became a married woman. Her daughters-in-law, on the contrary, were more mature. Kate was 29 years old, while the former Suits actress was the oldest one to wed at 36.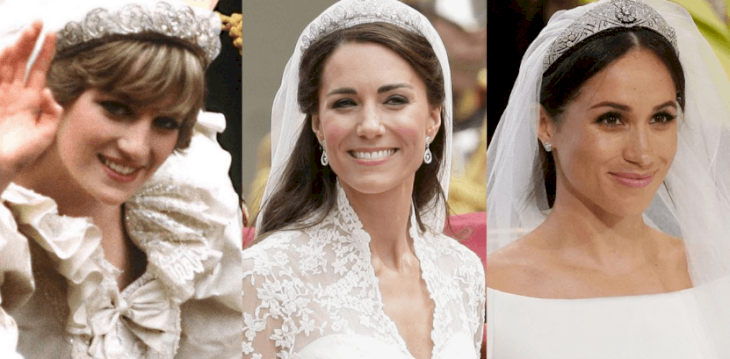 2. Venues
The ceremony between Prince Charles and Lady Diana Spencer took place on July 29, 1981, at the High Altar of St. Paul's Cathedral in London. The colossal event was considered a dreamy fairytale that became a global sensation. 
The local and international press filmed it, and 750 million people were able to watch it on their TVs. Decades later, their oldest son tied the knot with the eldest child of Michael and Carole Middleton, two businesspeople, on 29 April 2011, in Westminster Abbey in London.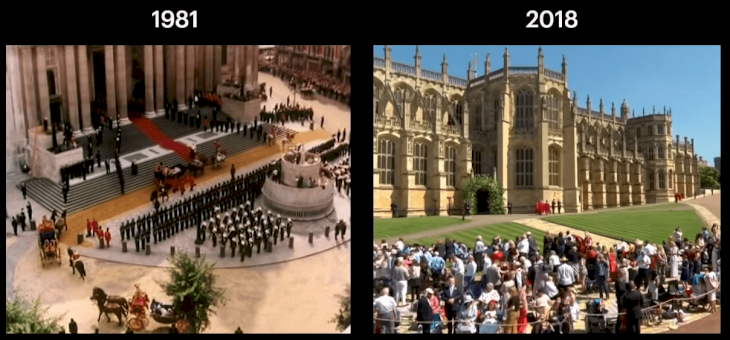 They took their vows in front of 1,900 guests in the Abbey, and 36 million more watching on TV. Seven years later, the red-headed wedded the former American actress and daughter of Thomas Markle and Doria Ragland at St George's Chapel, Windsor Castle in Berkshire. 
On May 19 of this year, 600 guests came to join them on their big day, but different from the other two, this event did not have any political leaders, and the press had very limited access. There was only one reporter inside the chapel and four on the outside.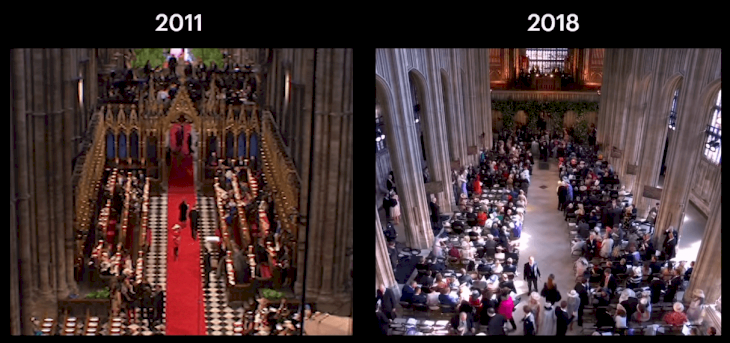 3. Bridal attire
This is a highly-anticipated aspect at a royal wedding since the whole world wonders what the brides will wear on their big days. The People's Princess decided to don a piece by David and Elizabeth Emanuel that cost roughly $330,000 by current standards, and it is considered one of the most stunning dresses of all time.
It was puffy, giant, adorned with laces and pearls, and it was made in layers with voluminous taffeta sleeves. Another shocking detail is that the train has been the longest in Windsor history, and the veil needed 140 meters of tulle. To complete the outfit, Diana broke the tradition in the royal family.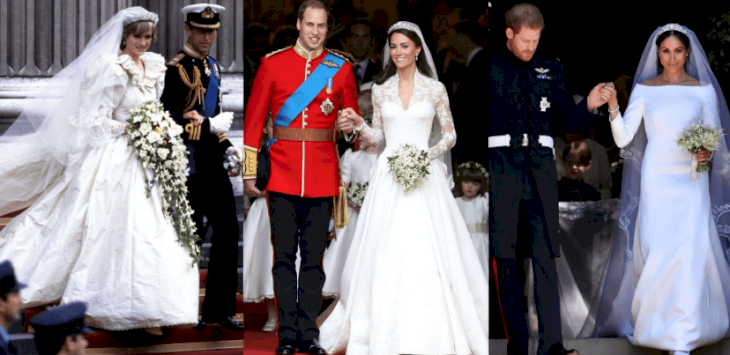 She decided not to wear a tiara from the Queen's collection; instead, she put on her family heirloom diadem. Finally, as for the shoes, designer Clive Shilton took six months to create the low heels with pearls and sequins that had the initials C & D painted under the heels. 
Kate did not lag behind with her looks since she looked astonishing in her lace dress with V-neckline and long lace sleeves. The piece had a combination of ivory and white fabrics that matched perfectly. The creative director of Alexander McQueen fashion house really nailed it with the gown that was worth $434,000.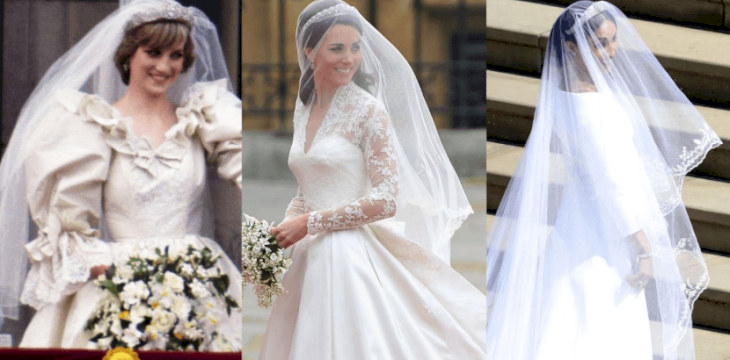 Her veil was not as long as Diana's; it was only 9 feet long, but it was gorgeously made of ivory silk tulle and hand-embroidered flowers. She started her life as a royal married woman donning a Cartier halo tiara with almost one thousand diamonds that the Queen lent her. 
To complete the attire, Middleton's footwear was a pair of almond-toes stilettos by Alexander McQueen that had the same lace as her dress and veil. Last but not least, Meghan looked beautiful in a more minimal design by Clare Waight Keller from Givenchy.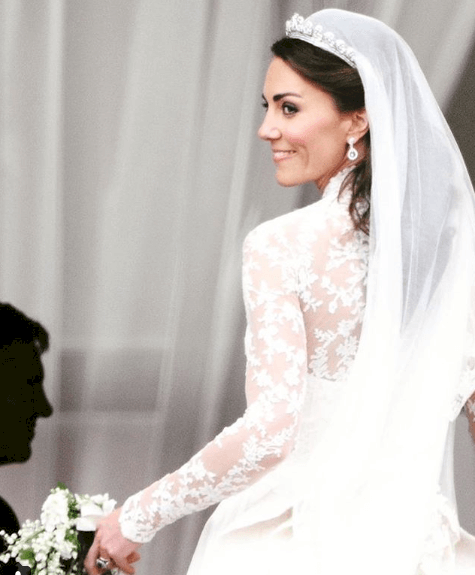 It was a dress made of silk cady and a bateau neckline that fashion experts estimate in around $500,000. On her head, she had a 16-foot silk tulle veil that exhibited flowers from the 53 Commonwealth countries and California poppies. To complement her outfit, she wore white pumps but donned the Queen Mary Diamond Bandeau tiara.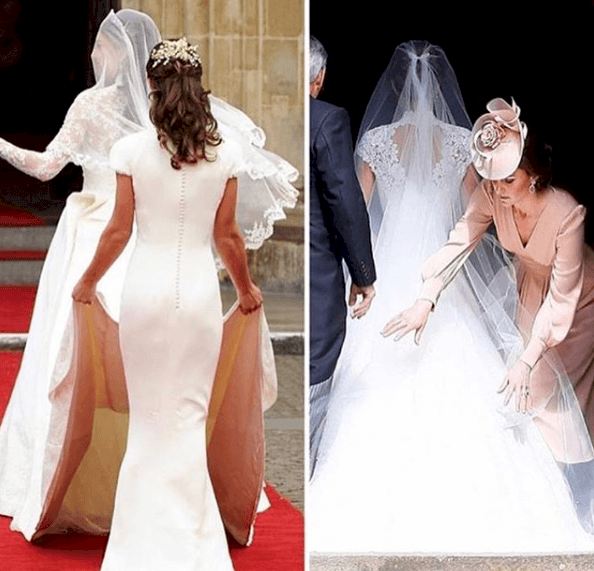 4. Bouquets
The three brides preferred white floral arrangement, and the trio followed the royal tradition of including a sprig of myrtle that symbolizes hope and love. Nevertheless, they had differences regarding size, shape and the rest of the flowers. 
Diana's bouquet designed by Longmans Florist with gardenias, lily of the valley, freesia, orchids, stephanotis, roses, Veronica, and ivy almost dropped towards the floor and weighed nearly two kilos. Meghan went to the other extreme with a very minimalist but sweet arrangement by Philippa Craddock.
She included flowers that the groom had handpicked for his bride and forget-me-nots, Diana's favorite flower. It also included jasmine, astrantia, lily of the valley, astilbe, and sweet peas. Kate's version was in the middle concerning size with ivy, sweet William, lily of the valley and hyacinth.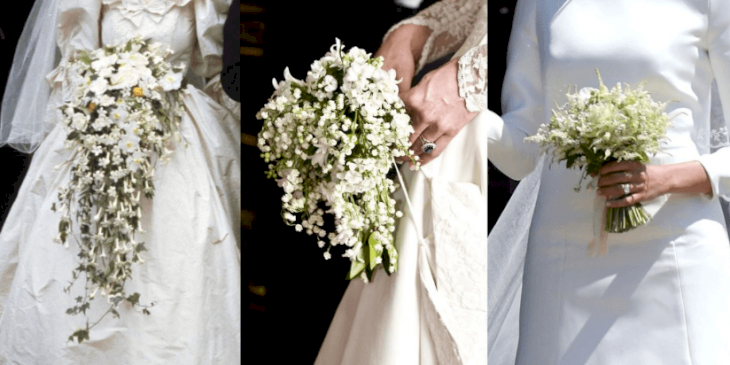 5. The Royal Wedding Cakes
Designed by Royal Navy's Cookery School, the People's Princess had the staggering quantity of 27 seven cakes that were five foot tall. They were decorated with lilies of the valley, orchids, and roses, and had the initials "C" and "D" along with Charle's coat of arms and the crest of the Spencer family. 
Meghan, on her side, went for an elderflower-and-lemon cake covered with flowers; Claire Ptak of London's Violet Bakery created it. Her sister in law had only two fruitcakes decorated with daffodils from Wales, thistle from Scotland, and roses from England, as well as Sweet William.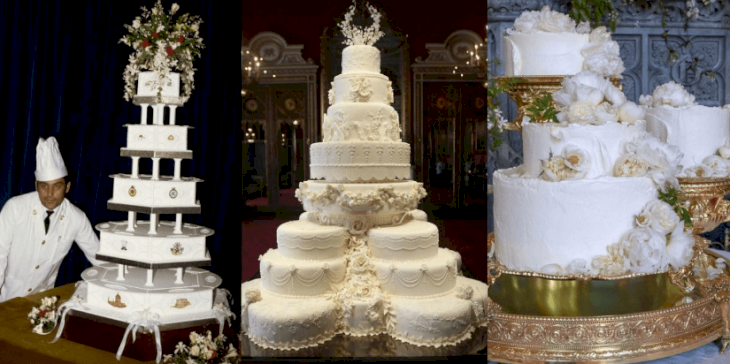 6. Walking down the aisles
Diana's dad, Earl Spencer, was sick at the time of the wedding, but he left all his health problems on a side to be with his daughter on the big day. Apart from her parent, a group of young bridesmaids and two pageboys, who were the children of influential royal friends, accompanied her. 
Kate's bridal party was slightly different since she broke part of the tradition when she included her sister Pippa as maid of honor. However, she had a group of four little bridesmaids and two pageboys. Like her late mother-in-law, her father, Michael Middleton, walked her.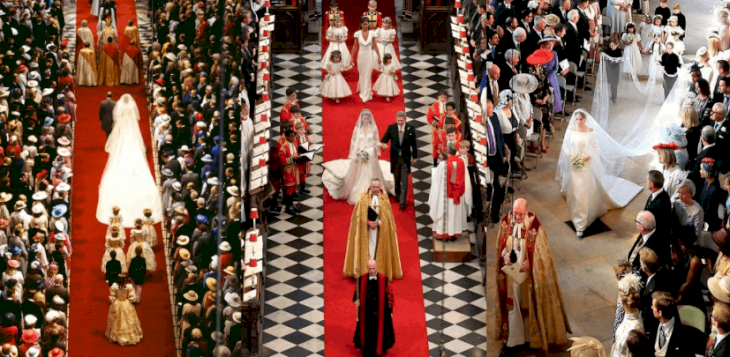 However, Meghan was different since she was not walked by her father, reportedly due to health problems. Instead, her father-in-law, Prince Charles, did it, but only until a certain point of the aisle. She continued by herself most of the way. Her mother, Doria Ragland, was with her, but she did not participate in the walking.
She followed the traditional with a bridal party of six young bridesmaids and four pageboys that included, of course, her newly-minted niece, Princess Charlotte, and her nephew, Prince George. However, she did not have any maid of honor. 
The conditions, the style, and the details of the three weddings are utterly different in most of these cases, although they did share a couple of things in common. But one thing was similar in the three: the ceremonies were marvelous, posh, glamorous, and very costly, worthy of three ladies that were marrying three of the most important members of the British Royal Family.