24 years ago, Meat Loaf performed the national anthem so well that it still charms fans
Back in July 12, 1994, the heavy rocker with operatic voice awed the crowd at the Three Rivers Stadium in Pittsburgh, Pennsylvania with an unmatched rendition of "The Star-spangled Banner."  
71-year-old singer and actor Meat Loaf, born Michael Lee Aday, is a multi-platinum recording artist and landed roles in cult films like "Rocky Horror Picture Show," "Wayne's World," and "Fight Club," with a career spanning five decades.
But to this day one of the most remembered and remarkable moments of his work as a musician was when he sang the US national anthem at the 65th MLB All-Star Game in a virtuoso performance that left everybody speechless.
Meat Loaf's rendition of the patriotic song is guaranteed to get you chills every time you watch it, and luckily to all of us, the video has been in the MLB YouTube channel since 2013. Read more on our Twitter account @amomama_usa
A HISTORICAL RENDITION
Meat Loaf was supported by the 1994-1995 Penn State ROTC Color Guard during the breathtaking performance. It was considered the highlight of the day.
Sporting events such as the MLB and NFL include an offering of the national anthem. In recent times, the visibility has only increased as superstars have come up to deliver America's foundational song.
Over the years, there have been some memorable performances of the national anthem including renditions by Whitney Houston, Beyoncé, Jennifer Hudson, and by a number of other artists. Meat Loaf's rendition certainly figures among the best.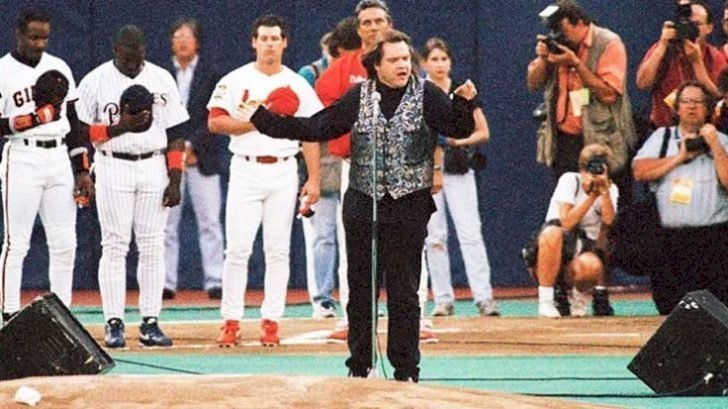 REACTIONS FROM INTERNET USERS
After all these years, and even now that the artist is mostly out of the spotlight, people is still talking about the legendary performance, and a new generation can access it via YouTube, where it has been viewed more than 600.000.
"The best rendition of the National Anthem I ever heard. I was there with my 13-year-old son.  We actually heard him practicing it the day before while doing a stadium sound check," wrote Mike Wigal in the comments section of the clip.
"I was there. There were people in every section wiping tears off of their face, and even some children's faces! Stunningly awesome! Great memories..."
-Jim Loeffert, YouTube, October, 2018.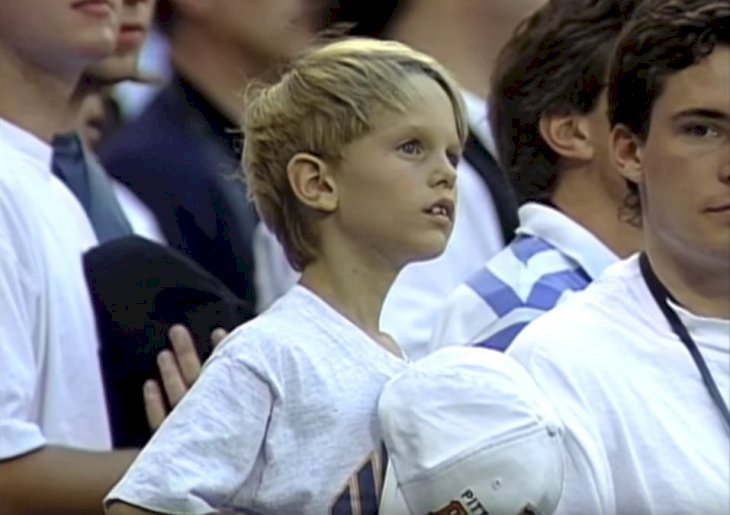 REBOOTING HIS CAREER
After making it big in 1977 with his signature rock-opera album "Bat Out of Hell" things went wonderful for the star for a while, but eventually fame took its toll and financial, legal, and drug-related problems lead Meat Loaf to bankruptcy in 1983.
Although the musician kept touring, his recording efforts didn't get the attention he was expecting. His feud with songwriter Jim Steinman proved to be disastrous for Meat Loaf's career, and only when they collaborated again he had a second chance.
With the team back together and trying to relive their previous success, "Bat Out of Hell II" was released in 1993, which included his best known hit "I' do everything for love (but I won't do that)" and ended up selling more than 15 million copies.
Having conquered a younger generation with his 1992 appearance in "Wayne's World," the early nineties were a good moment in Meat Loaf's professional life, and he proved that his talents were as good as ever with his wonderful take at the national anthem.
HEALTH PROBLEMS
In 2003 Meat Loaf fans were concerned when news broke of the singer collapsing onstage during a presentation in London. It was later revealed that he suffered a heart condition known as Wolff-Parkinson-White syndrome.
In June 2016, he collapsed onstage once again mid-concert in Edmonton, Canada, but his representatives said that there was nothing to worry about and that he was only affected by dehydration.
But in January 2018, Meat Loaf admitted that he had been experiencing heavy back pains for some time and that he had not been able to sing for a whole year.
Meat Loaf revealed he had undergone several surgical procedures to overcome this to no avail, and he was reportedly unable to move around his home without assistance.
Nevertheless, been the rock star that he is, he said that he won't be stopped by this and displayed his peculiar sense of humor in a "Rolling Stone" interview.
"I've had 18 concussions. And nothing, nothing has ever put me down," he told the music magazine before adding: "My back is driving me crazy. But then I'm probably a little crazy anyway, because of all the concussions."
MARVIN GAYE'S LEGENDARY VERSION
Ten years before Meat Loaf baffled everybody with his impeccable performance, late singer Marvin Gaye was chosen to sing the national anthem for the 33rd NBA All-Star Game at The Forum in Inglewood, California.
He sang a spine-tingling rendition of "The Star-Spangled Benner" with nothing but his voice and a drum machine that gave the normally straightforward song a different rhythm that the more than 17,000 members of the crowd praised and loved.