20+ Behind The Scene "Harry Potter" Photos That Totally Ruin The Magic
Potterheads love the magic that Harry Potter and his friends made us feel throughout eight movies and a couple of spinoffs. It is so nice to think about the possibilities that being a wizard could open up, and many of us even imagined ourselves studying at Hogwarts.
Well, we have awful news for you because we are about to burst your imagination bubble by revealing some behind-the-scenes moments that will tell us the ways the saga was filmed. We have to warn you; some of Harry Potter's magic will go away. Ready or not, here we go!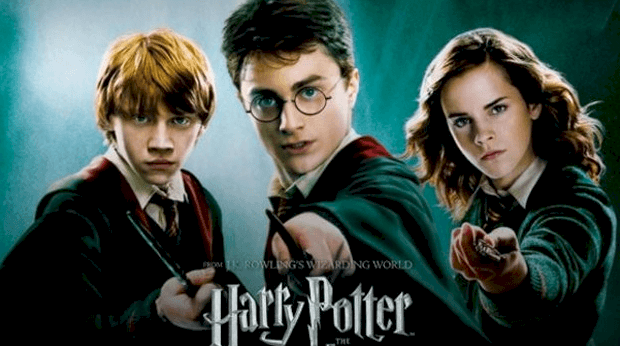 1. Everybody knows that Voldemort and Dumbledore are enemies to death who have almost killed themselves in some epic battles. However, in the following picture, we can see them nicely chatting and laughing. Major blooper!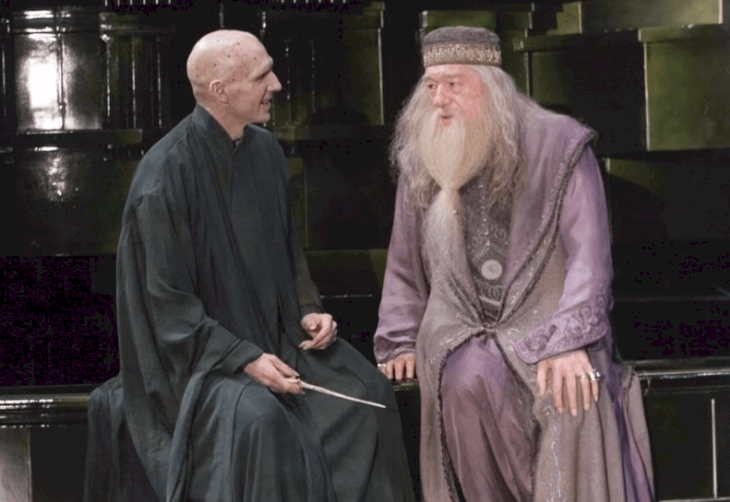 2. In the movies, Hagrid is depicted as a massive-sized character that looks almost like a giant. However, producers only played with our emotions by using Computer-Generated Imagery and mere camera tricks. The behind-the-scenes picture of a stuntman wearing a mask is our evidence.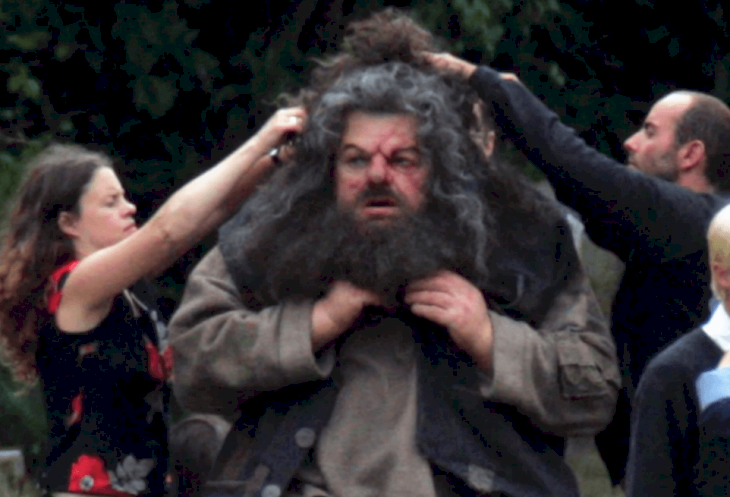 3. Any fan of the saga knows that Harry Potter and Bellatrix had opposing characters. So how would you feel if you saw them friendly kissing and hugging? Clearly, Daniel Radcliffe and Helena Bonham Carter got along much better.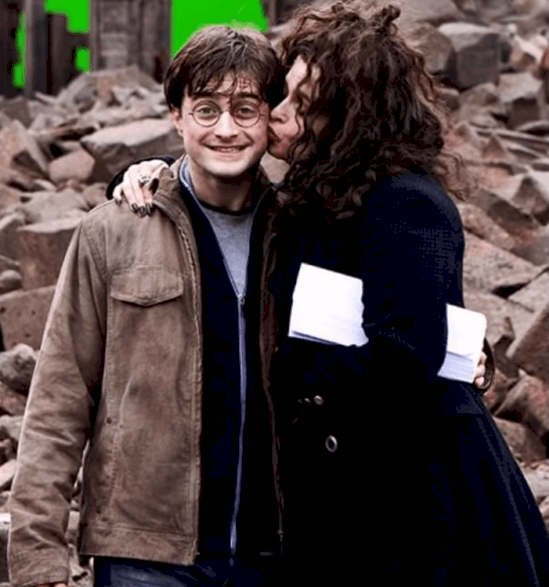 4. All those moments at Hogwart's cafeteria made us wish to have one that had at least 1/10 of the greatness featured at the school. The training wizards dined in long tables with other cool elements. But the cast filming the scenes ate pizza as mere mortals. Isn't weird to see them do that?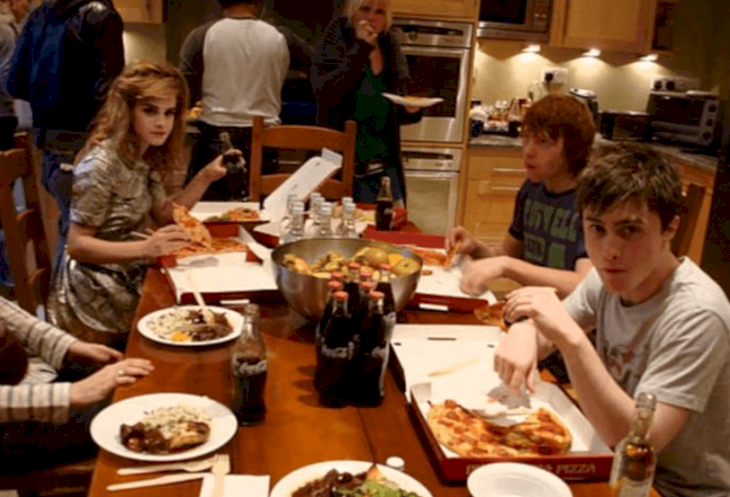 5. Part of the charm that we love can be seen when Hermione goes to the library and puts away her books without even touching the bookcase. Now, after looking at the behind the scenes, the magic faded when we noticed some hands with green gloves that pulled the books up into the air.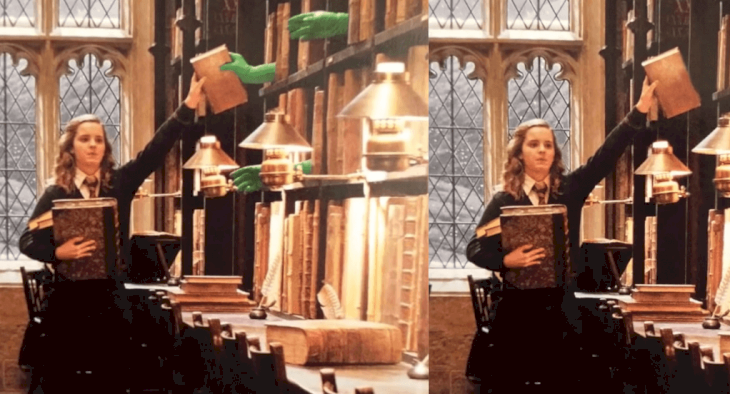 6. Many of the creatures that we see in the films were mere imagery created through computers. However, filmmakers sometimes opted for animatronic puppets, and Aragog is included here. Perhaps, you developed arachnophobia after watching it, but looking at the mold may help you overcome that fear.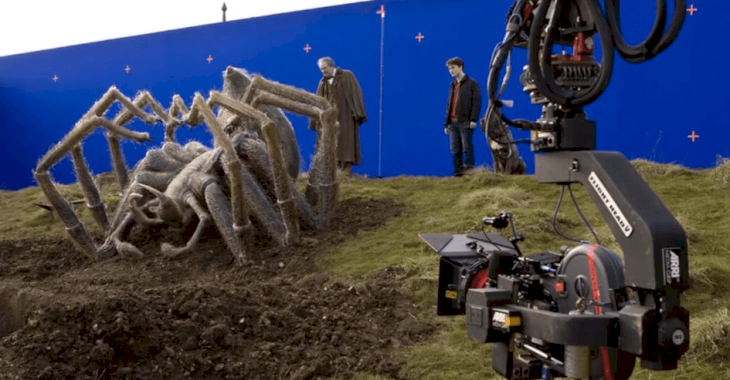 7. Do you remember when Ron got some pretty nasty gashes during the first part of The Deathly Hallows? Well, we all know that in movies, they are not real, but in this case, we have to give some credit to the film crew for creating such realistic wounds.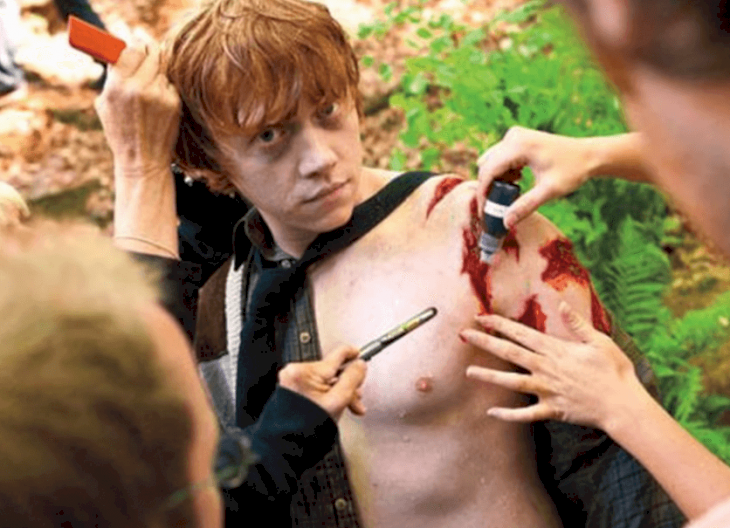 8. Quidditch scenes in the air were pretty challenging, but the ones under the water were even more. We would love to continue believing Harry could breathe underwater like a fish, but the reality is that he was surrounded by a huge crew ready to give him oxygen. They even posed for a Christmas card!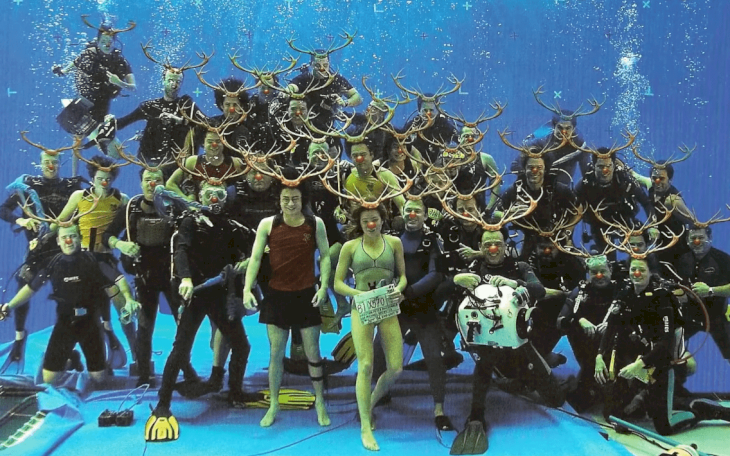 9. Alan Rickman appears to have been born to play the weird and complicated professor Snape. However, he had some help to portray the character just right. Even something as simple as walking needed a long dolly and a filming crew.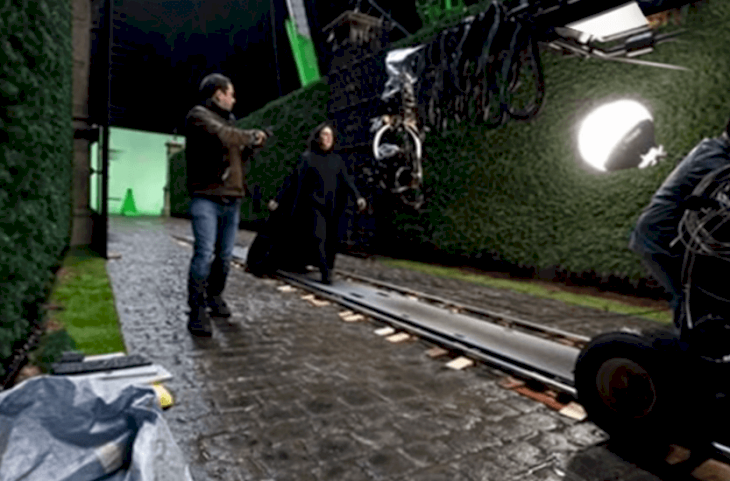 10. Harry, Ron, and Hermoine made us believe that Dobby's death was indeed a sad moment for them. But offscreen, they don't seem to be so moved because they appear in the following picture laughing at the elf's funeral. Don't worry Dobby; we still miss you!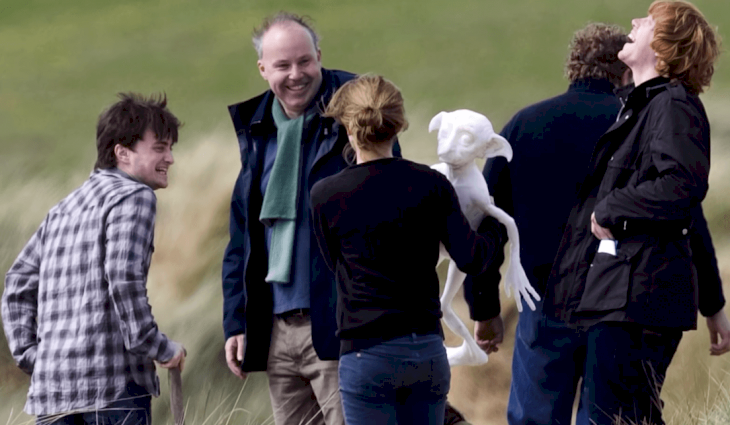 11. Although many of us would love to spend all of our time at Hogwarts, it is a whole different story for the filming crew. The elaborate scenes could take hours to be filmed, and here we can see Helena Bonham Carter's Bellatrix resting on the floor between shots.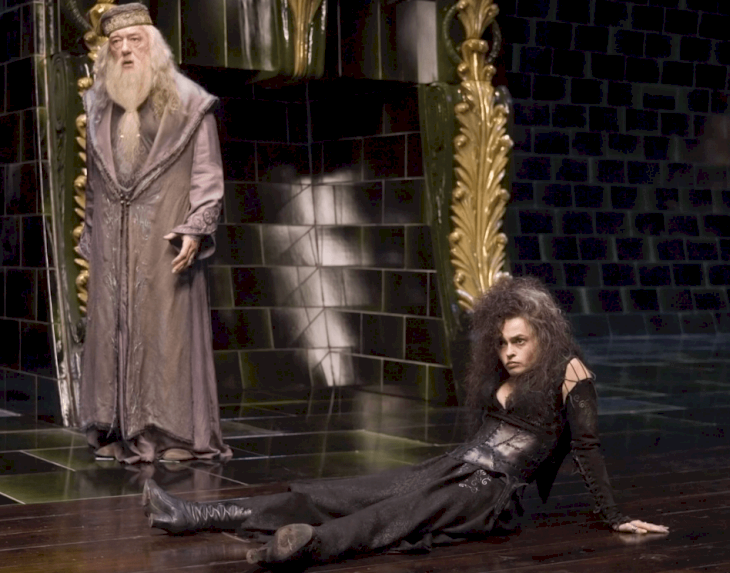 12. When Potter wanted to get some inspiration for his own, he went to the wedding of William Weasley and Fleur Delacour. It looked like a lovely ceremony in a meadow, but shots of the set show that it did not even happen outdoors. It was a mere fake movie set.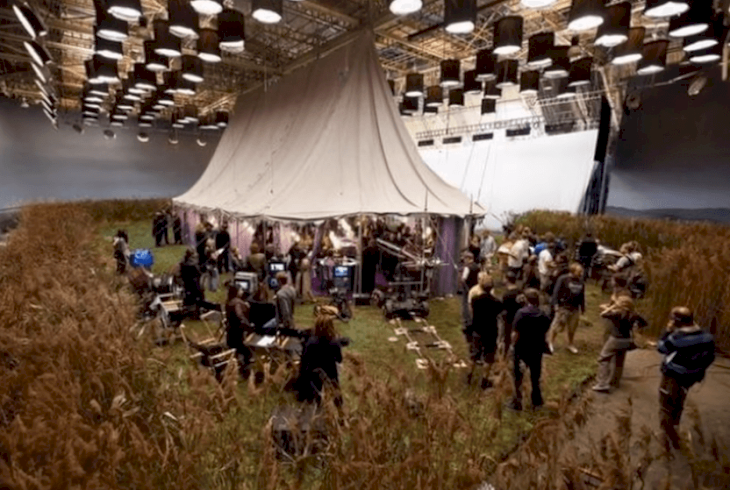 13. Being the young but famous wizard was no easy deed for actor Daniel Radcliffe. So, although you would hate to know this one, the producers hired a stunt double to help him out during some scenes, and they clearly got very close.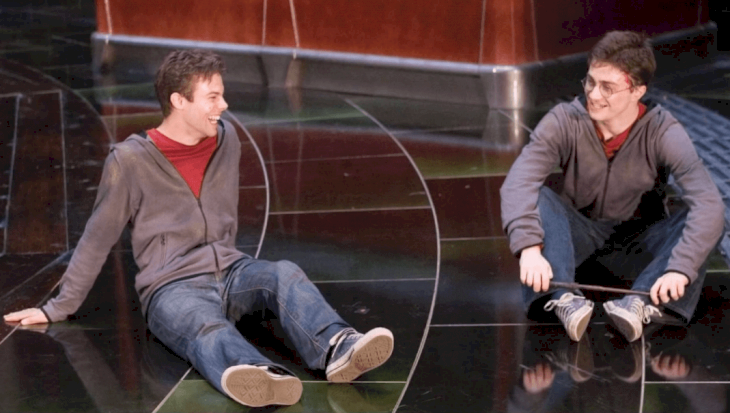 14. During the Chamber of Secrets events, one of the worst monsters that Harry had to face was The Basilisk, a giant snake. As we see it in the movie, the creature is huge and frightening, but in reality, it was just a big head used as a puppet.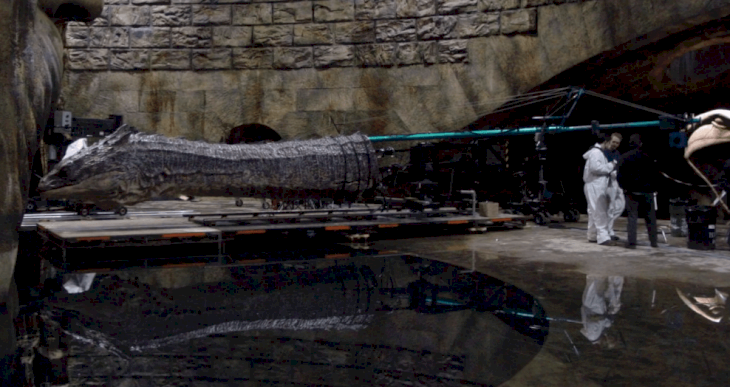 15. One of the best things about watching the wizards in action was to see them riding their broomsticks. We know that producers tend to use blue screens and a lot of special effects to get the shots, but to see the actual process is quite discouraging.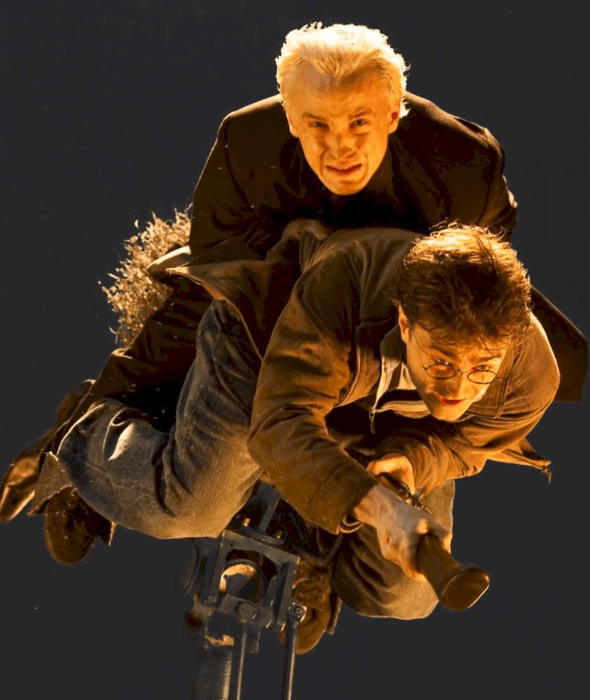 16. We know that Snape's serious look comes from his sorrow of having lost his true love, Harry's mother. Perhaps, he never got over the loss, and that is why we regularly see him with a scowl on his face. But the glimpse we get here shows an entirely different Snape, smiling and laughing with his peers.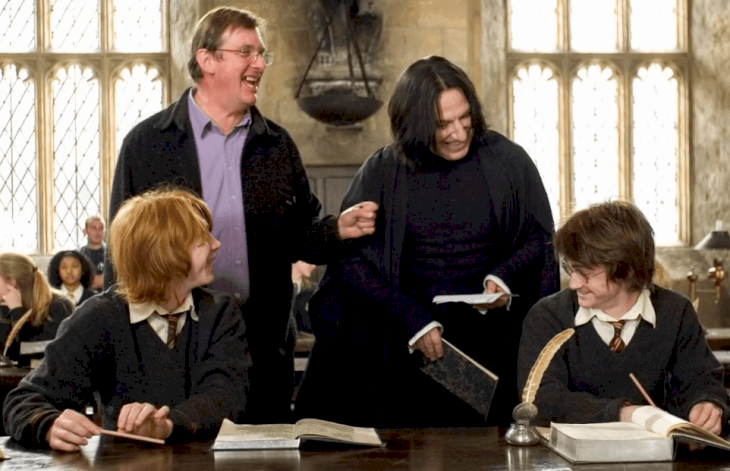 17. Goblins are a highly smart race of miniature humanoids with long fingers and feet within wizards' world. During the production process, the blueprints of each head were made for the real character, so now you can imagine how arduous the process of developing a movie is.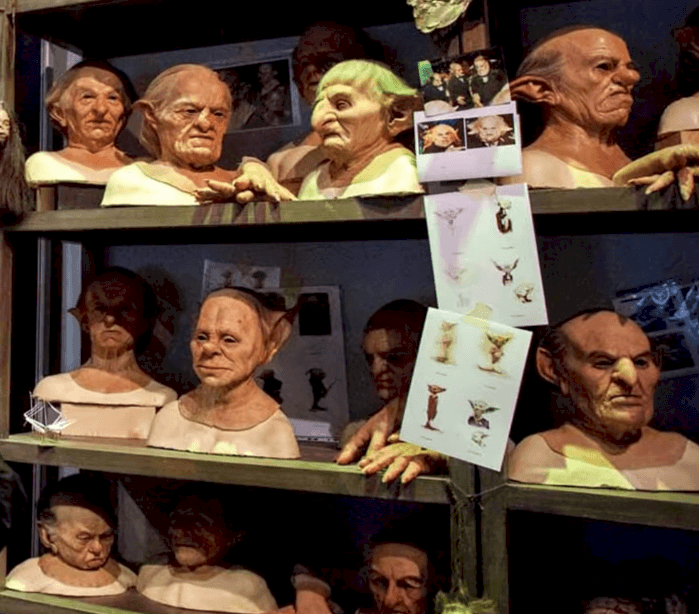 18. In the Deathly Hallows, Harry and his partners in crime decide to flee from school to halt Voldemort once and for all. They run into the woods, where they are chased by a ring of Death Eaters. But looking at a shot from the filming of the scene, Harry appears to be running erratically.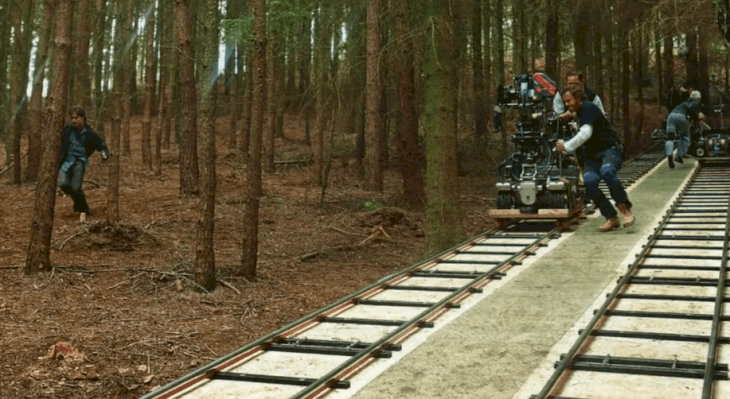 19. Harry needed some time until he was fully prepared to confront Voldemort. Meanwhile, he just had to sit back and watch Dumbledore do that for him. Thankfully, by "sitting", we never meant something literal, although the following picture of Harry laying as if he was on the beach is quite graphic.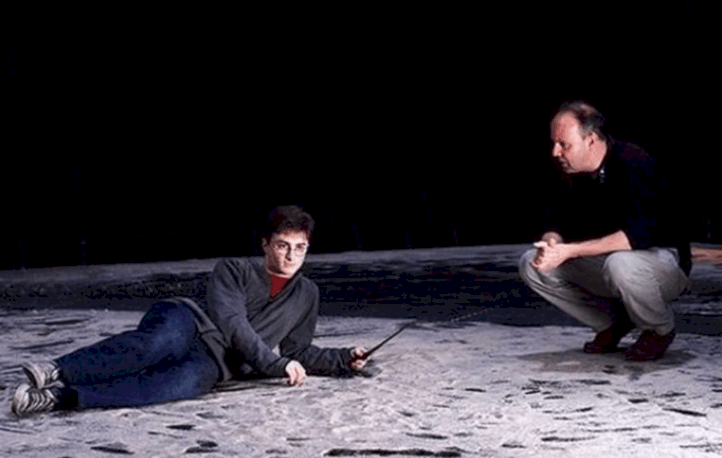 20. When the actors were younger, they needed more than one double. Perhaps, the strenuous scenes required them because Emma Watson needed three stuntwomen while shooting the Deathly Hallows. It must have been bizarre to see three almost-identical girls in the same set.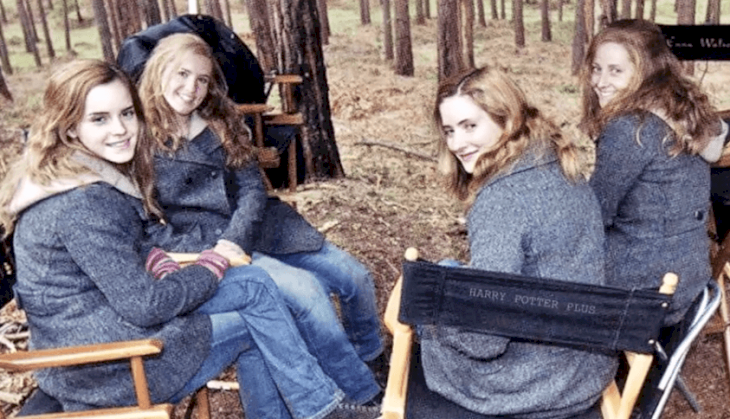 21. At the beginning of each school year in Hogwarts, there was nothing more inspiring than listening to Dumbledore's speech. Students always looked impressed by his words. Well, unfortunately, we have to tell you that the actor actually filmed it in front of a bunch of grownups from the crew.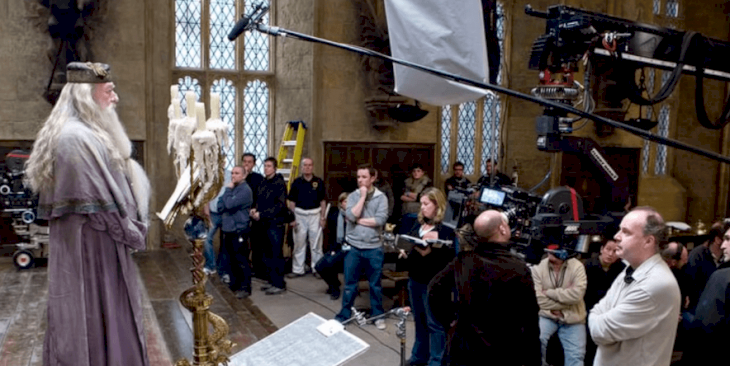 22. One of the most emotional scenes of Deathly Hallows part 2 was Potter's fake death. At one point, Hagrid had to carry the star for everyone to see his lifeless body. To avoid problems due to Robbie Coltrane's real size, the crew used a dummy mold of Harry. Very smart!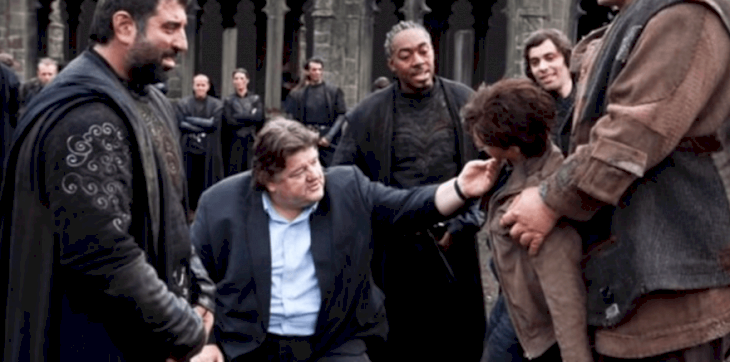 23. Voldemort could not have been able to be the supervillain he was without his serious actions, his evil look, and the mystery surrounding him. That is why this photo of Ralph Fiennes goofing around and laughing is so perturbing. And the worst part of all? He has a nose!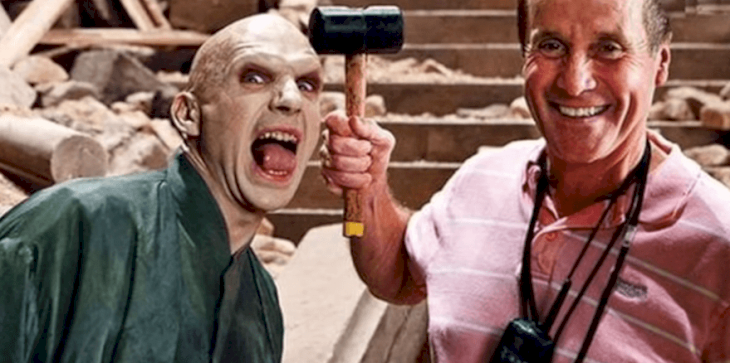 24. Potterheads cannot forget how this magic world started: the scene that depicts Dumbledore walking side by side with Professor Minerva McGonagall. One camera was not enough to capture the moment, so the director recorded the action on both sides.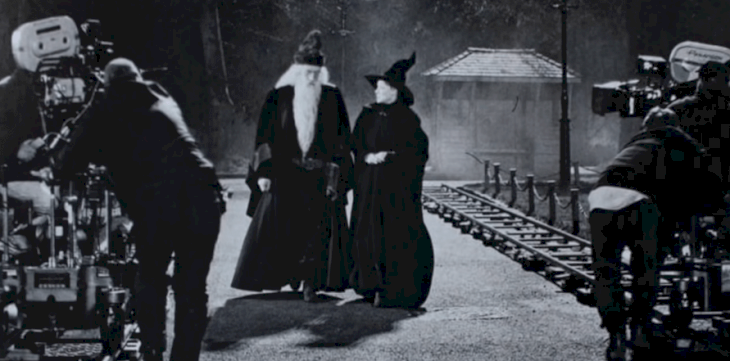 25. The ending of the Deathly Hallows part 2 was not as emotional as to see the actors saying goodbye to their colleagues and crew members that worked for years with them. No wonder why everyone ended up sobbing like babies.
We know what you are thinking now! After looking at these offscreen moments, part of the magic that the movie captured does not seem so impressive anymore. However, we cannot forget all the hard work of actors and workers to bring the production to the big screen. What was your favorite moment?