Twitter Takes It Hard On Meghan Markle's Fashion Flop And Sometimes It's Too Much
Some people think that celebrities or those who belong to the royalty are perfect, but they commit mistakes just like us. This time, the Duchess of Sussex, Meghan Markle, had a wardrobe mistake to which many people felt related to. Specifically, the Twitter community made jokes about the incident but also alleged that the error was something that could happen to anyone. Let's see.
The unfortunate incident
Everything happened when the royal couple arrived in Tonga, Australia, for some formal meetings they had to attend. The Duchess looked gorgeous with a vibrant red dress of her favorite fashion designer brand Self-Portrait. You could see her little bump and astonishing figure, but you also could see that her dress still had the sales tag attached at the bottom of it.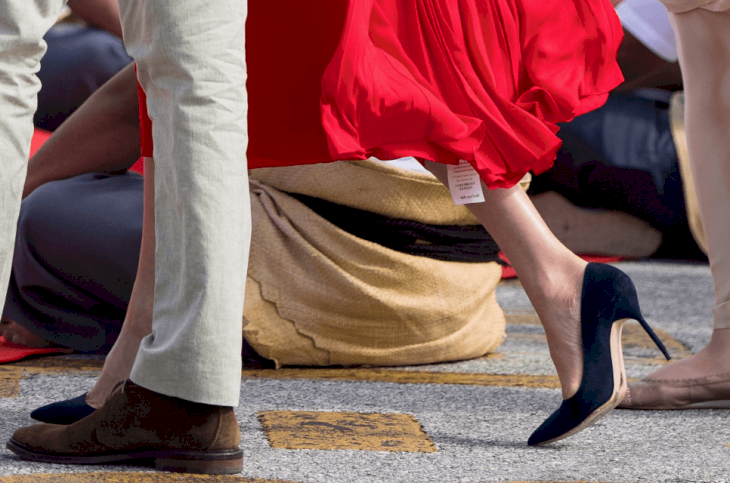 This is considered as a wardrobe malfunction, and who could blame the Duchess? This is something that could happen to anyone. The big difference is that she was surrounded by many photographers that captured each moment of the incident. It didn't take too much for the world to know what happened, and the pictures went viral in a few seconds.
It was a very unusual mistake
The Duchess has extra help every time she dresses and, perhaps, her stylist should have been aware of this little detail considering that Meghan's looks are undoubtedly the main protagonists of her Australian tour; especially when facing the international press and the British tabloids, who study and evaluate each of her outfits since she is part of the royal family.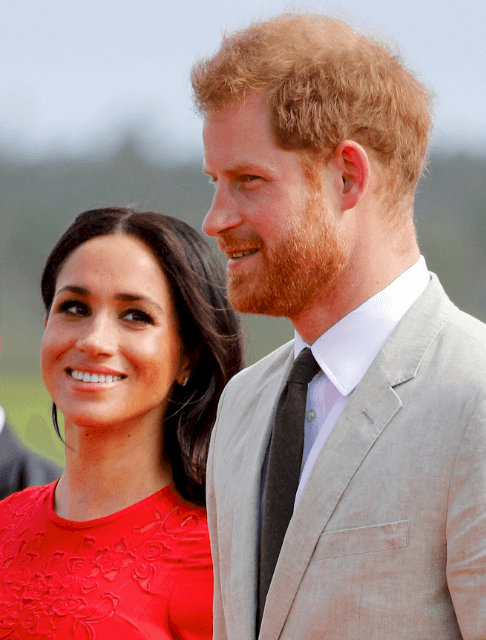 Regarding the dress, initially Self-Portrait thought it long up to the feet, but it was a day event, so the Duchess of Sussex preferred to shorten it below the knee for the occasion. That is why the tag was exposed. Of course, it shouldn't have been seen, but probably it was not withdrawn because the brand demands it to make returns. Which make things more interesting because it makes us wonder why they would want to return the dress.
Twitter's reaction
Many were hoping to see a harsh reaction from the public and media because sometimes it seems like people rejoice when celebrities commit a mistake. However, things were nothing like that. Instead, the whole internet sympathized with Meghan's incident and admitted how they would have committed the same dumb error. In fact, there were a lot of hilarious tweets about it.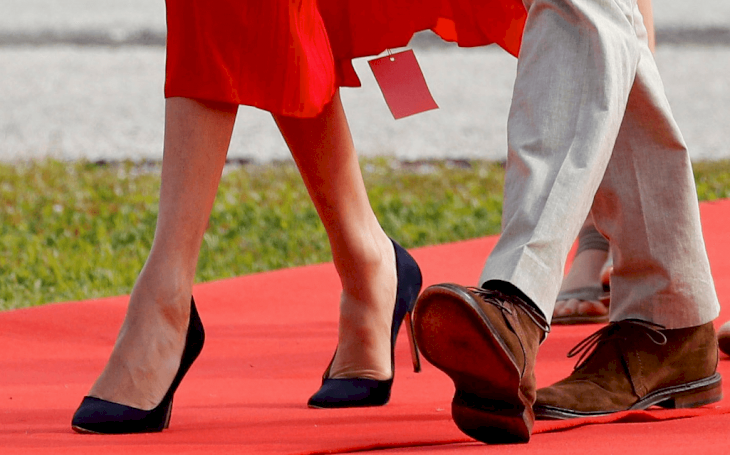 It is not the first time someone leaves their house with a tag on and even seems like some people had to go through worse incidents than Meghan's. Some also admitted feeling lucky if their undies are not on inside out, so it is very clear that people are completely comprehensive with what happened to the Duchess, and also took time to make some really good memes.
One of the funniest things were those who insinuated that Meghan did that on purpose because she was planning to return the dress later. We wouldn't have any problem with that! That technique is used by many people who want to save some money. We don't believe she should save money at all, but she probably has her reasons. Some even called her a smart shopper.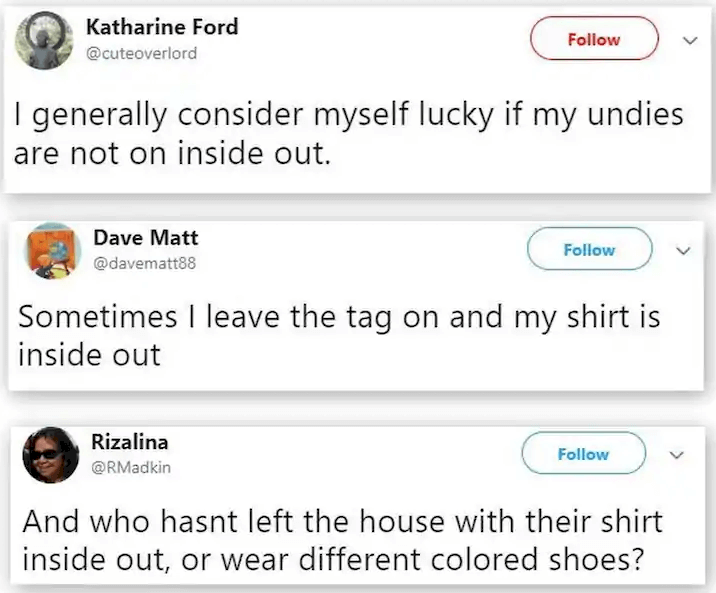 Besides, think about this. Prince Harry is sixth in line for the throne, so he is probably making sure of saving money just in case. Also, their baby is on the way, and everyone knows how expensive having a child can be, so they better get prepared for what it is coming. There is nothing wrong with pinching pennies, it doesn't matter if you are a royal or not.
On the other hand, people are creating any type of theories of why this happened to Meghan. Some said that putting a tag in the hemline of a dress is completely evil because it is the less expected place for a label, and that the company shouldn't do that. So probably, this was another reason for committing such a mistake, and we hope that Self-Portrait starts to place their tags in another area.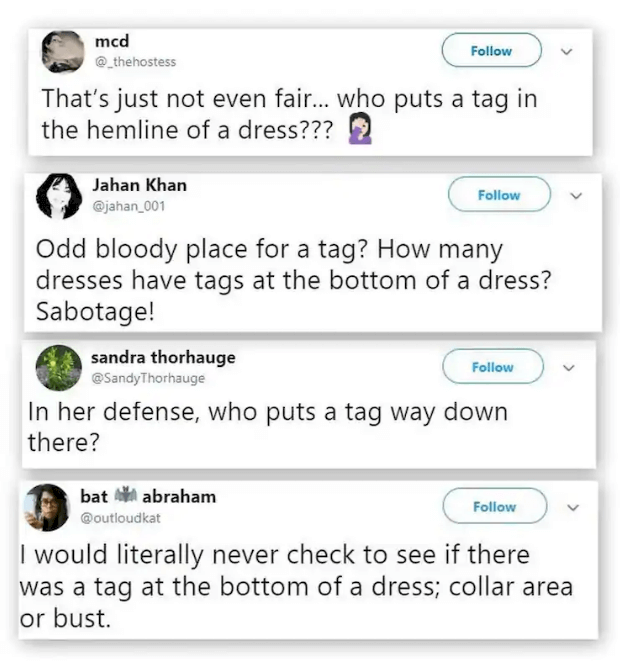 The media creates scandals out of nothing
Meghan has more important things to think about than just her wardrobe malfunction. Besides, it is something that has happened only once, so she has nothing to worry about. The Duchess will become a mother the next year, and that is one of the big events that occupy her head at the moment, but we all know that the media loves to create scandals from the most minor issues, like when they criticized her for announcing her pregnancy the day she did.
Several media sites indicated that not all were happy with Markle's pregnancy announcement. And this is nothing new, because always there is people who hates to see others being happy. However, there are two fundamental reasons why more than one person was not comfortable with the royal news that was given earlier in October.
First, presumably the pregnancy was announced to the family on October 12, the day of Princess Eugenie's wedding, and second, it was announced to the entire world on October 15, the International Day of perinatal and gestational loss. For these such reasons, many think that it would have been better to give the news on some other day, to avoid eclipsing what happened those dates.
Although, many insist saying that probably the royal family was not aware of what happens on October 15, which is hard to believe since they are public figures who have advisors. For this same reason, the pregnancy announcement was considered insensitive. Besides, others also said that they tried to steal the attention from Princess Eugenie's wedding.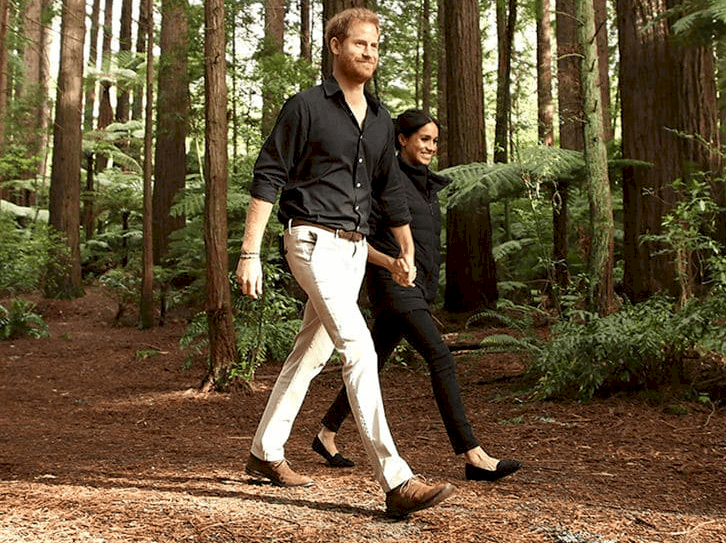 But probably those are only coincidences. Let's take into account that when you have such exciting news, you don't want to keep it to yourself, and you want to share it with the world as soon as possible. If you liked this article, share it with your friends who are always paying attention to anything related to the British royalty. We are sure they will love this information!