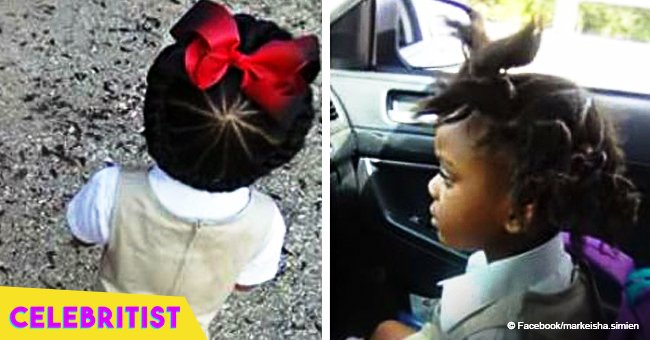 Photo of little girl who hilariously altered her first-day-of-school hairdo is still pure gold
A five-year-old girl made a lot of people smile and laugh after her mother posted before and after images of her back-to-school hairdo.
Charle-feigh Simien was about to embark on her first day in Kindergarten and naturally, her mother, Markeisha Simien was excited. In fact, she was so pumped up over her daughter's first day, she even had Charle-faigh's hair styled the night before to make sure she looked perfect the following morning.
WHEN THE PERFECT HAIR BECAME A DISASTER
Charle- feigh's hair was all that her mother hoped it would be that morning. No hair was out of place and a red ribbon capped the neatly braided do. She even took a photo of it for posterity.
"When I saw that hair, my nerves got so bad. I didn't know what to do. I was devastated, because I was wondering what happen to my baby?"
However, as the day drew to an end and Markeisha welcomed her daughter back home from school, she never imagined her daughter's hair would turn out the way it did. Somewhere along the day, Chare-feigh decided to restyle her hair to her mother's horror. She came home with her hair still tied but in a messed up way. Describing what she witnessed to Yahoo Beauty, Markeisha said,
"When she got out of school Monday evening, her hair was tore up. The style didn't even last 24 hours."
She also recounted how she felt and how her daughter explained the change in her hair.
"I was waiting to see her, and see how her day was. When I saw that hair, my nerves got so bad. I didn't know what to do. I was devastated, because I was wondering what happen to my baby? She said, 'Mom, it was itching and I took it out.' All I could say was, 'oh my God.'"
WHEN THE STORY WENT VIRAL
Markeisha couldn't help but tweet the before and after images of her daughter's hair and labeled it "Before and after school CHRONICLES." Little did she know that the post would spread like wildfire and earn more than 40,000 likes instanty. Apart from many who had a good laugh from the tweet, there were a lot of parents who related to the hairstyle fiasco. Markeisha initially took down the post after its overwhelming response but decided to upload it again after realizing it was refreshing to share this episode, something she had in common with a lot of parents.
WHEN ANGER TURNED TO JOY
Markeisha revealed her anger towards Charle-feigh weaned after learning about the amount of joy her post generated.
"She's [Charle-feigh] made a lot of people in the world happy just by that post. I had numerous people in my inbox telling me how my daughter made their day. They were having bad days, and they saw her post and felt better. For her to bring joy to the world like that was good enough for me."
WHEN A 9-YEAR-OLD CUT HER YOUNGER BROTHERS' HAIR
Meanwhile, a father's post of his son's back-to-school haircuts courtesy of their 9-year-old sister had people crying and laughing at the same time. A week before school started, Chris Cate got the shock of his life when his sons Cameron, 6, and Colton, 4, appeared from inside their closet with a brand new haircut given to them by their sister, Ava. The boys' hair was in total shambles with large gaps of missing hair and uneven cuts. Chris was forced to rush them to the barber who had no choice but to give them both a buzz cut. The photos of his children's messed up her which he posted on Facebook caused a frenzy with Chris realize he wasn't alone. Many shared the same experiences with him making it seem funnier than it first was.
WHEN A YOUNG BOY REGRET CUTTING HIS OWN HAIR
Chris revealed his boys loved their buzz cut and had no regrets over what happened to their hair. This is not the case though with another boy who accidentally shaved off a great portion of his hair while bragging about knowing how to cut his own hair on video.
In a clip shared by Foxx Five on YouTube, a young boy claimed he knew how to cut his hair and even cut his father's and wanted to demonstrate his expertise. Holding a razor, he showed his viewers that he could cut his own hair. With the confidence of an expert, the young boy began to use the razor on his head but nothing happened. A second try showed no results as well. However, on his third attempt on the exact spot, a big portion of his hair came off, which was not at all what he was expecting. The boy realized his mistake and said, "Oops! I made a bald spot." And he knew what was coming next when he said,
"I'm gonna be the funniest kid on the planet."
The boy was clearly full of regret and it was all caught on video, eliciting tons of laughter when it went viral.
Please fill in your e-mail so we can share with you our top stories!