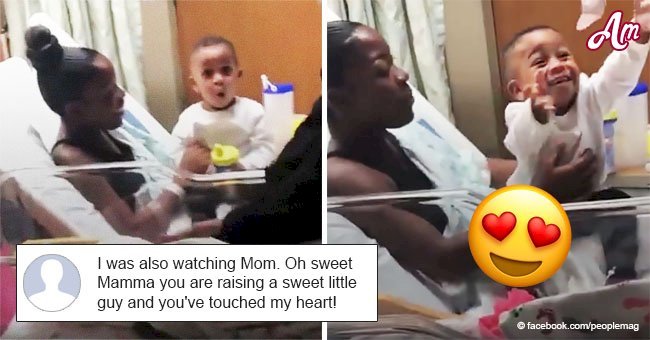 Adorable video of boy meeting his little baby sister for the first time has the internet swooning
Mothers who have more than one child know the elder child or children's jealousy when being introduced to a new baby sibling. However, one little boy broke this stereotype by being over the moon when he first met his baby sister.
In the weeks leading up to her daughter's birth, Tashara had feared her son's reaction to a new sibling. He repeatedly made it clear that he was not happy to have to share his mother's attention with a new sibling.
Tashara chose her best friend, Justyce Shavue, to be the godmother of her new baby girl. Justyce was present for the birth. She tweeted and filmed what happened, but one clip, in particular, went viral.
Read more on our Twitter account @amomama_usa.
THE FIRST MEETING
When Tashara's son saw his baby sister for the first time, he was excited and happy, a very different response to what his mother was expecting. Justyce filmed his reaction, and the heartwarming video has been viewed by more than half a million people.
In the video, Tashara is lying in her hospital bed with her son sitting on her legs. As his new baby sister is being brought to them, the boy calls her his "Sissy" and wants to hold her.
The other family members who were present were surprised by his reaction and cooing over him and the baby girl. Tashara starts to cry from happiness at the touching moment between her children.
BIG BROTHER REACTIONS
Tashara's son will one day be able to watch Justyce's video and see how cute his reaction to meeting his sister was. However, he is not the only big brother who will be able to do this.
In 2014 a boy was brought to the hospital shortly after his mother gave birth so that he could meet his baby sister. The entire meeting was caught on film and shows the little boy asking his mother funny questions about gender.
The big brother asks his mother where his sister's penis is and she then explains that she doesn't have one because she is a girl. For the remainder of the video, the boy has a shocked expression on his face as if he cannot process the information.
Please fill in your e-mail so we can share with you our top stories!