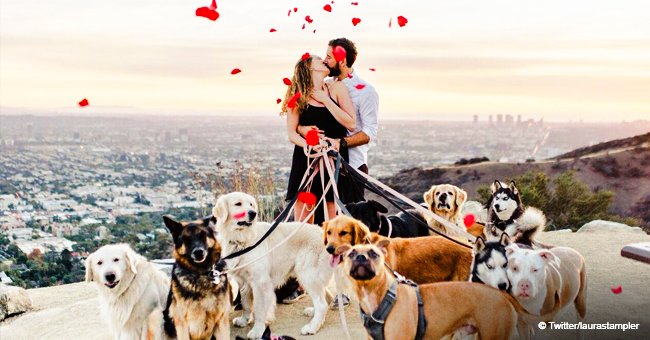 Story of guy proposing with 16 dogs and an acapella group singing Disney songs has gone viral
A beautiful sunset, Disney songs, dogs, roses and a gorgeous ring were all the elements that made this proposal look like out of a rom-com film. The newly engaged couple has been dating for four years and shares a common love for dogs.
Laura Stampler and Maurice Goldstein got engaged last week in a picture-perfect scenario. The couple was in Los Angeles for Thanksgiving visiting their families when Goldstein invited Stampler to take a quick hike to the Runyon Canyon in the Hollywood Hills.
THE PROPOSAL
Stampler thought nothing of the random request until she noticed some rose petals leading to the top point of the Canyon and started to fit the pieces together. She started sobbing immediately, as Goldstein guided her the rest of the way with a chorus of acapella singers singing "Kiss The Girl" from Disney's "The Little Mermaid."
The 31-year-old then went down on one knee and popped the question with an incredible sunset in the background. And after she said yes, a string of dogs joined their tearful celebration.
ALL ELEMENTS COMING TOGETHER
Rebecca Yale, a wedding photographer and Laura's best friend from high school, had lunch with her earlier the same day but excused herself saying she had to see a client. "Little did I know I would be that client," Stampler told Insider.
The 16 dogs present at the place are part of a group of therapy dogs called Pack of Hearts, managed by Tony Vercillo, a friend of Goldstein's family. And the pups made the moment even more special because Stampler loves dogs.
The 30-year-old is an author and freelance journalist. Her book "Little Black Dresses, Little White Lies," follows the life of a blogger that has a crush on a dog-walker. "[In the book,] there's an assortment of dogs and weird dog-related events," she told Elite Daily. "Like a pug prom. And a Bark-Mitzvah."
Goldstein is also a dog-lover. His German shepherd Scout is part of the Pack of Hearts, but couldn't be present at the canyon because he was recovering from hip issues.
And while it might seem like Maurice went too far with having so many elements in the proposal, Laura believes he "executed it perfectly." And added: "It was all incredibly meaningful and we then celebrated with both of our families at a restaurant after."
They don't have wedding plans yet, but they are sure about the location. "It will definitely be in Los Angeles where we're both from, although we both live in New York (and met in New York)," she said. "I don't know if I'll be able to out-do a bouquet made out of puppies though."
A PUG-FILLED PROPOSAL
A few years ago, a man named Ed came up with the idea of proposing to his girlfriend Alex in Central Park with the help of a few pugs. He contacted the New York City Pug Meetup Group, and they were in to be part of the surprise.
Sixteen pugs from the group showed up at the scene, each one with red heart balloon tied to their bodies. They met the couple at the center of the park's Bow Bridge, where Ed knelt down to pop the question.
She said yes, of course.
Please fill in your e-mail so we can share with you our top stories!