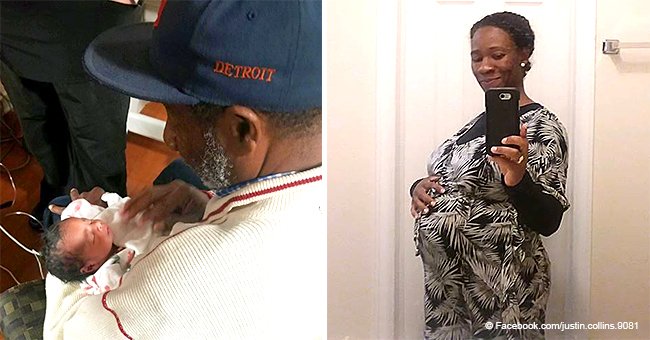 Viral story of man who's forced to choose between saving his baby or bleeding wife breaks hearts
A father from Littleton Colorado heartbreakingly welcomed his baby girl as he grieves the loss of his wife while giving birth.
Keyvonne Connie should have given birth in the middle of January, but by the morning of November 30, she began hemorrhaging at home. According to her husband Frederick Connie, he panicked at the sight of seeing his wife covered in blood.
"I'm like are you OK? And I see blood everywhere."
Mr. and Mrs. Connie immediately went to the hospital and the doctor told him that he had to make a choice about whether they were going to save the life of his wife and lose their baby, or save their daughter but lose his wife. While either way it was a painful decision to make, he knew he had to make the choice.
"It was either give her the surgery first and maybe save her life, but you're going to lose your daughter. Or your daughter can be saved but there's a chance you might lose your wife."
He decided to make his wife to undergo the emergency C-section for them to save the baby, hoping that she would be saved in the process as well.
"I'm glad I made that decision because in the end if Keyvonne probably could have survived she would have hated me for the rest of my life because I knew how she felt about our kid."
Kevyonne survived the emergency C-section and was recovering for some time. She was even able to look at her baby girl's pictures, and the coupled named her Angelique Kevyonne Connie or "Pooder" for short.
"I gave her her mom's name. She's going to know her mom. I'll make sure of that."
However, although everything seemed to be going well, his wife's health immediately deteriorated.
"Literally all of her insides just went all over the bed and the floor. They tried [to save her] and her heart couldn't take it. She died before they could even get her to the surgery."
She lost her life on the same day they welcomed their baby girl.
"They got me a room in labor and delivery and I'm the only man to ever have a room in the labor and delivery and the mothers there said it was okay."
Their baby girl Pooder is fighting her own health issues and is expected to stay at the hospital for several days to weeks. Donated breast milk is her source of food and nurses gave her gifts like clothes for her to wear. New to fatherhood, Frederick said that although he knows it'll be a difficult journey, he is willing to learn.
"I'm [ignorant] on changing diapers but I'm going to learn. I'm going to be a full-time father to her."
Connie said that he will fix his wife's funeral after Pooder gets out of the hospital. Having to pay for both medical bills and a funeral has been challenging for him financially, as they do not have a lot of money to spare.
"I'm financially not OK. This debt is like piling up and I have to bury my wife, my daughter coming into the world, it's so high right now."
People on the internet have questioned his choice of saving the child over his wife, but in the end, he believes that this is the choice that his wife would have wanted him to make.
"Dominique Colin: I told my husband if anything happened to me in birth he was to save our baby. My baby is innocent and doesnt deserve that. I wouldnt want to die but if it were me or my kids hands down my babies"
"Denise Price: I know this a hard decision to make but I would save the wife. She can have more babies and there is so many other ways to have babies."
However, Frederick is set in providing nothing but the best for his daughter and says that he will sell all of his assets and will sleep in his car if he needs to for him to take care of his daughter.
Now a single dad, Connie has been getting a lot of support from his friends and family. One of his close pals, Justin Collins, began a fundraiser on Facebook to help Frederick through his problems.
Please fill in your e-mail so we can share with you our top stories!