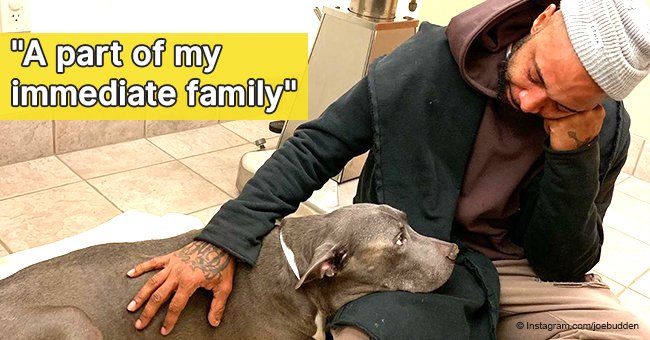 Joe Budden shares heartfelt tribute to friend of 15 yrs, Harlem, after his death in recent post
Joe Budden had to bid his best friend and companion of 15-years a heartbreaking goodbye recently, and he decided to commemorate his life through a recent Instagram post.
While many might think that a man's best friend would be another human, Joe Budden had a loyal pet who had kept him company for 15 long years. Now that the day has finally come that he had to say goodbye, it wasn't easy for the musician.
According to Joe, Harlem was not just any other pet. He was by his side through all the ups and downs that he's experienced in life, and is easily considered a part of his immediate family. Although he passed away at 15, Joe assured his fans and followers that Harlem lived a "long, healthy, rich and unbothered" life.
It was not just Budden who loved Harlem dearly, as he claims he is the coolest pitbull ever, and that allowed others to love him just as much as his owner did.
Harlem not only left behind Joe, but a fellow pet named Brooklyn, whom Joe says won't be will now that Harlem is not by her side.
"Today is a sad day in the Budden household. Rest in Peace to my guy Harlem."
Fans flocked to the post's comment section to grieve with their idol, sending their messages of sympathies and condolences.
"My heart hurts for you guys. I can't imagine. God Bless..."
"Sorry Joe, definitely hard, our fur babies are definitely [a] part of our families."
"My dog is my best friend. And the [expletive] you have been through mentally in your life I am positive you leaned on Harlem hard as I do with my dog."
"Believe me I know the feeling... All dogs go to Heaven so know he's in a good place!"
Grieving with Joe is his baby mama Cyn Santana, and their son Lexington Budden, who both shared a close relationship with Harlem as well. Now that the family has lost one member, they all try and fill the gap that Harlem left behind now that he's passed.
Please fill in your e-mail so we can share with you our top stories!