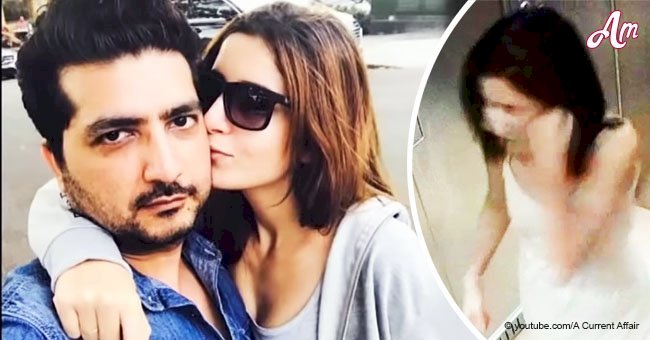 Moment woman punches herself in the face to accuse her husband of domestic abuse
A man requires the federal government to deport his wife, who separated from him, alleging that she tried to incriminate him of domestic violence.
A man from Sydney, named Faisal, met a woman named Asmae through a dating website for Muslims, called Muslima.com. He was immediately delighted with her and soon left his native Australia to meet Asmae's parents in Morocco.
However, while Faisal says he hoped to return to Australia with his partner, he now suspects that Asmae did not have the same goal. "She is an ambitious woman, she is a materialist, she is interested in only herself," said Faisal. "And dangerous, very dangerous."
Faisa had two jobs after marrying the woman and said he spent every penny he earned in Asmae. He said he had paid Gucci sportswear, leather jackets, jewelry, shoes, vacations, luxury dinners, and even money transfers to her family.
"All the trips from one side to the other, functions, receptions, commitments, jewelry and things, in total more than $ 200,000," he said.
But through several months, Faisal was running out of Asmae's demands. He said that they were constantly fighting and that one night in April, Faisal met with tremendous surprise upon arriving home from his second job. The place seemed to have been looted.
The furniture was overturned, the walls dented, broken glass on the floor and wine poured into the bedroom. "I came in and she said, you think you're very smart talking to lawyers about me, now look what I'm going to do to you." Then she ran away.
Security cameras show Asmae leaving the apartment and entering the elevator, where she proceeded to give two blunt blows to her own face. Then she went to the police and said that Faisal had beaten her.
Faisal, concerned about Asmae's safety, also went to the police, where he was arrested and charged. He was held up all night, while officers accompanied Asmae to the house for her things.
Faisal said police unwittingly helped Asmae steal her belongings, including a laptop, expensive watches and designer eyeglasses. The most worrisome was the 4 charges of abuse against Faisal, for which he could face up to 7 years in prison.
The next two months were a nightmare. He spent more than $ 20,000 on lawyers and had to watch hours of security cameras filming to find the moment that proved his innocence. The police immediately dropped the charges against Faisal but never accused Asmae of her actions.
Faisal said he faces a mountain of debt, and that he must live in a shared house 50 kilometers from his workplace. Howard Brown, a victim rights advocate, said that it appears that the police did not investigate Asmae's allegations properly. "When you realize that someone made a false statement to the police, you accuse that person of perverting justice," he said.
Asmae's statement accused Faisal of suffocating and beating her until she feared for her life. Faisal believes that Asmae read a private email he wrote, saying that he considered ways to get out of the relationship, which would have nullified the Australian residence of Asmae.
While Asmae lives somewhere in Australia now, Faisal said she wants him to face charges under the law and be deported to Morocco. "I was used and abused, again and again," he said. "Mentally, financially and emotionally, I was a victim in every way, she did it, now she has to face consequences".
In a similar story, a woman has accused men of domestic violence, only to clear out their homes after the men were arrested.
According to Mountain View police, 44-year-old Sunmee Kim was arrested after an ongoing investigation that dated back to January.
In that incident, Kim reported to police that a man she claimed was her fiancée had attacked her. When officers interviewed the man following his arrest, he insisted that he was her housemate and had no romantic involvement with Kim.
Please fill in your e-mail so we can share with you our top stories!