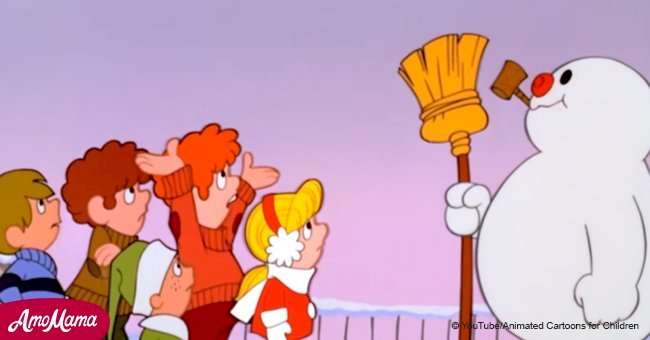 Christmas classic 'Frosty the Snowman' has viewers confused with its choice of kids clothes

It's December, a time when everyone dresses in coats, gloves and socks. But the animated classic movie "Frosty the Snowman," had a surprisingly different idea about how to dress during this festive period as shown below.
It is about that time of the year when the TV network, CBS airs the animation "Frosty the Snowman." After the film was aired, social media went wild as people shared their displeasure about the choice of clothing in the cartoon
Follow us on our Twitter account @amomama_usa to learn more.
The major problem many had with the outfits, was that Frosty's friends wore shorts throughout their appearances in the movie. The Twitter user @beersjoshua started the discussion which has garnered a number of hillarious replies.
The cartoon was produced in 1969 by Jules and Arthur Rankin; it aired as a TV show. The plot was about a few school children who decided to build a snowman; they named him Frosty.
This little snowman was then brought to life through magic. The kids soon realized there was a flaw in their creation – he was made of snow, which meant that Frosty was bound to melt.
The series of events that followed this realization in an attempt to save Frosty are what made the cartoon the classic it is today.
The cartoon is written based on the song which goes by the same name, Frosty the Snowman. There have been several spinoffs such as "Frosty's Winter Wonderland" ,"Rudolph and Frosty's Christmas in July" and so on.
Like all classics, this cartoon was bound to be flawed. And after this year's airing by CBS, it became evident what the flaw was - nobody wears shorts during the winter. Most people are wondering if the writer intended to write the movie for another season; anything clearly other than winter. But that leads to the natural question – how do you have a snow man if it's not winter?
Now, it is rather confusing because if there is a snowman then there is snow. Although most have termed the cartoon their "best" Christmas movie ever, it doesn't stop them from wondering what was going on in the minds of the producers. Though Frosty the Snowman might have been a bit disappointing, here are other Christmas specials to look forward to.
Please fill in your e-mail so we can share with you our top stories!