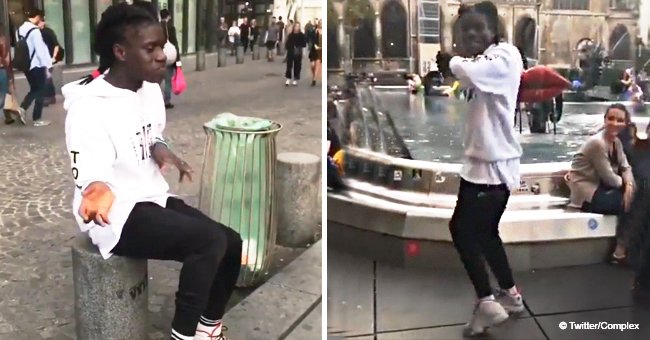 Video of street dancer's epic moonwalk skills on a pavement went viral in 2018

Salif Gueye became a viral sensation in 2018 when a video of him showing off his dance skills, especially the Moonwalk, in the Parisian streets reached Instagram.
Since the 22-year-old man dances on the streets for a living, one would say that he's got to be good. The videos of his performances show so much flow and style that "good" is far from genuine.
In the clip that Salif uploaded to his Instagram page, he was apparently goofing around with some friends and decided to record one of his impressive Michael Jackson's routines, dancing through the streets of Paris to the rhythm of "Rock With You."
The man moonwalked alongside a sidewalk full of restaurants, catching the attention of people as he passed and earning a few screams of joy and amazement. And while Parisians caught in the video didn't show any remarkable reaction, netizens made sure to make Salif a viral sensation.
At the moment, the video has more than 8 million views on Instagram and was reposted by people as popular as Dwayne "The Rock" Johnson, LeBron James, Complex magazine and World Star Hip Hop.
Apart from them, Ellen DeGeneres also got caught in Salif's impressive moves, so much so that she invited him to her show wherein, again, he surprised the audience with his skills.
He explained that Michael Jackson has been his inspiration since he was three years old, and revealed that he never took dance classes but learned on his own. Salif also said that one time he earned €1,400 (almost $1,600) in one day dancing on the streets.
Since he lost his phone the day before, he went straight to an Apple store with his coins to buy a new one. The dancer seemed shy and humble on the show, asking Ellen if she was real and expressing how overwhelming it was for him to be on TV.
After the presentation, Ellen asked Salif to keep posting his videos and promised him she would keep sharing them on social media. Salif is not the only person who became a viral sensation after a dance video hit the internet.
The Pierce County Sheriff Department joined forces with the little girls from the Image Dance Studio to perform a dance battle like no other.
Please fill in your e-mail so we can share with you our top stories!