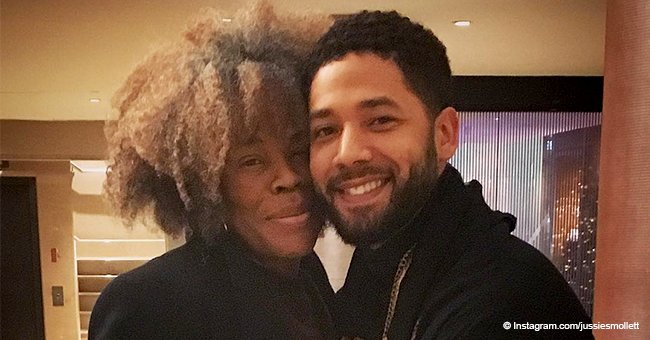 Jussie Smollett melts hearts with his look-alike mom after fulfilling a 16-year-old promise
Jussie Smollett took to Instagram to post a heartwarming series of pics and videos with his mother after he fulfilled a promise he made her at 16.
Jussie Smollett didn't forget a promise he made to his beautiful mother, Janet when he was a teenager. And now, 19 years later, he finally was able to fulfill it. The "Empire" took his mom on a vacation trip to London, just the two of them, and they had an incredible time together.
FAVORITE THIRD CHILD
The 35-year-old took to Instagram to share a slideshow of photos and videos with Janet. In the first pic, Jussie hugs his mother, who had five kids besides him, as she smiles softly to the camera rocking a wild afro.
Then, the star takes a video while he asks his mom "did you have fun in London?" to which she replies: "I did," with a fond look on her face.
"Awww, so cute," Jussie says, as Janet states "You are my favorite third child," prompting Jussie to press her to say he's her favorite "any number" child. But Janet doesn't play favorites, and she repeats "my favorite third child."
He captioned the post:
"I promised Mommy 16 years ago I'd take her on a trip to London, just she and I, when I got a lil somethin somethin to stand on. Grateful the universe allowed it. Even more grateful for this woman. It's not a 10th of what she deserves. Just grateful man. Next trip she says is Ghana. So until next time. One love #MyQueen #QueensRaiseKings #MommyDontTakePicsSoThisBlurryAssShotWillHaveToDo."
Coincidentally, Jussie's on-screen mother, Taraji P. Henson, was also in London at the time. They reunited and snapped a pic with another friend, as Jussie joked stating "Taraji can't get rid of me."
GROWING UP WITH THE BLACK PANTHERS
Smollett has always been vocal about his love for the family. The way he and his siblings were raised reflects on their careers and their advocacy to raise awareness for different social issues and causes. Jussie and his sister, Jurnee Smollett-Bell, have been active supporters of campaigns to fight HIV/AIDS, the Black Lives Matter movement and ending apartheid.
Janet Smollet, an African American from New Orleans, met Jussie's father, Joe, a Russian-Polish Jew, in the Bay Area. There, they campaigned alongside the Black Panthers of the civil rights movement.
"My mom was in the movement with Bobby Seale and Huey Newton, and one of her first mentors was Julian Bond," Jussie told the New York Times. "To this day, Angela Davis is one of her dearest friends. We've spent Mother's Day with Angela."
A FUNCTIONAL FAMILY
Despite growing up with five siblings, Jussie says he family was always functional. They would put on performances on Mother's Day and Christmas to entertain each other, and once, they starred on the ABC series "On Our Own," which was canceled after one season.
"We're a very close family, a functioning family, instead of dysfunctional - unlike the Lyons," Smollett said referencing his family on "Empire." "I look back on that and I'm like wait, we had bagels with hot links, hot pork links! This is not kosher at all! Well, that's what Blue-ish people do! Black and Jewish. That's what we do."
Smollet plays Jamal Lyon on the Fox musical series, a gay musician living in the hip-hop industry and trying to earn his father's respect. Like Jamal, Jussie is also openly gay, and when asked what did his family think when he told, he stated:
"No one's ever loved me in spite of who I am. They've always loved me because of who I am."
Please fill in your e-mail so we can share with you our top stories!