Photos of white influencer went viral in 2018 after criticism for 'pretending to be Black'
A Swedish Instagram model and influencer was put under fire after some of her followers shared an old picture that reveals she is a "white girl" posing as a black one. Or, in another term, she had been "blackfishing" her followers.
Emma Hallberg, 19, has an impressive amount of followers that often praise her for her style and make-up skills. However, most of her fans seemed to believe she was black or at least of mixed race, guided by her caramel skin, curly hair and plump lips.
So, when an old photo of Hallberg with much lighter skin and straight hair started to make the rounds on social media, people were clearly confused. One Twitter user named Deja told Teen Vogue that "I wasn't really mad, I was just kind of shocked because this girl genuinely looks like a mixed black person."
Many other fans reflected Deja's feelings, calling out Hallberg for "blackfishing," a term that, according to Twitter user @CFiosa is used "to describe someone who masquerades as a Blk person to deceive others. By extreme tanning, dark makeup & braids."
White girls if you want to pass as Black, how about using your platforms to address the injustices and discrimation actual Black people face. Don't just appropriate, Appreciate the people you are imitating #emmahallberg pic.twitter.com/gpmkvB0BZj

— Niccole Nero Gaines (@2CsNiccole) November 19, 2018
After getting so much pressure from fans to clarify the issue about her race, Emma answered a fans' direct message on Instagram. The fan asked Emma if she was a white girl "posing as a colored person," to which she replied:
"Yes I'm white, and I've never claimed to be anything else. And by no way, there are no "before" pictures, the pictures that has been spread are just two diefferent [sic] pictures taken on two different seasons of the year."
She also took to her Instagram stories to extend her explanation, stating that she gets tanned easily and her skin goes dark naturally. She also indicated her hair is naturally curly and she gets it from her mother.
"I've been accused of doing frequent spray tans, taking melatonin, getting hair perms and lip injections and many more. When I haven't done anything of the above," she continued.
Fans also pointed out that Emma uses a darker tone of foundation in her makeup tutorials, something that added fuel to the fire. When asked about the foundation by Teen Vogue, Hallberg stated:
"I have some acne and scar issues in my face and use a lot of face scrubs and peeling products which scrubs away my facial tan. Therefore I use foundation that matches my neck and the rest of my body."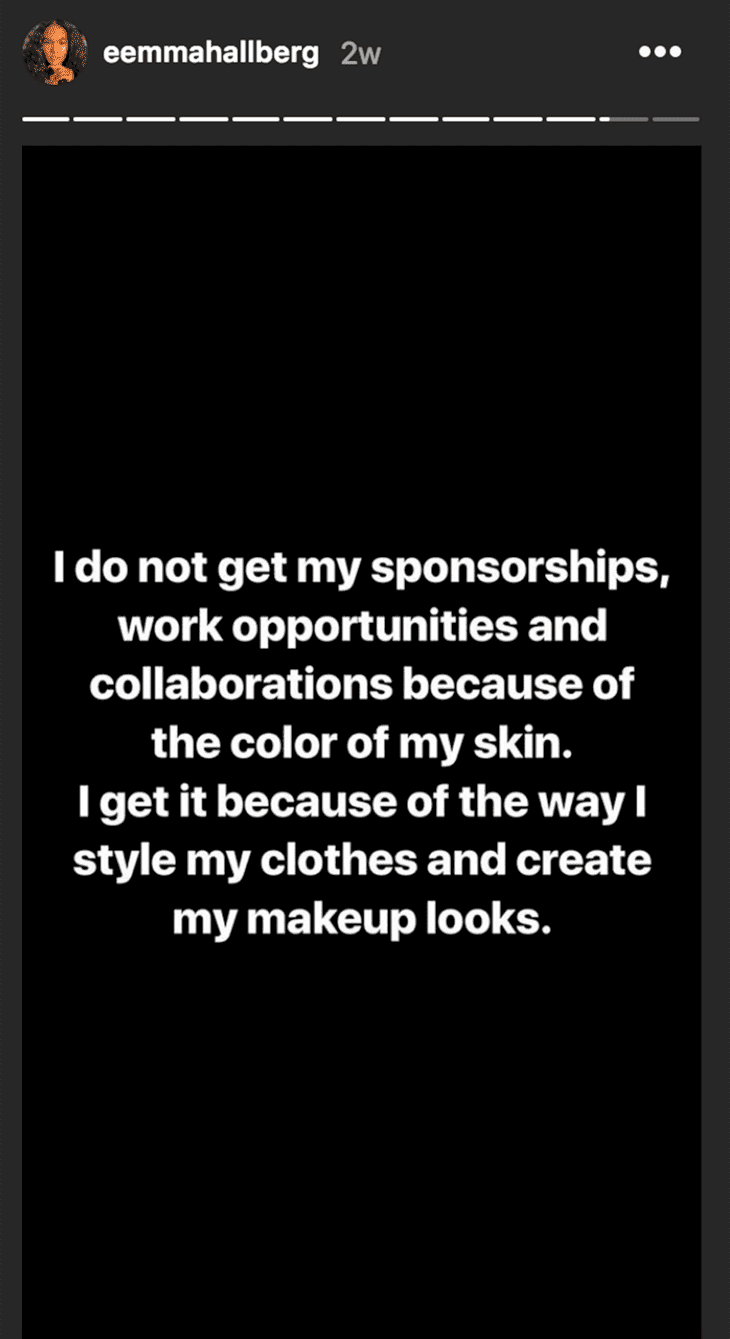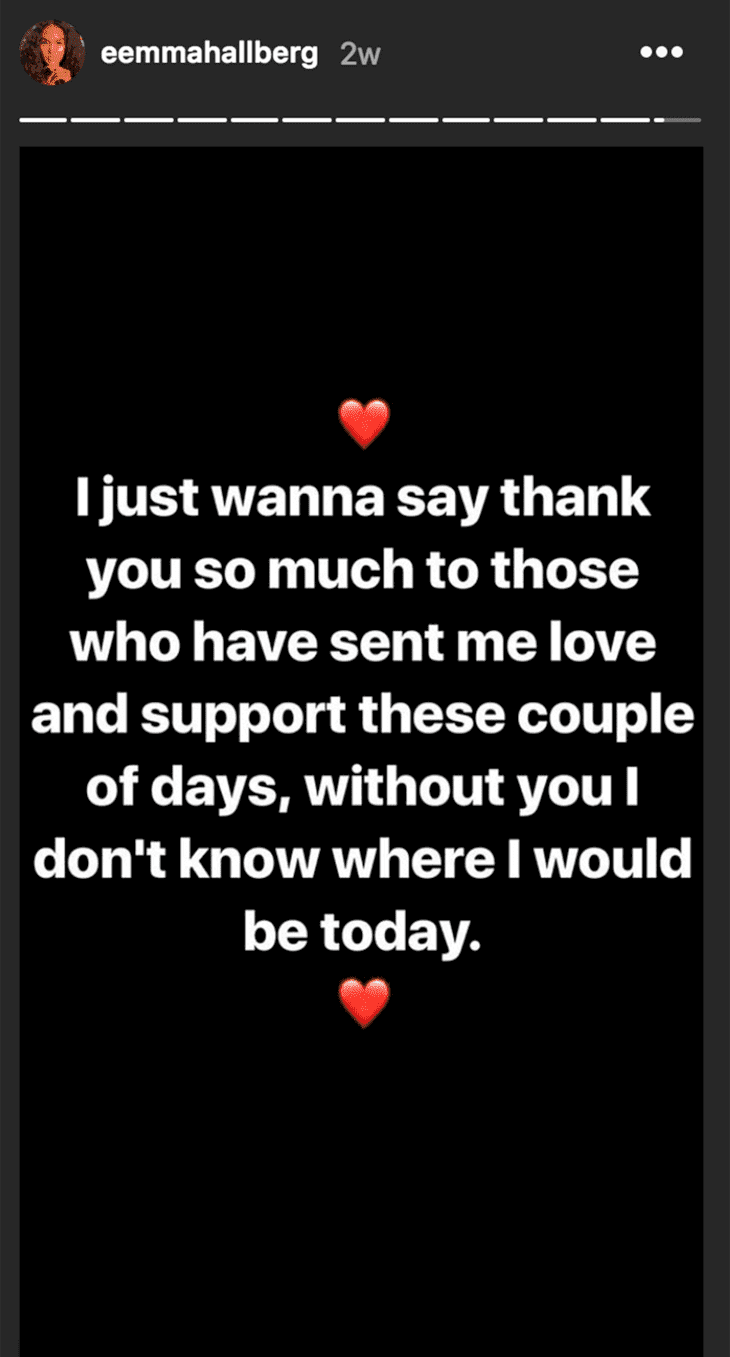 She also said she doesn't understand why black women are mad about her appearance.
Despite the backlash, Emma is still getting thousands of likes on her Instagram pics and has the support of millions of fans. Most of them defend her by stating that she can look how she likes and shouldn't listen to other people's opinions, even if they feel genuinely offended by her trying to look like a black person.
"It's just kind of annoying because she's gotten so Instagram famous off what black people have. Not even black people get the same amount of attention she's getting," reflected former fan, Deja.
Sadly, Emma is not the only white girl altering her appearance, even in the slightest, to look more like a black girl.
The plump lips, curly hair, thick eyebrows, and curvaceous body seem to be on trend these days. Unfortunately, black women were ridiculed for their appearance for years, so is only natural for them to get mad when someone else suddenly wants to copy the "good looks" without going through the same struggles.
A GERMAN MODEL TURNS INTO A BLACK WOMAN
Martina Big, 45, is a German model who has spent more than $65,000 on breast enhancements and has a record-breaking size of 32S on her chest, making it the biggest in Europe. After getting tanning injections, she also had her eye and hair color changed, and now looks black.
Martina Big vuelve esta noche a la consulta de los doctores Dubrow y Nassif. ¡Les sorprenderá con este cambio tan radical! 😱 #LocosPorChapuzas pic.twitter.com/qR5UMLw6Th

— Be Mad (@BeMad_TV) September 3, 2018
However, the model was still not content and went back to her doctors, Terry Dubrow and Paul Nassif, to alter her nose right after they denied giving her butt implants. She was featured on the plastic surgery reality show "Botched," where her doctors recommended her to live with her black skin for a while before altering her nose.
But Martina doesn't think her need for "being black" is just a phase, as she stated:
"I don't think I'm going to wake up and go, "Oh no, I need to go back very soon". Nope. I'm going to stay black."
Martina Big: Everything you need to know about the big-busted, tan-loving modelhttps://t.co/O7cgNQzGro pic.twitter.com/8SkC1TEUvh

— Closer Mag & Online (@CloserOnline) September 15, 2018