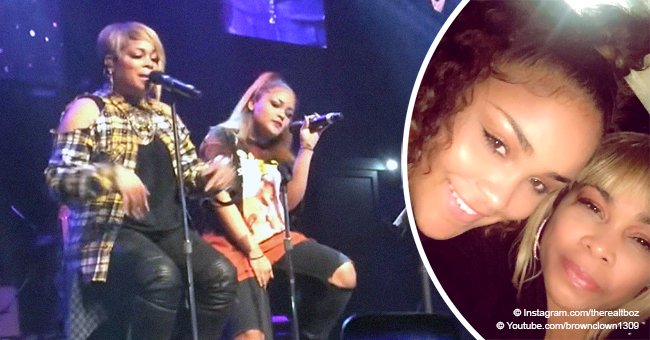 Meet 'TLC's T-Boz's grown daughter Chase who looks and sings like her famous mom
Tionne Watkins, a.k.a. T-Boz from the '90s girl group TLC is the mother of two grown children. Her daughter, Chase Anela, is now a gorgeous 18-year-old that seems to have inherited her mother's talent and passion for music.
Chase is the only daughter of T-Boz and rapper ex-husband Mack 10. She was born in October 2010, only two months after her parents' marriage. Sadly, T-Boz filed for divorce in June 2004, but Chase still has a great relationship with both of her parents.
The gorgeous teenager kept her life away from the spotlight until 2015, where she started to share tidbits of her life on Instagram. Like every other teenager, Chase loves to go to concerts, including Kanye West, Beyoncé, Coachella and even Drake's, with whom she shared a pic that left the rapper's fans green of envy.
Growing up in the entertainment industry, and being the daughter of two musicians, it was only natural for Chase to develop a liking for singing, and she showcased her abilities for the first time last year.
T-Boz invited the girl on stage to perform a duet version of the song "Unpretty" at the "Unplugged" benefit concert organized by T-Boz to raise awareness and funds to find a cure for Sickle Cell Disease (SCD), an illness that the singer has been battling for years.
Watkins opened about her illness for the first time back in 1996, and since then, she has been a spokesperson for the Sickle Cell Disease Association of America. Talking about the disease to ABC News, Watkins described it easily:
"The easiest way to describe it is oxygen isn't getting to our vital organs. So, if it's your legs, you can't walk. Your arms, you can't even hold a pencil and write ... I went through so much."
Despite her condition, T-Boz was able to live her wildest dreams and even had Chase when she was told children were no in the picture for her. She has fought the disease through her entire life, and she credits her children for being her strength.
"I was put here for a reason. And God covered me," she told USA Today a few years ago.
"I was told that I'd be on disability my whole life. But everything I ever wanted to do, I did. I'm all for taking over the disease instead of letting it take care of me. I don't sit around and wait to be sick."
"They used to say that sickle-cell patients don't last past their 30s," Watkins says. "But, hello, that's been proven not to be true!"
Please fill in your e-mail so we can share with you our top stories!