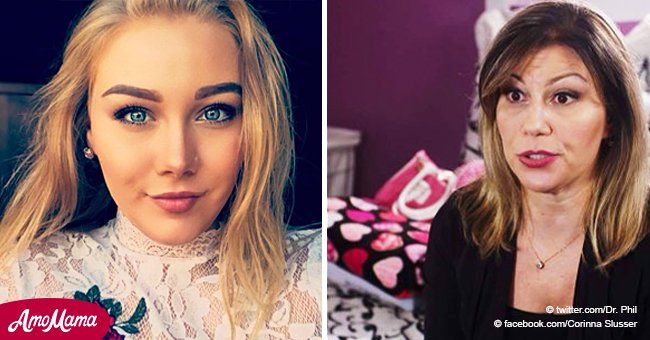 Devastated mom of teen missing over a year won't celebrate Christmas till her daughter returns
The mother of a sex-trafficked girl prays for a miracle to bring her daughter home.
Sabina Tuorto did not celebrate Christmas this year, and she won't be celebrating New Year's.
Tuorto has been living in anguish since her daughter Corinna Slusser vanished in New York City in September 2017, reported the Daily Mail on December 25, 2018.
"Corinna is all I think about. I can never feel happy. It takes every bit of my energy just to get up every day."
Sabina Tuorto, Daily Mail, December 25, 2018.
A VICTIM OF SEX TRAFFICKERS
Tuorto describes her lovely blond daughter as happy child, who had been close to her mother until shortly before her disappearance at the age of 19.
Then, Corinna was lured away from her home in Bloomsburg, Pennsylvania by a sex-trafficker, and traveled to New York City to become a prostitute.
According to investigators, Corinna had been used by Woney in online advertisements promoting prostitution.
MAN WAS ARRESTED BUT CORINNA IS STILL MISSING
After Tuorto declared her daughter missing, a police investigation was launched. Over a year after Corinna's disappearance, the FBI arrested Ishi Woney, 23, for trafficking her and a second woman identified in court documents only as Victim 1.
TUORTO BEGS PARENTS TO BE ALERT
Tuorto warns parents that sex-traffickers are targeting young women through the Internet and that any one of their children can fall prey:
"If it could happen to Corinna it could happen to anyone. We live in a small, safe town. You just don't expect this sort of thing to happen here."
She believes that Corinna was initially seduced into working as an escort, as she had been posting on social media about going on dates with men for money.
THE SIGNS OF A SEX TRAFFICKER'S INFLUENCE
Tuorto advises parents to look out for the following danger signs:
Unexplained absences from school or truancy, inappropriate clothing, sexualized behavior, being in the possession of large amounts of unexplained cash, expensive clothes, accessories or shoes and relationships with older boyfriends.
According to investigators, Corinna had been used by Woney in online advertisements promoting prostitution. The ad featured a photograph of Corinna and Victim 1 who were touted by the pimp as a "two girl special."
The Police investigation into Corinna's disappearance is ongoing, and her mother is hopeful that she may yet be found, and returned to her home.
Read more on Twitter Amomama USA.
TEENAGE GIRLS SAVED FROM SEX TRAFFICKERS
Two young girls were saved from falling into the hands of a sex trafficking ring by the quick wits of an American Airlines agent.
Denise Miracle was approached by the two girls at her ticket counter at Sacramento International Airport in August 2017 and presented with two expensive First Class tickets.
The girls - 17 and 15 - were unaccompanied by their parents and carried a small set of travel bags. Miracle quickly discovered the tickets had been paid for with a fraudulent credit card.
"It was a first-class ticket. It was very expensive. I told a supervisor: 'I'm going to call the sheriff. It just doesn't feel right to me.' It just did not feel right."
Miracle called the Police and they discovered that the two girls had been given the tickets by a man they had met online and whom they called "Drey."
"Drey" contacted them through Instagram, and promised them $2,000 for modeling and performing in music videos. Investigators attempted to track down "Drey," but the predator's accounts were deactivated just minutes after the Police attempted contact.
Please fill in your e-mail so we can share with you our top stories!