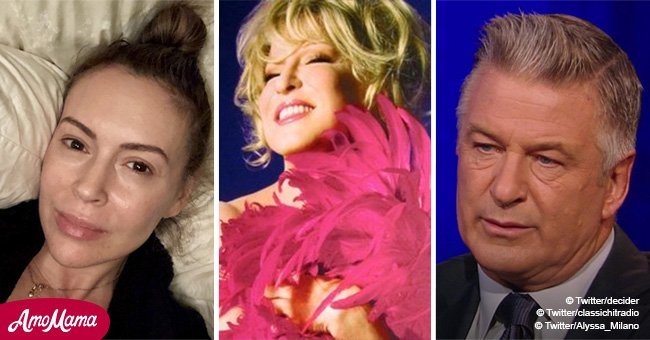 Lifezette.com: Alec Baldwin and Bette Midler among the 5 biggest 'celebrity losers' of 2018

According to Lifezette.com, for some celebrities including Alec Baldwin and Bette Midler, 2018 was a turbulent year.
Here's a look at the top five biggest celebrity losers of 2018.
1. Alec Baldwin
The 60-year-old actor, who first gained recognition showing up on seasons 6 and 7 of the CBS television drama "Knots Landing," went through the vast majority of the year getting praises from the leftist media.
However, things got somewhat shaky for the "Saturday Night Live" star when he was captured after an alleged fight over a parking lot in Manhattan.
Baldwin was accused of physically attacking a man due to a parking space contradiction. But the actor dismissed the allegation through his lawyer in court.
2. Bette Midler
The American singer-songwriter, 73, earned a lot of backlashes this year due to her controversial statements on Twitter.
In one of her tweets, Midler, who started her professional career in several Off-Off-Broadway plays, fantasized about the death of President Donald Trump and his family. She also considered the president a killer.
3. Tom Arnold
The 59-year-old actor's endeavor to change gears from comedy to political punditry has not actually worked out for him.
He received a lot of criticisms when he warned to appear at Barron Trump's school because he opposed with the policies of the 12-year-old boy's father.
Arnold, who once earned a nomination for the MTV Movie Award for Best Comedic Performance, also sent a misogynistic message of hatred to conservative commentator Candace Owens.
The actor also went viral when he obviously became disoriented about when or how to answer basic questions during his interview with CNN.
4. Alyssa Milano
American actress Milano, 46, recently reprimanded a crowdfunding campaign to finance a border wall between Mexico and the United States.
According to her, the money would be better spent on veterans. However, many people slammed her since she appeared to be uninformed that an Air Force veteran began the campaign.
5. Michael Moore
The 64-year-old documentary filmmaker's commitment to scrutinizing President Donald Trump this year didn't actually pay off for him.
His movie "Fahrenheit 11/9," which compared Trump to Hitler at one point, was considered highly unsuccessful.
The film earned just $6.4 million during its domestic run at the box office.
Follow us on our Twitter account, @amomama_usa, to learn more.
Please fill in your e-mail so we can share with you our top stories!