Devastated pupils pay tribute to their late teacher by covering her coffin with their drawings
It is not unusual for children to form bonds with staff members at their school, but one principal, in particular, will be missed terribly now that she has passed away.
A 58-year-old principal from Bath, Sue East, passed away December last year due to cancer. She was buried on January 16 following a memorial service at Bath Abbey.
During her last few days, she wrote a letter to the students at her school. Seven hundred people attended her funeral, many of whom contributed towards making her coffin a unique one.
Pupils' beautiful coffin gesture to head who penned deathbed letterhttps://t.co/lT6tYSc1Wn pic.twitter.com/cXmbrpHYk4

— The Mirror (@DailyMirror) January 20, 2019
CREATIVE COFFIN
The students at her school rallied together and produced enough drawings to cover Sue's entire coffin. Many of the illustrations contained fairies, hearts, and rainbows.
Students who were asked how they feel about her passing said that they love Sue and miss her fun personality and positive outlook on life.
There were many speeches made at the funeral, mainly by Sue's three children and fellow staff members at St Andrews Church School. The deputy headteacher, Tam, said:
"We all agree that Sue made a difference. She campaigned for creativity, inclusion, diversity, and equality."
Sue was buried in a coffin covered by her pupils' drawings https://t.co/wdXxofvb25 pic.twitter.com/Ja98BBG80q

— Teach Primary (@TeachPrimary) January 18, 2019
AN OPEN LETTER BY A DIFFERENT TEACHER
Lisa Robertson, a retired schoolteacher, wrote a different sort of letter – an open letter about the current state of the US education system. It was published in a newsletter and later posted on Facebook, where it went viral.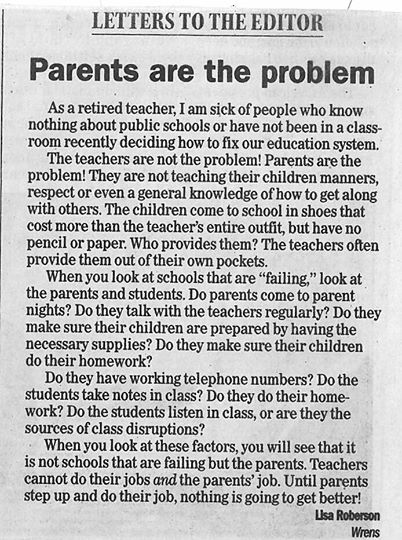 In the letter, she writes that, in her opinion, a lot of children's problems at school start with lousy parenting, such as not being taught good manners.
She also said that non-professionals should not be involved in fixing the problem:
"As a retired teacher, I am sick of people who know nothing about public schools or have not been in a classroom recently deciding how to fix our education system."